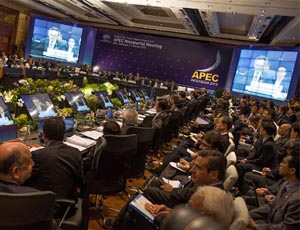 QINGDAO – At the APEC trade ministers meeting in Qingdao last weekend, China's proposal to establish a Free Trade Area of the Asia Pacific (FTAAP) was discussed at length, and a final roadmap towards realization of the FTAAP proposed.
According to the official APEC ministers statement released following the meeting (the Qingdao Statement), participating APEC countries agreed on the establishment of a new Committee on Trade and Investment (CTI) Friends of the Chair Group on Strengthening REI and Advancing FTAAP to advance the negotiation and ratification of the FTAAP by playing the role of a feasibility group.
Following the 2010 agreement on Pathways to FTAAP, which compelled APEC countries to take concrete steps towards the realization of the FTAAP through the provision of leadership and ideas to the negotiation process, the new Group will coordinate and advance APEC work towards the FTAAP's ultimate realization.
"China has this year said they'd like the FTAAP to be one of the big headlines. The idea has been talked about since 2010 [and] China wants to make it more concrete and more specific," commented Alan Bollard, executive director of APEC.
Alongside these expressions of support for the FTAAP, the Qingdao statement also stressed the potential for developments in regional trade agreements (RTAs) and free trade agreements (FTAs) to serve as pathways to the FTAAP, and encouraged officials to advance progress in the development of these mechanisms.
RELATED: China Pushes for Asia-Pacific Free Trade Agreement
"We recognize the importance of demonstrating APEC's leadership and commitment to regional economic integration, and developing a pragmatic guide to advance work towards an FTAAP in a step-by-step approach. We agree on the development of the Roadmap for APEC's Contribution to the Realization of an FTAAP. We instruct officials to finalize the Roadmap in 2014, and report outcomes regarding APEC's work on strengthening regional economic integration and advancing FTAAP," the statement read.
In light of progress towards the FTAAP, however, some countries fear an emphasis on the agreement could divert attention from U.S.-backed Trans-Pacific Partnership (TPP) and China-backed Regional Compressive Partnership (RCEP) negotiations.
"The United States lost a lot of impetus concerning the proposed TPP agreement when President Obama failed to show for the APEC meeting in Bali at the end of last year. There is no doubt that that seriously damaged the overall integrity of how the U.S. is actually prepared to engage with Asia," commented Chris Devonshire-Ellis of Dezan Shira & Associates.
"Although the TPP itself is a worthy and higher value agreement than the RCEP, it has also suffered by being seen as excluding China. The RCEP agreement meanwhile is purely Asia-focused and does nothing to promote intercontinental trade between Asia and North and South America. Clearly both are flawed, and the new Chinese proposal for FTAAP merits serious consideration," he added.
On the side-lines of the APEC meeting, Australian Minister for Trade and Investment Andrew Robb commented, "we believe the best way for APEC economies to prepare for an FTAAP is through on-going unilateral reform and the negotiation of high-quality, comprehensive FTAs. We're as keen as China to give it a push. APEC is a powerful forum; if you get all the nations there to agree, others will agree too."
In another highlight from the weekend meeting, U.S. Trade Representative Michale Froman pushed Beijing to sign an updated version of the Information Technology Agreement, which eliminates tariffs on high-tech goods, to no avail. "Negotiations have not progressed much," commented Malaysia Trade Minister Mustapa Mohamed, "key players [must] move away from their entrenched positions."
"It is urgent for APEC members to demonstrate enough courage to continue to accelerate the Asia-Pacific economic integration process [and APEC economies should] shoulder the responsibility of powering the global economy," asserted China's commerce minister Gao Hucheng.
Preceding Chinese president Xi Jinping's meeting with Russian leader Vladimir Putin in Shanghai this week, where a long-awaited deal on a natural gas pipeline is expected to be reached, China is undoubtedly embracing its role as the dominant economic power in the Asia-Pacific region in America's absence.
Asia Briefing Ltd. is a subsidiary of Dezan Shira & Associates. Dezan Shira is a specialist foreign direct investment practice, providing corporate establishment, business advisory, tax advisory and compliance, accounting, payroll, due diligence and financial review services to multinationals investing in China, Hong Kong, India, Vietnam, Singapore and the rest of ASEAN. For further information, please email asia@dezshira.com or visit www.dezshira.com.
Stay up to date with the latest business and investment trends in Asia by subscribing to our complimentary update service featuring news, commentary and regulatory insight.
Related Reading
An Introduction to Tax Treaties Throughout Asia
In this issue of Asia Briefing Magazine, we take a look at the various types of trade and tax treaties that exist between Asian nations. These include bilateral investment treaties, double tax treaties and free trade agreements – all of which directly affect businesses operating in Asia.
First Round of RCEP Negotiations Conclude
Vietnam and the TPP Traverse Rough Seas Towards Promised Land
TPP Agreement Facing Negotiation Challenges