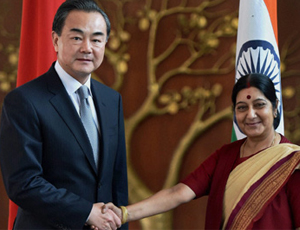 Chinese foreign minister Wang Yi has met with leading Indian officials to discuss ways to improve bilateral relations and strengthen cooperation in key areas including trade and investment.
Wang Yi first met with Sushma Swaraj, the Indian Minister of external affairs, for a meeting which lasted more than three hours on Sunday, marking the first high-level meeting between India and China since Modi assumed office last month. Both Wang and Swaraj were accompanied by delegations made up of senior officials from their respective countries.
During discussions on economic engagement between the two countries, Wang and Swaraj agreed to deepen business and trade relations. They discussed the possibility of investment by Chinese companies in several different industries, as well as the possibility of investment through industrial parks.
"There was also a fairly long discussion on economic issues. These included specific projects, trajectory of economic ties, potential for tapping opportunities as well as the hurdles being faced in pursuing enhanced economic cooperation," said a spokesperson for the Indian Ministry of External Affairs.
During the meeting, Wang referred to the Sino-Indian relationship as "the most dynamic bilateral relationship with the largest potential in the 21st century."
China is India's biggest trading partner, with bilateral trade currently amounting to nearly US$70 billion. However, a point of contention is India's trade deficit with China, which has increased from US$1 billion in 2001-02 to over US$40 billion last year. In the past, India has striven to decrease the trade deficit by aiming for greater market access in China, and has encouraged China to open up their textile, pharmaceutical and IT-enabled service markets to Indian investment.
RELATED: China-India Wage Comparison
After his meeting with Swaraj, Wang then met with Indian Prime Minister Narendra Modi on Monday. During the meeting both parties asserted their status as long-term strategic cooperative partners and declared their commitment to common development.
Modi, who won a landslide victory last month, has quickly made moves to assert India's status with its neighbors, including plans to increase annual bilateral trade with China to US$100 billion by 2015.
Modi previously welcomed greater economic engagement between the two countries during his phone conversation with Chinese Premier Li Keqiang, which significantly was his first with a foreign head of government since assuming office.
Modi is said to be looking towards China for inspiration for reviving India's economy, which has suffered from two consecutive years of sub-five percent growth. Modi has already been to China four times in the past in order to learn about upgrading industry.
"A major boost to the Indian economy cannot be achieved without impetus provided by China-Indian economic cooperation, and Modi will continue to take lessons from China's experiences of reform and opening up," said Fu Xiaoqiang of the China Institute of Contemporary International Relations.
In an effort to further strengthen relations, China and India are planning at least six more visits at the ministerial level or above this year, which is a significant increase from previous years.Chinese President Xi Jinping is also expected to visit India later this year.
Asia Briefing Ltd. is a subsidiary of Dezan Shira & Associates. Dezan Shira is a specialist foreign direct investment practice, providing corporate establishment, business advisory, tax advisory and compliance, accounting, payroll, due diligence and financial review services to multinationals investing in China, Hong Kong, India, Vietnam, Singapore and the rest of ASEAN. For further information, please email asia@dezshira.com or visit www.dezshira.com.
Stay up to date with the latest business and investment trends in Asia by subscribing to our complimentary update service featuring news, commentary and regulatory insight.
Related Reading

Expanding Your China Business to India and Vietnam
In this issue of Asia Briefing Magazine, we discuss why China is no longer the only solution for export-driven businesses, and how the evolution of trade in Asia is determining that locations such as Vietnam and India represent competitive alternatives. With that in mind, we examine the common purposes as well as the pros and cons of the various market entry vehicles available for foreign investors interested in Vietnam and India. We also examine the advantages of using Hong Kong and Singapore as corporate bases to reach out to Asia's emerging markets. Finally, we comment on how the proposed Trans-Pacific Partnership will affect both China-based and Vietnam-based manufacturers.
India-China Strategic Dialogue Revolves Around Indian Infrastructure Development
Leveraging India to Sell More China Manufactured Products
India's Rise to World's Third Largest Economy Puts More Pressure on China to Perform