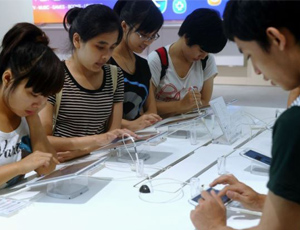 Smartphones and tablet computers will increase online retail sales in the Asia-Pacific region to more than US$400 billion a year by 2018, according to a report by global consumer research firm Euromonitor.
The study found that online retail sales in the region should increase from US$186 billion per year in 2013 to US$428 billion in 2018. Furthermore, goods purchased online are forecast to increase their share of total retail sales from 4.1 percent in 2013 to 7.3 percent in 2018. According to China's Ministry of Commerce, China's online shopping market alone reached sales of RMB1.85 trillion (US$297 billion) in 2013, garnering 7.8 percent of total retail sales. 
One of the major factors behind the e-commerce boom has been the growing use of mobile technology in the Asia-Pacific region, where some countries have among the highest rates of social media usage in the world.
Rates of internet and smartphone penetration are both growing quickly: according to Euromonitor, the number of smartphones in the Asia-Pacific region is expected to increase from nearly 390 million in 2013 to almost 700 million in 2017. The number of tablets and other portable computers is also expected to increase from 30 million in 2013 to more than 56 million in 2017. In the Philippines alone, customers spent approximately US$65.8 million on 270,000 tablets in the first quarter of 2014, an increase of US$16.8 million year-on-year.
A recent survey by Euromonitor found that smartphone penetration in 'developed Asia' is largely higher than in the United States or Europe. In the Asia-Pacific region overall, 42 percent of respondents stated that they had used their mobile phone to purchase goods and would continue to do so. Moreover, over a third (36.2 percent) of worldwide business-to-company (B2C) online retail sales in 2014 were in Asia and this percentage is expected to reach 39.7 percent in 2016.
In order to capitalize on this technology boom, more and more retailers are adapting their websites to enable customers to purchase goods with mobile devices. A recent report on e-commerce in Southeast Asia found that approximately three-quarters of Southeast Asian organizations intend to experiment heavily with e-commerce in the next year, with 90 percent aiming to deliver a unified customer experience across online and offline channels and 76 percent increasing investment in mobile-optimized transactional websites within the next three years.
"Retailers are acutely aware of this trend and most have optimized their websites for mobile browsing. The ease of online purchases and the ability to shop 24/7 are key factors in driving Internet retailing on mobile devices," said Loo Wee Teck, head of consumer electronics at Euromonitor.
RELATED: E-Commerce Trends and Developments in Asia-Pacific
However, there are still many challenges hindering the growth of a robust e-commerce industry in the region. There is a large disparity between ICT infrastructure in developed economies and emerging economies. Emerging economies in the region are making quick progress in terms of 3G+ mobile service coverage, Internet penetration rates and the use of smartphones, but there is still a ways to go.
For example, 2012 data from the International Telecommunication Union (ITU) found that although the use of smartphones is widespread in Singapore, Malaysia and Thailand, smartphones only constitute 23 percent of phones in Indonesia and 15 percent in the Philippines. Many countries in the region also face challenges regarding consumer awareness, logistics and an underdeveloped financial services sector. These hurdles have prevented many economies from taking full advantage of the potential that a healthy online retail economy can offer.
In spite of the challenges, e-commerce in the Asia-Pacific region is growing extremely rapidly. Illustrating this growth, a recent report by Forrester Research Inc. predicted that B2C online retail sales in the Asia-Pacific's five largest regions alone (China, India, Japan, South Korea, Australia) will grow from US$398 billion to US$858 billion between 2013 and 2018, surpassing the combined sales of North America and Europe.
Asia Briefing Ltd. is a subsidiary of Dezan Shira & Associates. Dezan Shira is a specialist foreign direct investment practice, providing corporate establishment, business advisory, tax advisory and compliance, accounting, payroll, due diligence and financial review services to multinationals investing in China, Hong Kong, India, Vietnam, Singapore and the rest of ASEAN. For further information, please email asia@dezshira.com or visit www.dezshira.com.
Stay up to date with the latest business and investment trends in Asia by subscribing to our complimentary update service featuring news, commentary and regulatory insight.
Related Reading

E-Commerce Across Asia: Trends and Developments 2014
In this issue of Asia Briefing Magazine, we provide a comprehensive overview of e-commerce trends across the Asia-Pacific region with a focus on developing markets in Southeast Asia. In addition to analyzing macro-level economic and development indicators that signal the potential for region-wide growth, we explore several rapidly growing markets in-depth while highlighting opportunities for investment in each.
The Future of E-Commerce in Asia-Pacific
Vietnam Online – Understanding Vietnam's E-commerce Market
E-Commerce on the Rise in India