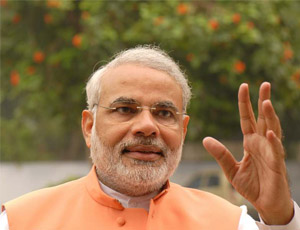 DELHI – Following an election campaign which was largely absent of foreign policy, Modi has surprised many by spending his first few weeks in office focusing on India's foreign relations, a decision which is being driven by the need to fix India's economic problems.
With their landslide victory last month, the Bharatiya Janata Party (BJP) inherited an economy struggling from high inflation, a falling rupee and a drop in both industrial production and foreign investment. The election of Modi, a relative hardliner who has the reputation of being business-friendly and decisive, was a clear message from voters to fix the sputtering Indian economy.
During the election, Modi presented himself as someone who could revive India's stalling economy following his successes in the Indian state of Gujarat, where he served as chief minister from 2001 until 2014. Gujarat's GDP quadrupled during his tenure, a rate significantly higher than the national average. Modi also implemented successful irrigation projects and attracted investment from foreign companies, including Reliance Industries Ltd. and Ford Motor Co. Gujarat attracted 22 percent of India's total planned foreign and domestic investment during the 2011-12 fiscal year, which amounted to approximately 1.3 trillion rupees (US$22.27 billion).
Modi led his party to victory on the promise that he would be able to replicate the Gujarat success story across the whole of India. Given that India's stalling economy was at the forefront of the election, Modi has surprised many by spending his first few weeks in office focusing on India's relations with other countries. One of his first acts after the election was to reach out to neighboring Asian countries, including Pakistan, with whom India shares a notoriously trying relationship.
During the campaign, the BJP did not shed much light about their plans regarding foreign policy and only one of the 42 pages of text in their manifesto was dedicated to the issue. In it, the BJP promised to "fundamentally reboot and reorient the foreign policy goals, content and process" of the Congress-led United Progressive Alliance, which neglected key relationships during its administration  as it bordered on paralysis in the face of prolonged infighting.
As the former chief minister of Gujarat, Modi has relatively little experience in foreign affairs other than building relationships with countries in the pursuit of the foreign direct investment necessary to fuel economic development in his state. Modi visited Japan, China and Singapore several times in order to boost the amount of capital flowing from these countries into Gujarat, especially into infrastructure initiatives. Modi also built strong relationships with foreign entrepreneurs as a result of the annual Vibrant Gujarat Global Investors Summit, a widely attended event to attract foreign investment.
Nonetheless, these previous efforts are extremely revealing of Modi's likely focus on commercial diplomacy as prime minister. Given the reality of India's economic problems, his foreign policy will most likely be driven by the urgency of economic priorities rather than security issues. For example, bringing in foreign investors to set up factories is crucial in order to create employment opportunities for India's large youth population.
Modi is likely to focus on the manufacturing sector and infrastructure development, as well as seeking to boost investment into defense production and railways. He has previously announced his intention to simplify bureaucratic regulations in order to attract foreign investment, pledging "no red tape, only red carpet" for investors.
Modi has shown a marked interest in improving relations with East Asian countries so far, reinforcing the "Look East" policy which was a cornerstone of the previous BJP government.Following meetings with Chinese foreign minister Wang Yi last week, and the announcement that Modi's first trip outside of South Asia since assuming office will be to Japan, it is becoming increasingly apparent that Modi is looking to court rich Asian countries who may invest excess capital in India.
Increasing economic engagement with China is undoubtedly high up on Modi's agenda. Relations between the two countries have been the focus of particular attention in recent weeks, following Modi warning China against a "policy of expansionism." However, despite decades-old tension over disputed Himalayan territory, Modi appears to realize that in order to boost trade and fix India's economy, he must rebuff the rhetorical hard line on this issue in favor of adopting a pragmatic and proactive foreign policy approach.
Having quickly become the world's second largest economy, China can offer India a road map for reform, particularly regarding manufacturing and infrastructure development, areas in which China shines but India struggles.Modi has already visited China four times in the past in order to look to learn about the manufacturing industry there. India's manufacturing industry currently makes up just 15 percent of the country's economy, a share which Modi would like to boost to over 30 percent. In comparison, China's manufacturing industry makes up 31 percent of its GDP.
"A major boost to the Indian economy cannot be achieved without impetus provided by China-Indian economic cooperation, and Modi will continue to take lessons from China's experiences of reform and opening up," said Fu Xiaoqiang of the China Institute of Contemporary International Relations.
"There's an enormous hunger for investment in India, and there's China sitting on a hunk of cash," said T.C.A. Rangachari, a former Indian ambassador to Algeria, France and Germany.
Besides China, Japan is another country which will be prioritized in Modi's economic diplomacy. India-Japan relations are arguably even more important to the new government than India-China relations, and certainly more stable. Modi is unlikely to forget Japanese support during the period when he was largely isolated by the West following his alleged complicity in the 2002 Gujarat riots that killed more than 1,000 people, most of them Muslim.
Japan continued to court Modi during this period, and Modi's visits to Japan in 2007 and 2012 opened up new channels for Japanese investment in Gujarat at a time when Western funds were drying up.Gujarat's business-friendly climate has attracted significant Japanese investment since then, particularly into large infrastructure initiatives. Private Japanese investment in Gujarat alone is forecast to reach US$2 billion by the end of the 2015-16 fiscal year.
As a rich non-Western country, attracting further investment from Japan will be particularly appealing to Modi. Furthermore, many analysts have noted similarities between Modi and Japanese Prime Minister Shinzo Abe, who is also known for his self-confident and decisive nature and nationalistic policies.
In addition to the personal comparisons, it is well known that the two leaders think highly of each other. For example, Modi flew to New Delhi to visit Abe during his visit to India in 2007 as premier. Moreover, when Modi visited Japan in 2012 in his capacity as chief minister of Gujarat, Abe and Modi broke diplomatic protocol to meet up despite Abe's position at the time as part of Japan's opposition party.
Modi will meet with Abe again during a visit to Tokyo at the beginning of July, when Japan is expected to pledge its support to important infrastructure projects in India.
"Japan is ready to contribute to fulfilling the Modi-led BJP government's dream of economically transforming India. Japan is ready to support to create high-speed railway, next generation infrastructure, clean-up of the Ganga river, agri-industry, connectivity with the ASEAN and other connectivity projects besides general manufacturing sectors," said Takeshi Yagi, Japan's Ambassador to India.
India is hoping to attract Japanese investment in the railway sector in order to introduce bullet trains in India. Japan International Cooperation, which has already financed the first phase of the Western Dedicated Freight Corridor, has already undertaken a feasibility study regarding running bullet trains on the 524-kilometer Mumbai-Ahmedabad route.
Although India's relationships with China and Japan are likely to be the main pillars of India's economic diplomacy in East Asia, South Korea and the ASEAN countries are also very important. Several South Korean companies set up operations in Gujarat during Modi's tenure as chief minister, including car manufacturers TATA, Peugeot, Maruti and Ford.Korea's expertise in ship building and development of ports is also likely to hold special appeal to Modi given the importance of sea borne trade to India's maritime strategy.
The new BJP government is also likely to place increasing importance on its relationships with ASEAN countries, relationships that were neglected under the previous government. Trade and investment between the two sides has grown steadily, but there is still a tremendous amount of untapped potential. India's trade with ASEAN has increased from US$2.9 billion to US$70 billion between 1993 and 2013, but both sides aim to increase this figure to US$100 billion.
Commercial diplomacy will undoubtedly play a key role in Modi's efforts to improve relations with East Asian countries. Modi will deliver his first budget in the first week of July, outlining detailed plans of how he will make India a more attractive prospect for investors and fix the Indian economy without triggering further inflation.
Citigroup predicts that India's economy will expand by 5.6 percent in the 2015 financial year, and 6.5 percent in the 2016 financial year.
Asia Briefing Ltd. is a subsidiary of Dezan Shira & Associates. Dezan Shira is a specialist foreign direct investment practice, providing corporate establishment, business advisory, tax advisory and compliance, accounting, payroll, due diligence and financial review services to multinationals investing in China, Hong Kong, India, Vietnam, Singapore and the rest of ASEAN. For further information, please email asia@dezshira.com or visit www.dezshira.com.
Stay up to date with the latest business and investment trends in Asia by subscribing to our complimentary update service featuring news, commentary and regulatory insight.
Related Reading

Expanding Your China Business to India and Vietnam
In this issue of Asia Briefing Magazine, we discuss why China is no longer the only solution for export-driven businesses, and how the evolution of trade in Asia is determining that locations such as Vietnam and India represent competitive alternatives. With that in mind, we examine the common purposes as well as the pros and cons of the various market entry vehicles available for foreign investors interested in Vietnam and India. We also examine the advantages of using Hong Kong and Singapore as corporate bases to reach out to Asia's emerging markets. Finally, we comment on how the proposed Trans-Pacific Partnership will affect both China-based and Vietnam-based manufacturers.

Taking Advantage of India's FDI Reforms
In this edition of India Briefing Magazine, we explore important amendments to India's foreign investment policy and outline various options for business establishment, including the creation of wholly owned subsidiaries in sectors that permit 100 percent foreign direct investment. We additionally explore several taxes that apply to wholly owned subsidiary companies, and provide an outlook for what investors can expect to see in India this year.
Following Chinese State Policy? Then Invest In India.
New Indian Government Announces Economic Reforms to Induce Growth