Nach dem Hype um China als Investitionsstandort Nummer eins gerät nun Indien in den Fokus global agierender Unternehmen. Das bestätigt auch Ravi Venkatesan, ehemaliger Chef von Microsoft Indien, im Blog der Financial Times. Die Ansiedlung von Firmen hängt dem Experten zufolge jedoch am Reformwillen, den die neue Regierung langfristig mitbringen sollte, um international wettbewerbsfähig bleiben zu können.
Dieser Artikel erschien zuerst auf dem online Nachrichtenportal Expat News.
Neue Regierung am Zug
Am 12. Mai werden die letzten Wahlberechtigen ihre Stimme für das neu zu wählende Parlament abgeben. Dabei wird die neue Regierung vor allem das Geschäftsklima für Unternehmen zu verbessern haben. Denn für viele Geschäftsleute ist Indien derzeit alles andere als ein optimaler Platz zum Arbeiten. Denn in einer Rangliste der Weltbank liegt Indien noch hinter Staaten wie Pakistan und Jemen an 134. Stelle von insgesamt 189 Staaten.
Für Venkatesan steht fest: Eine Verbesserung in diesem Ranking um 40 Plätze in der nächsten fünfjährigen Legislaturperiode würde Indien mit all seinen vorhandenen Talenten und seiner attraktiven Demografie zum beliebtesten Schwellenland für multinationale Betriebe machen. Denn viele Konzerne suchen nach Ausweichmöglichkeiten, um ihre Abhängigkeit von China nicht zu groß werden zu lassen. Heute betragen die Auslandsinvestitionen in Indien 28 Milliarden Dollar, was nur einen Bruchteil von den 125 Milliarden Dollar für China darstellt.
Rechtssicherheit gefordert
"Das Wichtigste wäre die angeschlagene Wirtschaft wieder auf Vordermann zu bekommen", urteilt Venkatesan. Der industrielle Sektor, die Basis für jede Schwellenland-Ökonomie, ist in den vergangenen Jahren geschrumpft. Eine funktionierende Industrie ist jetzt umso wichtiger, weil der chinesische Arbeitsmarkt nun teurer wird und daher Indiens riesige und billige Arbeitskraft so gefragt sein könnte wie noch nie.
Um Investitionen wieder vermehrt ins Land zu holen, sollte auch das Steuersystem überarbeitet werden, so Venkatesan. Diese beliebige Interpretation des Gesetzes mache Indien zu einen der schlechtesten Plätze für Steuerzahler. Alle Unternehmen würden davon bedroht, jedoch seien multinationale Konzerne wie Nokia, Microsoft oder Shell ein noch leichteres Ziel für die Steuerwillkür.
Makel Beamten-Korruption
Das größte Beispiel an Plumpheit war eine plötzliche Änderung des Steuergesetzes, welches Vodafone eine Steuerrechnung von zwei Milliarden Dollar bescherte. Die neue Regierung sollte laut Venkatesan daher beständiger in ihrer Politik sein. So müssten auch Rechtsfragen eindeutig beantwortbar sein – wie zum Beispiel auch die Frage, ob Software als Produkt oder Service zu versteuern sei.
Mit Eindeutigkeit im rechtlichen Sinne und Berechenbarkeit könnte auch ein erster Schritt gegen die Beamten-Korruption gelegt werden. Ein effizienteres Steuersystem, der Wegfall vieler unnötiger Regulierungen und die Verwendung von Technologie anstatt administrativer Diskretion sind dem Ex-Microsoft-Chef nach Bausteine zur Bekämpfung von Korruption.
Bei Fragen zu Wirtschaftsthemen, Steuern, Buchhaltung und Unternehmensgründungen in Asien kontaktieren Sie bitte:
Fabian Knopf, Sr. Associate, Co-Head of German Desk, Dezan Shira & Associates
Fabian.Knopf@dezshira.com
Silke Neugebohrn, Sr. Associate, Co-Head of German Desk, Dezan Shira & Associates
Silke.Neugebohrn@dezshira.com
Für weitere Information oder um mit Dezan Shira & Associates in Kontakt zu treten, senden bitte Sie eine Email an germandesk@dezshira.com, besuchen Sie uns auf www.dezshira.com/de wo sie unsere Unternehmensbroschüre herunterladen können.
Bleiben Sie auf dem Laufenden über die aktuellsten Wirtschafts- und Investitionstrends in Asien durch unseren Newsletter. Jetzt abonnieren!
Weiterführende Lektüre (Kostenlos zum Download):
Der Große Steuervergleich für Asien 2014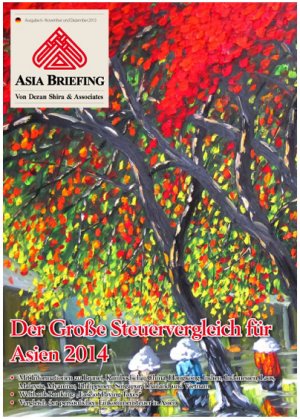 In dieser Ausgabe des Asia Briefing Magazins untersuchen wir die unterschiedlichen Steuersätzen von 13 asiatischen Ländern – den 10 ASEAN Ländern plus China, Indien und Hong Kong. Wir untersuchen die grundlegenden Steuersätze, die jedes dieser Länder als Abgabe verlangt, einschließlich Körperschaftsteuer, Einkommensteuer, indirekte Steuern und Verrechnungssteuer. Wir untersuchen auch Aufenthalts Trigger, sowie verfügbare steuerliche Anreize für den ausländischen Investor und klären wichtige Fragen der Compliance.
Das könnte Sie auch interessieren:
Die Erweiterung Ihres Chinageschäfts nach Indien und Vietnam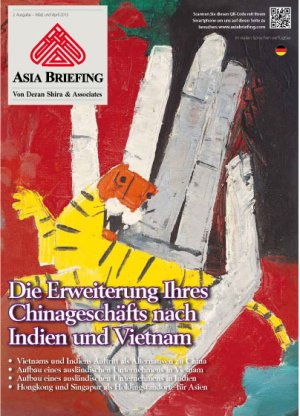 Diese Ausgabe des Asia Briefing Magazins erörtert Gründe, weshalb China nicht länger die einzige Destination für exportgetriebene Unternehmen darstellt und inwiefern die Evolution des Handels in Asien Vietnam und Indien zu wettbewerbsfähigen Alternativen werden lässt. In Anbetracht dessen untersuchen wir den Zweck, sowie Vor- und Nachteile unterschiedlicher Markt-Eintritts Varianten, welche ausländischen Investoren mit Interesse an Vietnam oder Indien zur Verfügung stehen.