Steigender Bedarf und Import an Gesundheitsprodukten. Zunehmende Investitionen in der Branche.
Dieser Artikel stammt von China Observer
Die Biotechnologie in Taiwan rückt als Wachstumsbranche verstärkt in den Fokus. Die Investitionen und die Kooperationen nehmen zu. Auch wenn hier mehr Forschung und Entwicklung sowie Produktion stattfinden, bleibt die Insel doch stark importabhängig, was sich vor allem bei Pharmazeutika zeigt. Deutschland ist dafür ein wichtiger Lieferant und dürfte auch bei der zunehmenden Nachfrage nach Labor- und Herstellungsausrüstung im Biotechnologiebereich zum Zuge kommen. 
Aufgrund der alternden Bevölkerung und steigender Gesundheitsansprüche hat Taiwan einen wachsenden Bedarf an Biotech-Erzeugnissen. Dieser ist von 2012 auf 2013 um 4% auf 388,2 Mrd. Neue Taiwan-Dollar (NT$; rund 9,83 Mrd. Euro; 1 Euro = 39,5 NT$ – Jahresdurchschnitt) gestiegen, so Angaben der Marktstudie "Biotechnology Industry in Taiwan", welche das Industrial Development Bureau (IDB) des Ministry of Econonmic Affairs 2014 veröffentlicht hat.
Dabei definiert Taiwan die Biotech-Industrie sehr umfassend und schließt Forschung und Entwicklung sowie Produktion von biotechnologischen, pharmazeutischen und medizintechnischen Erzeugnissen ein. Nicht nur ist der eigene Bedarf an solchen Biotech-Erzeugnissen hoch, sondern auch die Absatzaussichten in den Schwellenländern, insbesondere auf dem chinesischen Festland, bilden einen großen Anreiz zur Entwicklung der Branche.
In allen drei Teilbereichen – Biotechnologie, Pharmazeutika und Medizintechnik – übertreffen die Einfuhren die Ausfuhren. Von 2012 auf 2013 stieg der Einfuhrwert von Biotech-Erzeugnissen insgesamt von 203,5 Mrd. NT$ auf 209,2 Mrd. NT$, ein Wachstum von 2,8%. Die Ausfuhren legten um 4,6% von 93,6 Mrd. NT$ auf 97,9 Mrd. NT$ zu.
Vor allem bei Pharmazeutika besteht eine ausgeprägte Importabhängigkeit. Patentgeschützte Pharmazeutika wurden und werden nach wie vor importiert. Mit eigenentwickelten Arzneimitteln auf biotechnologischer Basis will Taiwan aufholen. Bei der Produktion ist die Insel bislang überwiegend mit der Erzeugung von Generika für den Inlandsbedarf und von traditioneller chinesischer Medizin für den Export beschäftigt gewesen.
Durch Steueranreize sowie durch direkte und indirekte Investitionen unterstützt die Regierung die Biotech-Industrie, die zu einem Wachstumskern der Insel werden soll. Sie subventioniert die Ausbildung von Forschungspersonal und gibt Fördergelder. Für die biopharmazeutische Forschungsförderung verfügt der National Science Council im Zeitraum 2011 bis 2016 über ein Budget von 16,7 Mrd. NT$.
Der National Development Fund des Executive Yuan hat nach Angaben des IDB bis Ende 2013 insgesamt 12,4 Mrd. NT$ direkt in 13 Biotech-Unternehmen und indirekt in 24 Start-ups investiert. Zudem ist das Interesse privater und professioneller Geldgeber an der Biotech-Industrie deutlich gestiegen. Die privaten Investitionen in die Branche sollen 2013 insgesamt 42 Mrd. NT$ betragen haben und damit knapp 6% mehr als im Vorjahr.
Davon gingen etwa 22 Mrd. NT$ an Investitionen in neue Fabrikationsanlagen und 13,4 Mrd. NT$ in Kapazitätserweiterungen, wie insbesondere der bereits etablierten Unternehmen Sci Pharmtech, Medigen Biotechnology, Standard Chemical & Pharmaceutical. Der Rest wurde für Forschung und Entwicklung aufgewendet. Die Forschungs- und Entwicklungsausgaben am Umsatz der börsennotierten Biotech-Unternehmen haben sich zwischen 2010 und 2013 von 4,8% auf über 6% erhöht.
Diese Angaben basieren auf Zahlen börsennotierter Unternehmen. Bis Ende 2013 waren bereits 83 Biotech-Unternehmen an den Hauptbörsen notiert. Deren Marktwert erreichte 629 Mrd. NT$. Darüber hinaus waren 42 junge Biotech-Firmen im Start-up Börsensegment notiert und kamen Ende 2013 bereits auf 200 Mrd. NT$ Börsenwert. Der Kapitalmarkt wird als Quelle für Investitionen immer wichtiger, um sich Kapital für Forschung, klinische Studien und Produktionsaufbau zu beschaffen.
Internationale Kooperation wichtig
Zudem spielen auch internationale Kooperationen eine bedeutende Rolle. Hier können taiwanische Unternehmen weitere Erfolge melden. So verkündete Fountain Biopharma im Sommer 2013 ein Kooperationsabkommen mit GSK für ein neues patentiertes Arzneimittel. GlycoNex gab bekannt, mit der japanischen Otsuka Pharmaceutical an der Entwicklung eines Krebsmedikaments zusammen zu arbeiten.
Im Bereich von klinischen Studien will Taiwan seine Stärke – hoher Schutz intellektueller Eigentumsrechte und qualifizierte Institutionen – nutzen, damit ausländische Biotech-Unternehmen noch aktiver werden. Nach Informationen der IDB-Biotechnology-Studie befanden sich Ende 2013 bereits 258 neuentwickelte Arzneimittel in der Pipeline, davon 29 in Phase I, 64 in Phase II und 138 in Phase III der klinischen Tests. Taiwan hat 2005 ein Fast-Track-System eingeführt, das die Durchführung von klinischen Studien und damit auch den Übergang in die Produktion beschleunigt.
Als Mitglied des Pharmaceutical Inspection Cooperation Scheme, einer Organisation, die sich der Durchsetzung von GMP-(Good Manufacturing Practice-)Standards und Qualitätsinspektionen widmet, hat sich die Food and Drug Administration zum Ziel gesetzt, bis Ende 2014 bei allen Herstellungsanlagen westlicher Arzneimittel diesen Standard einzuführen.
Bei Fragen zu Wirtschaftsthemen, Steuern, Buchhaltung und Unternehmensgründungen in Asien kontaktieren Sie bitte:
Fabian Knopf, Sr. Associate, Co-Head of German Desk, Dezan Shira & Associates
Fabian.Knopf@dezshira.com
Silke Neugebohrn, Sr. Associate, Co-Head of German Desk, Dezan Shira & Associates
Silke.Neugebohrn@dezshira.com
Für weitere Information oder um mit Dezan Shira & Associates in Kontakt zu treten, senden bitte Sie eine Email an germandesk@dezshira.com oder besuchen Sie uns auf www.dezshira.com/de wo Sie unsere Unternehmensbroschüre herunterladen können.
Bleiben Sie auf dem Laufenden über die aktuellsten Wirtschafts- und Investitionstrends in Asien durch unseren Newsletter. Jetzt abonnieren!
Weiterführende Lektüre (Kostenlos zum Download):
Umsatzsteuer in Asien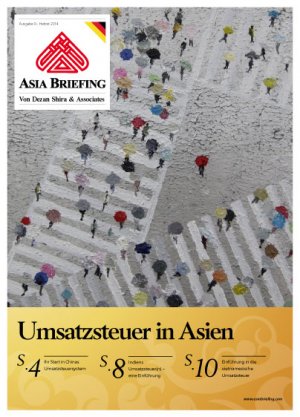 Diese Asia Briefing Ausgabe soll Ihnen die Möglichkeit geben, einen schnellen Überblick über die aktuell wichtigsten Details der Umsatzsteuersysteme in China, Indien und Vietnam zu erhalten.
Das könnte Sie auch interessieren:
Sind Sie bereit für ASEAN 2015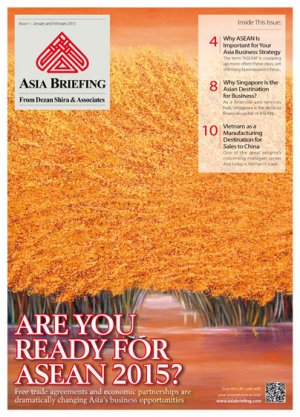 Indien hat kürzlich ein Freihandelsabkommen mit ASEAN unterzeichnet, jedoch sind sich noch immer viele Unternehmen nicht bewusst, inwiefern diese Freihandelsabkommen und Wirtschaftspartnerschaften die Geschäftsmöglichkeiten in Asien dramatisch verändern.
Diese Vereinbarungen reduzieren Zollgebühren und Zölle von tausenden Produkten.
In dieser ersten Ausgabe des zweimonatlichen Asia Briefing Magazins, konzentrieren wir uns auf die Veränderungen, welche das ASEAN Freihandelsabkommen für die gesamte Region bringen wird, sowie auf die tiefgreifenden Auswirkungen von pan-asiatischen Freihandelsabkommen, wie das Regional Comprehensive Economic Partnership.