Die Abteilung für Industriepolitik und -förderung (DIPP, Department of Industrial Policy and Promotion) hat einen maximalen Zeitrahmen von 90 Tagen für die Bearbeitung aller ausstehenden Anträge für ausländische Direktinvestitionen im Ein-Marken-Einzelhandel festgesetzt.
Nachdem die DIPP aufgrund der Hinauszögerung von 13 Bewerbungen zur Eröffnung von Ein-Marken-Einzelhandelsfilialen von Unternehmen wie Forever 21, Furla und Swarovski unter Beschuss gekommen ist, versucht es jetzt den Genehmigungsprozess zu beschleunigen um weitere Kritik zu vermeiden.
"Wir werden von nun an keine schwebenden Bewerbungen im DIPP und eine strenge Einhaltung des Zeitrahmens (90 Tage) gewährleisten", sagte ein DIPP Beamter.
Dem neuen Zeitrahmen zufolge, der bald in Kraft treten soll, wird die DIPP innerhalb von 20 Tagen Bewerbungen bearbeiten und an den Vorstand zur Förderung ausländischer Investments weiterleiten. Unvollständige Bewerbungen werden innerhalb derselben Zeit an die Bewerber zurückgeschickt und eine korrigierte Bewerbung kann innerhalb von 30 Tagen abgegeben werden.
Bewerbern, die einer Forderung der DIPP gewisse Dokumente zu berichtigen nicht Folge leisten, wird nach einem Monat eine zusätzliche Frist von 20 Tagen gestattet, um dieser Forderung nachzukommen.
"Die 90-Tage-Frist schließt die Mitteilung eines Zeitpunkts und eines Datums an den Bewerber, um das Büro für die Vervollständigung von Formalitäten zu besuchen, mit ein und eine Versäumnis dieses Besuchs wird dazu führen, dass die Bewerbung abgelehnt wird", fügte der DIPP Beamte hinzu.
Dem Beamten zufolge wird dieser beschleunigte Zeitrahmen aber nur auf neue Bewerbungen zutreffen.
Mehr zum Thema: India Mulls Scrapping 30 Percent Domestic Sourcing Requirement
Unter der Berücksichtigung, dass mehr als 3 Milliarden ausländische Investitionsanträge für den Ein-Marken-Einzelhandel in den letzten 2 Jahren bei der DIPP eingereicht wurden und die Bewerber oft gefragt wurden, eine Vielzahl an Klarstellungen über mehrere Monate hinweg abzugeben, haben die meisten Firmen das Gefühl, dass eine Beschleunigung des Genehmigungsprozesses längst überfällig sei.
Damro, Barausse, Austria Puma, Richemont, Montblanc, Lush und Credo Brands sind unter den ausländischen Unternehmen deren Anträge im Ein-Marken-Einzelhandel seit 2013 im Limbo der DIPP feststecken.
Die DIPP besteht allerdings darauf, dass es nicht die volle Verantwortung trägt.
"Die meisten Anträge, die zur DIPP kommen, sind halb gestützt und manche binden sich nicht an die Bedingungen. Also sitzen wir in Partnerschaft mit diesen Firmen und gewährleisten, dass sie im Einklang mit den bestehenden Regulierungen sind", sagte DIPP Sekretär Amitabh Kant zur Verteidigung der Institution.
Dies ist das erste Mal seit Narendra Modis Antritt, dass DIPP Regulierungen Thema der öffentlichen Aufmerksamkeit geworden ist. Nachdem Kant diesen Monat behauptet hat, dass der Aufschwung von Importen durch bilaterale Freihandelsabkommen den indischen Produktionssektor schädigt, wurde er kürzlich öffentlich vom Rajeev Kher, Sekretär des Handelsministeriums, kritisiert, nicht fähig zu sein, Fakten zu bringen, die seine Position unterstützen.
"Es ist ein Mythos, dass Freihandelsabkommen die einheimische Produktion gefährden. Das muss klargestellt werden. Wir sind zur Erleichterung des Handels verpflichtet. Obwohl die letzten paar Jahre aufgrund sinkender Exporte nicht gut waren, gibt es bereits Anzeichen, dass ein annehmbarer Wiederanstieg des ausländischen Handels bevor steht", sagte Kher bei einer Veranstaltung der Indischen Industriellenvereinigung diesen Monat.
Seit Anfang des Jahres haben ausländische Kapitalgeber rundUSD  24,29 Mrd  (EUR 18,9 Mrd.) in Indien investiert.
Bei Fragen zu Wirtschaftsthemen, Steuern, Buchhaltung und Unternehmensgründungen in Asien kontaktieren Sie bitte:
Fabian Knopf, Sr. Associate, Co-Head of German Desk, Dezan Shira & Associates
Fabian.Knopf@dezshira.com
Silke Neugebohrn, Sr. Associate, Co-Head of German Desk, Dezan Shira & Associates
Silke.Neugebohrn@dezshira.com
Für weitere Information oder um mit Dezan Shira & Associates in Kontakt zu treten, senden bitte Sie eine Email an germandesk@dezshira.com oder besuchen Sie uns auf www.dezshira.com/de wo Sie unsere Unternehmensbroschüre herunterladen können.
Bleiben Sie auf dem Laufenden über die aktuellsten Wirtschafts- und Investitionstrends in Asien durch unseren Newsletter. Jetzt abonnieren!
Weiterführende Lektüre (Kostenlos zum Download):
Eine Einführung in asiatische Entwicklungszonen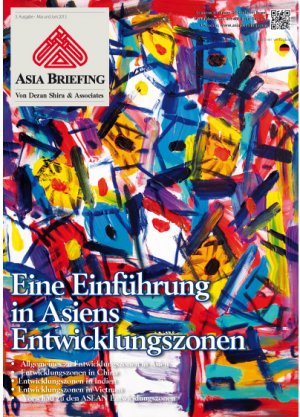 In dieser Ausgabe des China Briefing Magazins erläutern wir unterschiedliche Arten von Entwicklungszonen in China, Indien und Vietnam im Hinblick auf deren spezifischen Vorteile und Charakteristika.
Das könnte Sie auch interessieren:

Umsatzsteuer in Asien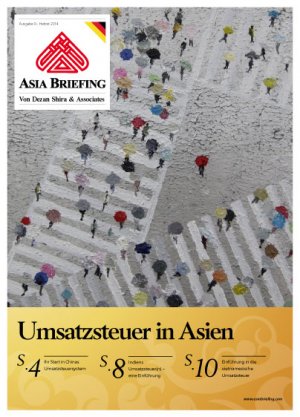 Diese Asia Briefing Ausgabe soll Ihnen die Möglichkeit geben, einen schnellen Überblick über die aktuell wichtigsten Details der Umsatzsteuersysteme in China, Indien und Vietnam zu erhalten.