Stando a quanto dichiarato dall'agenzia governativa Birmana per gli investimenti, il Directorate of Investment and Company Administration (Dica), la maggior parte degli investimenti confluiti in Myanmar nell'ultimo periodo provengono da paesi Asiatici, e proprio le società asiatiche rappresentano il 50 per cento del totale delle nuove attività stabilite nella neonata Repubblica.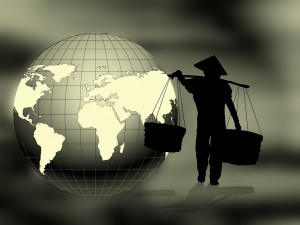 Dopo 49 anni di governo militare, un governo semi-democratico e riformista si è insediato in Myanmar a partire dal 2011. Da allora, il Paese ha lavorato al fine di rimuovere sanzioni ed embarghi internazionali, dovuti alla precedente situazione politica, con l'obiettivo di attirare gli investimenti esteri. Gli sforzi maggiori sono stati prodotti con riferimento al miglioramento delle infrastrutture, decisamente ancora sotto sviluppate, e al tentativo di liberarsi dell'etichetta di Paese corrotto e insensibile alle problematiche relative ai diritti umani.
Le ultime statistiche pubblicate dal Dica, comunque, indicano che nonostante si siano raggiunti dei buoni risultati in termini di nuovi investimenti (ci sono attualmente 783 imprese straniere che operano in Myanmar), i risultati nei confronti degli investimenti provenienti dall'occidente, sono ancora lungi dall'essere soddisfacenti. Tuttavia, occorre condurre un'analisi più approfondita. Il Myanmar ha un bacino di consumatori notevole, composto da circa 50 milioni di unità, e non ha più il problema del controllo militare. Il regime fiscale è stato ammorbidito e migliorato, ed anche alcuni settori ritenuti in precedenza sensibili, sono stati liberalizzati: basti pensare al delicato settore delle telecomunicazioni, recentemente aperto agli investimenti stranieri, dopo che il Governo ha concesso la licenza necessaria per operare a due giganti stranieri del settore, come Telenor e Ooredoo.
Questo dato è solo parte di una serie più ampia di provvedimenti, che portano nuova linfa per gli investimenti ed aprono mercati vergini e totalmente nuovi. Restando nel campo delle telecomunicazioni, il tasso di penetrazione dei dispositivi di telefonia mobile nel Paese è fermo al 9 per cento, ma punta a raggiungere l'80 per cento entro la fine del 2016.
Come detto, tante altre opportunità di investimento si stanno concretizzando, spinte dai numerosi progetti legati a diversi settori, dalle infrastrutture all'agricoltura. Il Myanmar, è il primo esportatore di riso al mondo, per la Cina, ed ha recentemente siglato un accordo che lo porterà a diventarlo anche per il Paese più popoloso al mondo, l'India, entro i prossimi cinque anni.
RELATED: Who Stands to Gain Most from India-Myanmar Rice Deal? (INGLESE)
Ma il Myanmar non è solo riso; il territorio è prospero di risorse naturali, dal petrolio al gas, passando per i metalli preziosi, e gli investimenti stranieri non subiranno più il giogo del governo militare e corrotto. Inoltre, il fatto che il Myanmar paese membro dell'ASEAN, che presto finalizzerà il progetto relativo alla creazione di una comunità economica, l'Asean Economic Community (AEC), fa sì che l'accesso per gli investitori è destinato ad essere più agevole e trasparente. La nuova Repubblica offre dunque una lunga lista di potenziali vantaggi e ed opportunità per gli investitori stranieri. Al momento, sembra che solo gli investitori Asiatici se ne siano accorti, mentre gli Occidentali sono ancora in fase di studio ed ancora testano il terreno, ma dovranno agire, prima che il terreno da fertile come è ora, diventi arido.
Dezan Shira & Associates, società di consulenza specializzata nell'assistenza  agli investimenti diretti esteri nei paesi dell'Asia Emergente, è la più grande società di consulenza contabile e fiscale a partecipazione italiana in Asia.
Per maggiori informazioni vi invitiamo a contattarci al seguente indirizzo: italiandesk@dezshira.com, visitare il sito: www.dezshira.com, o scaricare la brochuredella società.
Per rimanere aggiornati sugli ultimi trend degli investimenti e dei business in Cina, iscrivetevi a The China Advantage, il nostro servizio complementare di aggiornamento riguardo notizie, commenti, guide e risorse multimediali.