Die Wirtschaft der zehn ASEAN-Mitgliedsstaaten (Association of Southeast Asian Nations) verzeichnet weiterhin ein gesundes Wachstum. Während die "Klassenbesten" – Indonesien, Malaysia, die Republik der Philippinen, der Stadtstaat Singapur und Thailand, die als ASEAN 5 bezeichnet werden, den Weg für ausländische Investitionen geebnet haben, holen die verbleibenden Mitglieder den wirtschaftlichen Vorsprung auf.
Mehr zum Thema: ASEAN Economic Community (AEC) 2015: Freizügigkeit nur für einige Wenige
Einer der bedeutendsten Vorteile der verbleibenden Länder sind deren vergleichsweise niedrigen Mindestlöhne, die zu dementsprechend niedrigen Produktionskosten für die dort tätigen Unternehmen führen.
Dieser Vorzug wurde von den jeweiligen Regierungen der fünf Länder oft angepriesen; aktuelle Entwicklungen des letzten Jahres jedoch deuten an, dass die Gehälter in diesen Nationen bald ansteigen werden.
Proteste für höhere Mindestlöhne sind zur Gewohnheit geworden und Regierungen einiger Länder haben eine Erhöhung der Löhne angekündigt.
Mehr zum Thema Mindestlöhne in Asien können Sie im Magazin "Personalverwaltung in Asien" erfahren.
Folgende Tabelle veranschaulicht den Mindestlohn in den 5 wirtschaftlich schwächeren Staaten von ASEAN:

Brunei:
Das Königreich ist das einzige Land der ASEAN-Blocks, das keinen gesetzlich vorgeschriebenen Mindestlohn hat. Obwohl die Regierung zur Zeit keine Pläne hat diesen einzuführen, bleibt dies ein kontroverses Thema, welches in mehreren Parlamentssitzungen letztes Jahr diskutiert wurde.
Brunei ist in der Frage über den Mindestlohn gespalten: Während Arbeitnehmer im öffentlichen Dienst die Diskussion mit offenen Armen empfangen haben, haben Privatunternehmen Befürchtungen, dass ein gesetzlich diktierter Mindestlohn sich negativ auf die Geschäftszahlen auswirken könnte. Zwischenzeitlich haben Regierungsbeamte bekanntgegeben, dass eine umfassende Studie der Betriebsstandards im privaten Sektor notwendig ist, bevor legislative Bemühungen in Betracht gezogen werden können.
Kambodscha:
Der Mindestlohn in Kambodscha beträgt zur Zeit EUR 77 pro Monat – dieser Betrag hat in den letzten Monaten viel Aufmerksamkeit erregt. Speziell die Arbeitnehmer der Textilindustrie haben auf eine Erhöhung gedrängt, einige Gewerkschaften fordern eine Erhöhung auf EUR 113. Dieses ist für bekannte, westliche Unternehmen wie Nike, Gap und Zara ein einschlägiges Problem, die ihre Produktion in das südostasiatische Land ausgelagert haben.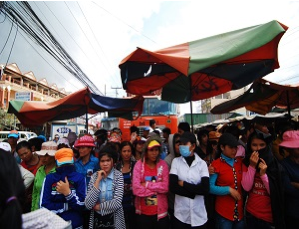 Vor kurzem hat die kambodschanische Regierung den Forderungen der Textilindustrie stattgegeben, obgleich der Betrag, den die Gewerkschaften eingefordert haben nicht ganz erreicht wurde. Der Kompromiss sieht vor, den Mindestlohn um 28 % auf EUR 100 zu erhöhen.
Ob diese Erhöhung die Arbeiter zufrieden stellt, ist nicht sicher – die kambodschanische Wirtschaft ist auf Investitionen, die zum Großteil aus ausländischem Sourcing stammen, angewiesen.
Laos:
Seit 1991 wurde der gesetzliche Mindestlohn in Laos fünf mal geändert, die letzte Revision fand 2011 statt. Laut der staatlichen Medien haben mehrere Vertreter der verschiedenen Wirtschaftsbereiche sich im Sommer getroffen und eine mögliche erneute Erhöhung des Mindestlohnes besprochen; dazu gab es jedoch keine konkreten Resultate.
Myanmar:
Der gesetzliche Mindestlohn in Myanmar wurde erst im März 2013 beschlossen doch bis jetzt hat der Arbeitsminister Aye Myint den offiziellen Betrag noch nicht bekanntgegeben. Während es einige Standardbeträge in einigen Bereichen gibt – so erhalten Beamte im öffentlichen Dienst ein Minimum von MKK 50.000 (ca. EUR 40). Das Versprechen, einen generellen Mindestlohn bis Ende 2013 einzuführen, muss die Regierung noch einlösen. 
Vietnam:
Die vietnamesische Regierung kündigte vor kurzem an, den Mindestlohn um 15 % zu erhöhen. Dies ist bereits die vierte Anpassung der Löhne in nur fünf Jahren. 2010 stiegen die Mindestlöhne um 9,9 %, zwei Jahre später, 2012 um satte 30,1%. Im Jahr 2013 waren immerhin 15,2%.
Mehr zum Thema: Vietnam erhöht Mindestlohn – eine gute Idee?  
Die vietnamesische Regierung versucht seit fünf Jahren die Balance zu finden, zwischen der Etablierung eines fairen Einkommens und dem Bestreben, Vietnam für ausländische Investitionen noch attraktiver zu machen. Die gravierende Einkommensschere wird die soziale Gerechtigkeit zweiteilen – sofern der Mindestlohn nicht ansteigt. Dies wiederum birgt jedoch das Risiko, Kapitalgeber zu verschrecken.
Der geplante Anstieg wird garantieren, dass Vietnam den höchsten Mindestlohn der "kleinen" ASEAN-Staaten hat; Unternehmen müssen sich trotzdem keine Sorgen machen. Das Land hat den besten Produktionssektor in ASEAN und der Mindestlohn wird trotzdem noch im Vergleich zu den anderen, "großen" Wirtschaften wettbewerbsfähig bleiben. Vietnam ist auch dabei, diesen Vorsprung aufzuholen
Mehr zum Thema: Welche Auswirkungen hat das Singapur Budget 2015 auf mein Unternehmen?
Das Wachstum steigt und ausländische Unternehmen reißen sich darum Ihre Geschäfte nach Vietnam zu verlegen. In naher Zukunft werden weitere Mindestlohnanstiege erwartet und werden den wirtschaftlichen Fortschritt nicht negativ beeinflussen. 
Bei Fragen zu Wirtschaftsthemen, Steuern, Buchhaltung und Unternehmensgründungen in Asien kontaktieren Sie bitte:

Fabian Knopf, Sr. Associate, Co-Head of German Desk, Dezan Shira & Associates Fabian.Knopf@dezshira.com
Silke Neugebohrn, Sr. Associate, Co-Head of German Desk, Dezan Shira & Associates Silke.Neugebohrn@dezshira.com
Für weitere Information oder um mit Dezan Shira & Associates in Kontakt zu treten, senden bitte Sie eine Email an germandesk@dezshira.com oder besuchen Sie uns auf www.dezshira.com/de, wo Sie unsere Unternehmensbroschüre herunterladen können. Bleiben Sie auf dem Laufenden über die aktuellsten Wirtschafts- und Investitionstrends in Asien durch unseren Newsletter.
Folgen Sie uns auf Twitter!
Weiterführende Lektüre (Kostenlos zum Download):
Personalverwaltung in Asien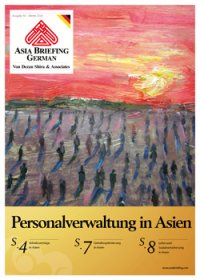 Diese Ausgabe von Asia Briefing hilft Ihnen und Ihrem Unternehmen, sich im Dickicht der erforderlichen Informationen für die Gestaltung eines Arbeitsvertrags in den Ländern Indien, China und Vietnam zurechtzufinden. Wir gehen auf die Sozialversicherungssysteme und deren einzelne Leistungen ein, damit Sie sowohl Ihre Rechte und Pflichten, als auch die Ihrer Angestellten kennen.
Das könnte Sie auch interessieren:
Vorbereitung der Jahresabschlussprüfung für Ihr Asiengeschäft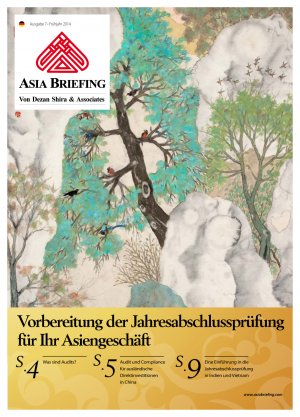 In dieser Ausgabe von Asia Briefing möchten wir Ihnen einen Überblick über die Ziele und Anforderungen der Compliance-Prüfungen in China, Indien und Vietnam bieten, damit Sie vor bösen Überraschungen in Rechts- und Steuerangelegenheiten gefeit sind und einen erfolgreichen Start ins Jahr des Pferdes erleben.