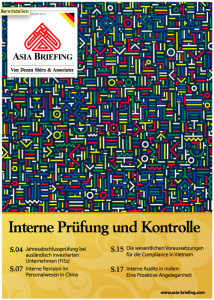 Diese Ausgabe von Asia Briefing behandelt die interne Prüfung und Kontrolle. Diese ist insofern wichtig, da sie nicht nur einen Überblick über die Performance des eigenen Unternehmens ermöglicht, sondern auch, weil eine regelmäßige Prüfung von den Behörden verlangt wird. Hier geht es zum kostenlosen Download.
Daher werfen wir einen Blick auf die Jahresabschlussprüfung in China, wie diese im Idealfall aussehen sollte, was dringend zu beachten ist und welche Vorteile eine Jahresabschlussprüfung für das eigene Unternehmen hat. Wir vergleichen außerdem die Buchführungsrichtlinien in China mit den IFRS-Standards.
Diese Ausgabe zeigt ebenfalls, was im Falle eines Kontrollverlustes über die chinesische Tochtergesellschaft zu tun ist, um den Schaden für das Unternehmen so gering wie möglich zu halten. Wir führen dazu auch noch auf, welche Schutzmaßnahmen Sie für Ihr Unternehmen im Vorfeld treffen können.
Abschließend geben wir einen Überblick über die Internen Audits für ein Unternehmen in Indien, welche Vorschriften eingehalten werden sollten, welche Vorteile dies trotzdem mit sich bringt sowie die Voraussetzungen für Compliance in Vietnam. Wie diese Compliance eingehalten wird und wie der Ablauf gestaltet ist, damit Sie und Ihr Unternehmen die wesentlichsten Fristen einhalten können.
In diesem Heft:
Jahresabschlussprüfung bei ausländisch investierten Unternehmen (FIEs)
Interne Revision im Personalwesen in China
Kontrollverlust- Wie Sie Ihr chinesisches Unternehmen wieder in den Griff bekommen
Vorab Maßnahmen: Rechtsschutz
Die Unterschiede zwischen Chinas Buchführungsrichtlinien und den IFRS-Standards- Eine Fallstudie
Interne Audits in Indien: Eine proaktive Angelegenheit
Die wesentlichen Voraussetzungen für die Compliance in Vietnam
Bei Fragen zu Wirtschaftsthemen, Steuern, Buchhaltung und Unternehmensgründungen in Asien kontaktieren Sie bitte:

Fabian Knopf, Sr. Associate, Co-Head of German Desk, Dezan Shira & Associates Fabian.Knopf@dezshira.com
Silke Neugebohrn, Sr. Associate, Co-Head of German Desk, Dezan Shira & Associates Silke.Neugebohrn@dezshira.com
Für weitere Information oder um mit Dezan Shira & Associates in Kontakt zu treten, senden bitte Sie eine Email an germandesk@dezshira.com oder besuchen Sie uns auf www.dezshira.com/de, wo Sie unsere Unternehmensbroschüre herunterladen können. Bleiben Sie auf dem Laufenden über die aktuellsten Wirtschafts- und Investitionstrends in Asien durch unseren Newsletter.
Folgen Sie uns auf Twitter!