Die Philippinen und die Mitglieder der Europäischen Freihandelsgemeinschaft (European Free Trade Association – EFTA) haben in Makati auf den Philippinen, die erste Verhandlungsrunde zu einem Freihandelsabkommen (free trade agreement – FTA) begonnen. Die EFTA besteht aus vier Ländern: Island, Liechtenstein, Norwegen und der Schweiz. Ein vollständiges FTA hätte tiefgreifende Auswirkungen auf Unternehmungen in beiden Regionen.
Dem philippinischen Unterstaatsekretär für Handel, Adrian Cristobal Jr. zufolge, arbeite das Land hart daran das FTA bis Ende 2015 oder Anfang 2016 abzuschließen. Des Weiteren äußerte er: "Es ist ein ehrgeiziges Ziel, aber wir verfolgen es. Wir möchten unser Land für die kleinen aber wohlhabenden Länder mit hochentwickelten Volkswirtschaften, die wertschöpfungsstarke Produkte und moderne Spitzentechnologie einschließen, attraktiv machen. Wir wollen die Komplementierung nutzen."
Die EFTA Länder sind insbesondere daran interessiert, Agrarprodukte sowie andere Endprodukte wie Mobiliar in die Philippinen zu importieren.

MEHR ZUM THEMA: Philippinen: Anreize für ausländische Investoren
Vor Beginn der formalen Verhandlungen am 23. Juni 2014 in Island, unterzeichneten die Philippinen und die EFTA eine gemeinsame Erklärung über Zusammenarbeit, welches deren Absicht, Gespräche zu Handelsfreiheit zu beginnen, andeutete.
Während der ersten Verhandlungsrunde, wurden eine Vielzahl von Arbeitsgruppen zusammengestellt um die folgenden Angelegenheiten zu diskutieren:
Güter und Dienstleistungen
Investitionen
Recht des geistigen Eigentums
Wettbewerb
Öffentliches Beschaffungswesen
Handel und nachhaltige Entwicklung
Der Handel zwischen den Philippinen und der EFTA ist in den vergangenen Jahren stetig gewachsen. 2013 lag der Gesamthandel bei EUR 584 Mio. Die Philippinen exportierten Güter im Wert von EUR 178 Mio. in die EFTA Länder, während die EFTA Länder EUR 406 Mio. exportierten.
Die philippinische Regierung ist zuversichtlich, dass die seit kurzem bestehende Mitgliedschaft in dem Allgemeinen Präferenzsystem Plus (Generalized System of Preferences Plus – GSP+) der Europäischen Union, ein zusätzlicher Impuls für den Abschluss der FTA Verhandlungen mit der EFTA ist. Die Philippinen sind der erste ASEAN Staat, der dem GSP+ beigetreten ist, was dem Land den tariffreien Export von über 6.200 Produkten (66 % aller Produkte auf dem Zolltarifposten) in die EU ermöglicht, einschließlich verarbeitetem Obst, Kokosnussöl, Schuhen, Fisch und Textilien.
Staatssekretär für Handel Cristobal erklärte: "Wir erwarten, dass die EU-GSP+ weiter unsere Attraktivität als Investitionsziel für europäische Firmen und andere ausländische Investoren für [vorgesehene] Produkte, die in den EU Markt exportiert werden sollen, fördern wird."
Die Philippinen ergründen auch die Möglichkeit, ein ähnliches FTA mit einer Reihe südamerikanischer Länder zu formen, so wie jenes, welches mit der EFTA zurzeit verhandelt wird. Mitte 2015 werden Vertreter der Philippinen auf eine offizielle und geschäftliche Mission in die Region reisen, um das Land als ein attraktives Investitionsziel zu bewerben. Die Länder, die sie besuchen werden, schließen Brasilien, Chile, Mexiko und Peru ein.
Die zweite Verhandlungsrunde des Philippinischen-EFTA FTA ist für Juni 2015 geplant.
Eine Auflistung aller Handelsabkommen der Philippinen können Sie hier finden. Die Mitgliedschaft des Landes in der ASEAN Gemeinschaft stellt ebenfalls eine wesentliche Handelsposition gegenüber einer großen Anzahl von Ländern und Regionen dar. Eine vollständige Liste von ASEAN bezogenen Handelsabkommen finden Sie hier. Es wird dringend empfohlen, dass Investoren ein professionelles Dienstleistungsunternehmen konsultieren, um alle Vorteile der Freihandelszone oder anderer vorteilhafter Vereinbarungen des Landes, in dem ein Investor operiert, nutzen zu können.
DAZU: Dienstleistungen von Dezan Shira & Associates
Bei Fragen zu Wirtschaftsthemen, Steuern, Buchhaltung und Unternehmensgründungen in Asien kontaktieren Sie bitte:

Fabian Knopf, Sr. Associate, Co-Head of German Desk, Dezan Shira & Associates Fabian.Knopf@dezshira.com
Silke Neugebohrn, Sr. Associate, Co-Head of German Desk, Dezan Shira & Associates Silke.Neugebohrn@dezshira.com
Für weitere Information oder um mit Dezan Shira & Associates in Kontakt zu treten, senden bitte Sie eine Email an germandesk@dezshira.com oder besuchen Sie uns auf www.dezshira.com/de, wo Sie unsere Unternehmensbroschüre herunterladen können. Bleiben Sie auf dem Laufenden über die aktuellsten Wirtschafts- und Investitionstrends in Asien durch unseren Newsletter.
Folgen Sie uns auf Twitter!

Der Große Steuervergleich für Asien 2015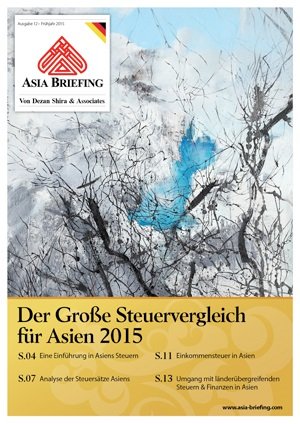 Diese Ausgabe von Asia Briefing behandelt den großen Steuervergleich 2015. Wir untersuchen die Steuersätze der zehn ASEAN Staaten sowie Indien, China, Hong Kong. Da sich das Investitionsumfeld in Asien stetig verändert, ist es von äußerster Bedeutung, immer auf dem aktuellsten Stand zu sein, um für Ihr Geschäft den passenden Standort zu finden. Diese Asia Briefing Ausgabe soll Ihnen ein Verständnis für die verschiedenen Steuersysteme in Asien geben.
Interne Prüfung und Kontrolle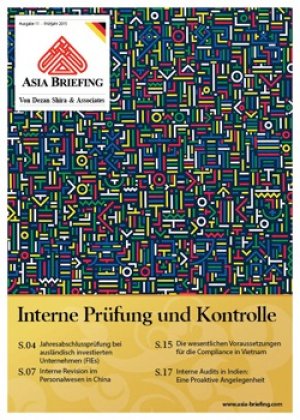 Diese Ausgabe von Asia Briefing behandelt die interne Prüfung und Kontrolle. Diese ist insofern wichtig, da sie nicht nur einen Überblick über die Performance des eigenen Unternehmens ermöglicht, sondern auch, weil eine regelmäßige Prüfung von den Behörden verlangt wird. Unser Magazin soll Ihnen einen Einblick in die Verfahren der internen Prüfung und Kontrolle in den Ländern China, Indien und Vietnam geben.