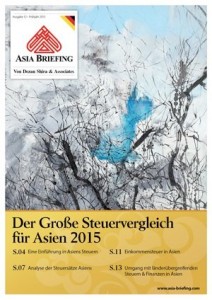 Sie können das neue Magazin zum Steuervergleich in Asien 2015 im Bookstore kostenlos herunterladen.
Diese Asia Briefing Ausgabe soll Ihnen eine Einführung in die Steuern Asiens bieten. Wir analysieren in dem Großen Steuervergleich 2015 die verschiedenen Steuersätze, um Ihnen ein umfassendes Verständnis zu den aktuellen Steuersystemen in der Region zu verschaffen. Zwar gibt es mittlerweile viele Doppelbesteuerungsabkommen, die die Länder so enger miteinander verbinden, dennoch sind die Steuergesetze sehr unterschiedlich. Zudem gehen wir konkreter auf die Einkommenssteuer in Asien ein und sehen uns den Umgang von Steuern sowie Finanzen an, die länderübergreifend sind. Da sich die Wirtschaften in der Region weiterentwickeln und wachsen, ist es für Ihr Geschäftsvorhaben wichtig, in der Region das passende Steuersystem zu finden. Der Große Steuervergleich 2015 bietet Informationen zu den 13 verschiedenen Rechtssystemen in Indien, China, Hong Kong und den zehn ASEAN Staaten Brunei, Kambodscha, Indonesien, Laos, Malaysia, Myanmar, den Philippinen, Singapur und Thailand und Vietnam.
Bei Fragen zu Wirtschaftsthemen, Steuern, Buchhaltung und Unternehmensgründungen in Asien kontaktieren Sie bitte:

Fabian Knopf, Sr. Associate, Co-Head of German Desk, Dezan Shira & Associates Fabian.Knopf@dezshira.com
Silke Neugebohrn, Sr. Associate, Co-Head of German Desk, Dezan Shira & Associates Silke.Neugebohrn@dezshira.com
Für weitere Information oder um mit Dezan Shira & Associates in Kontakt zu treten, senden bitte Sie eine Email an germandesk@dezshira.com oder besuchen Sie uns auf www.dezshira.com/de, wo Sie unsere Unternehmensbroschüre herunterladen können. Bleiben Sie auf dem Laufenden über die aktuellsten Wirtschafts- und Investitionstrends in Asien durch unseren Newsletter.
Folgen Sie uns auf Twitter!

Interne Prüfung und Kontrolle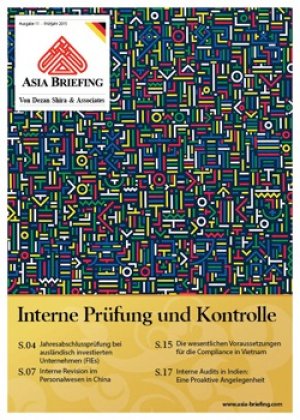 Diese Ausgabe von Asia Briefing behandelt die interne Prüfung und Kontrolle. Diese ist insofern wichtig, da sie nicht nur einen Überblick über die Performance des eigenen Unternehmens ermöglicht, sondern auch, weil eine regelmäßige Prüfung von den Behörden verlangt wird. Unser Magazin soll Ihnen einen Einblick in die Verfahren der internen Prüfung und Kontrolle in den Ländern China, Indien und Vietnam geben.
Umsatzsteuer in Asien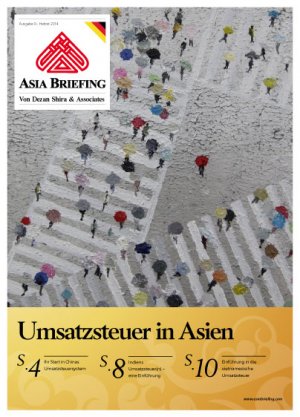 Diese Asia Briefing Ausgabe soll Ihnen die Möglichkeit geben, einen schnellen Überblick über die aktuell wichtigsten Details der Umsatzsteuersysteme in China, Indien und Vietnam zu erhalten. In den letzten Jahren kam es hier zu weitgreifenden Anpassungen. Im folgenden Heft wollen wir Ihnen deshalb die Handhabung dieser Steuer näherbringen.