Rapides Wirtschaftswachstum, steigende Löhne und ein verändertes Konsumverhalten tragen alle zu einem neuen Absatzmarkt in asiatischen Märkten bei. Der Markt für alkoholische Getränke in der Asien-Pazifik Region, vor allem Bier, war in den letzten Jahren sehr turbulent: Gesteigertes Wachstum, Konkurrenz unter heimischen Marken, sowie erhöhter Druck durch ausländische Konkurrenz und die erhöhte Popularität von Mikrobrauereien lassen den Markt nicht zum Stillstand kommen.
Es wird erwartet, dass der Biermarkt in Asien-Pazifik im Jahr 2020 ein Volumen von USD 220 Milliarden erreicht, was einem jährlichen Wachstum von durchschnittlich fünf Prozent entspricht. Jedoch gibt es einige Hürden, die überwunden werden müssen, wie z.B. teilweise beeinträchtigende Restriktionen und Verkaufshindernisse.
China
Wenn man von Produktion und Gesamtverbrauch ausgeht, dann ist seit 2002 der chinesische Biermarkt der größte der Welt, und wird 2017 voraussichtlich den US-Markt, momentaner Spitzenreiter wenn es um Handelsvolumen geht, überholen. Jedoch sank 2014 die Produktion in China um einen Prozent im Vergleich zum Vorjahr – im Dezember alleine fiel die Produktion um ganze 17 %.
Laut China Economic Review ist China seit jeher ein fragmentierter Markt, der in erster Linie nur geringe Gewinnmargen bietet, hohe Betriebskosten aufweist und sich durch einen zu anderen Märkten vergleichbar niedrigen Verkaufspreis auszeichnet. Trotzdem ist die Verbrauchsteuer mit acht Prozent relativ hoch.
Trotz des erschwerten operativen Umfeldes und dem jüngsten Einbruch in der Produktion, sind die Absatzzahlen in den letzten Jahren konstant angestiegen. Zwischen 2012 und 2013 hat sich der Absatz sogar um über 50 % erhöht, als das Land 182 Millionen Liter Bier mit einem Wert von USD 232 Millionen (EUR 262 Millionen) importierte. Obwohl lokale Riesen wie China Resource Enterprise, Tsingtao und Beijing Breweries den Markt dominieren, ist laut einem Bericht der amerikanischen Landwirtschaftsbehörde vom Februar 2015 der Markt für Importbier kurz davor zu explodieren, ähnlich wie der Weinmarkt zwischen 2005 und 2009.

MEHR ZUM THEMA: Der reife Geschmack der chinesischen Weinindustrie
Vietnam
Auch Vietnam entpuppt sich als Wachstumsmarkt für Bier in der Region Asien-Pazifik. Laut der Vietnam Beverages Association, haben Vietnamesen im Jahr 2014 alleine über USD 3 Milliarden (EUR 2,6 Milliarden) für 3,14 Milliarden Flaschen einheimisches Bier ausgegeben. Dies macht Vietnam zum größten Bierkonsumenten in der ASEAN-Region und dem drittgrößten in Asien, nach China und Japan.
Natürlich hat sich dies auch bis zu den ausländischen Produzenten herumgesprochen. Internationale Branchengrößen wie Asahi, Heineken und ThaiBev liefern sich einen harten Konkurrenzkampf um ein 53 %-Anteil an Vietnams größter Brauerei, Saigon Beer, Alcohol, and Beverage Corporation (Sabeco). Das japanische Unternehmen Sapporo hat den vietnamesischen Markt im Jahr 2011 betreten, und möchte seine Produktion erhöhen. Die neue Brauerei von Anheuser-Busch InBev hat im Mai mit dem Brauen begonnen.
Die einheimischen Produzenten werden sich einer härteren Konkurrenz von außen stellen müssen, wenn Vietnam den Einfuhrzoll auf Bier von 35 Prozent auf 0 Prozent wegen der Transpazifischen Partnerschaft (TPP) senken wird.

MEHR ZUM THEMA: "Transpazifische Partnerschaft" verändert Vietnams Biermarkt
Indien
Indien ist in erster Linie ein Markt für Spirituosen. Im Jahr 2013 wurden über 50 Prozent aller Whiskeys in Indien getrunken. Obwohl der Absatz von Bier etwas blass im Gegensatz zu Spirituosen aussieht, steigt der Verbrauch langsam an. Laut Euromonitor International, werden Importe von Premiumbier zwischen 2013 und 2018 jährlich um 11 Prozent angestiegen.
Ähnlich dem vietnamesischen Markt wird Indiens Markt von heimischen Produzenten dominiert, die zunehmend den Atem der ausländischen Konkurrenz im Nacken spüren. Im Jahr 2013 war United Breweries der Topproduzent, gefolgt von SAB Miller und Carlsberg. Ausländische Unternehmen haben die größeren, einheimischen Brauereien aufgekauft. Im April 2015 hat Molson Coors die indische Brauerei Mount Shivalik Breweries Limited aufgekauft; damit erlangt die US-Firma Kontrolle über den Vertrieb in den Bundesstaaten Haryana und Punjab.
Emporkommende Mikrobrauereien sind in den größten urbanen Zentren Indiens wie Pilze aus dem Boden geschossen. Strenge Auflagen bezüglich der Schanklizenz sowie hohe Steuern in indischen Staaten hindern das Wachstum. Alkoholproduktion wird von den Bundesstaaten reguliert, und dies bedeutet, dass jeder einzelne Staat eigene Regeln und Gesetze erlässt. Mikrobrauereien sind normalerweise in jenen Ländern zu finden, die vor kurzem die Verbrauchsteuern geändert haben, wie z. B. Maharashtra und Karnataka. 

MEHR ZUM THEMA: Indiens Haushalt 2015-16: Bedeutung für ausländische Investoren
Indonesien
Im Gegensatz zu China und Vietnam ist Indonesiens Biermarkt noch vergleichbar klein, jedoch ist dieser in den letzten Jahren konstant um sechs Prozent gewachsen. Das bisherige Verbot, Getränke mit einem Alkoholgehalt von mehr als fünf Prozent in kleinen Einzelhandelsläden zu verkaufen, wurde jüngst verschärft. Dieses Verkaufsverbot würde rund die Hälfte des Bierabsatzes im Land betreffen. Mögliche Restriktionen über die Produktion und den Verkauf aller Getränke mit einem Alkoholgehalt von über einem Prozent wird von einigen islamischen Parteien ins Auge gefasst. Die bestehenden Hindernisse haben einige Brauereien, wie z. B. Multi Bintang Indonesia, von denen Heineken einen 76 %-Anteil besitzt, dazu gebracht, Soft-Drinks und alkoholfreies Bier zu vermarkten.
Fazit
Die Biermärkte in Asien-Pazifik erfahren ein großes Wachstum. Da die Geschmäcker gerade dabei sind sich zu ändern, besteht eine gesteigerte Nachfrage nach Premium und Craft Beer in China und Indien – und damit eine Chance für Importeure. Diese sollten auch das Augenmerk auf Vietnam richten, da das Land bald die Einfuhrtarife auf Bier senken und schlussendlich abschaffen wird. Es bleiben jedoch bestimmte Herausforderungen bestehen; seien dies die verworrenen Steuersysteme in Indien oder die Verkaufsbeschränkungen sowie potentielle Verkaufsverbote in Indonesien.
Bei Fragen zu Wirtschaftsthemen, Steuern, Buchhaltung und Unternehmensgründungen in Asien kontaktieren Sie bitte:

Fabian Knopf, Sr. Associate, Co-Head of German Desk, Dezan Shira & Associates Fabian.Knopf@dezshira.com
Silke Neugebohrn, Sr. Associate, Co-Head of German Desk, Dezan Shira & Associates Silke.Neugebohrn@dezshira.com
Für weitere Information oder um mit Dezan Shira & Associates in Kontakt zu treten, senden bitte Sie eine Email an germandesk@dezshira.com oder besuchen Sie uns auf www.dezshira.com/de, wo Sie unsere Unternehmensbroschüre herunterladen können. Bleiben Sie auf dem Laufenden über die aktuellsten Wirtschafts- und Investitionstrends in Asien durch unseren Newsletter.
Folgen Sie uns auf Twitter!

Der Große Steuervergleich für Asien 2015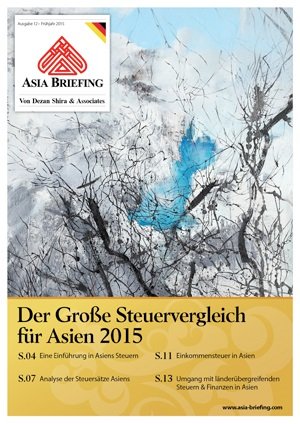 Diese Ausgabe von Asia Briefing behandelt den großen Steuervergleich 2015. Wir untersuchen die Steuersätze der zehn ASEAN Staaten sowie Indien, China, Hong Kong. Da sich das Investitionsumfeld in Asien stetig verändert, ist es von äußerster Bedeutung, immer auf dem aktuellsten Stand zu sein, um für Ihr Geschäft den passenden Standort zu finden. Diese Asia Briefing Ausgabe soll Ihnen ein Verständnis für die verschiedenen Steuersysteme in Asien geben.
Interne Prüfung und Kontrolle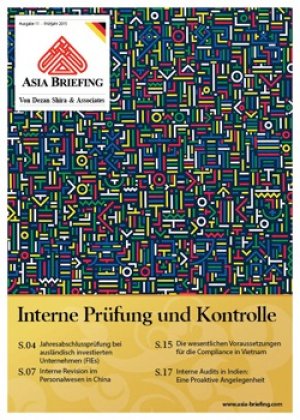 Diese Ausgabe von Asia Briefing behandelt die interne Prüfung und Kontrolle. Diese ist insofern wichtig, da sie nicht nur einen Überblick über die Performance des eigenen Unternehmens ermöglicht, sondern auch, weil eine regelmäßige Prüfung von den Behörden verlangt wird. Unser Magazin soll Ihnen einen Einblick in die Verfahren der internen Prüfung und Kontrolle in den Ländern China, Indien und Vietnam geben.