HCMC – Die heimische Bierindustrie bereitet sich auf heftige Konkurrenz seitens ausländischer Brauereien vor, seitdem die "Transpazifische Partnerschaft" (Transpacific Partnership – TPP) unterzeichnet wurde. Dieses unter der Federführung der USA erarbeitete Freihandelsabkommen wird die Steuer auf importierte Biere von 35% auf 0% senken. Für ausländische Brauereien bietet dies Gelegenheit den vietnamesischen Markt zu erschließen. Anders als die meisten Länder der Region, hat Vietnam eine langjährige und tiefverwurzelte Tradition des Biertrinkens. Laut der vietnamesischen Gesellschaft für Bier, Alkohol und Getränke (Vietnam Beer, Alcohol and Beverage Association) ist Vietnam der größte Bierkonsument der Region hinter China und Japan. Nachdem sich der Bierkonsum um 2,5% im Vergleich zum Vorjahr erhöht hatte, lag dieser im Jahr 2013 bei 2,9 Milliarden Litern.  Das durchschnittliche Wachstum im Biermarkt beträgt 10%.
Trotz steigender Preise hat sich die Nachfrage für ausländische Biermarken in den letzten Jahren signifikant erhöht. Üblicherweise kosten ausländische Biere zwischen USD 1 und USD 2, viermal so viel wie die der einheimischen Marken Saigon oder Hanoi. Biertrinker werden immer mehr in eine Zweiklassengesellschaft gedrängt – die Mittelschicht und vor allem Personen mit geringem Einkommen konsumieren besonders oft einheimisches Bier, während ausländische Marken das obere Marktsegment beherrschen.
Mehr zum Thema: Cheers to Vietnam: Competition on the Rise in Vietnam's Beer Industry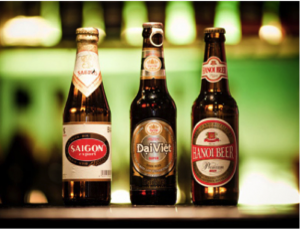 Supermärkte wie Big C und Carrefour sind die wichtigsten Vertriebskanäle für ausländisches Bier. In vielen Filialen dominieren ausländische Biermarken die Supermarktregale. Heimische Biere dominieren aber nach wie vor die "Bia Hoi", die für Vietnam typischen Freiluftbars,  welche ihr Bier täglich frisch brauen und bei Vietnamesen und abenteuerlustigen Ausländern nach wie vor beliebt sind.
Ein weiteres Zeichen für einen intensiveren Wettbewerb ist, dass sowohl vietnamesische als auch ausländische Bierproduzenten ihre Werbeausgaben erhöht haben. Vietnams stetig wachsende Internetgemeinde ermöglicht es Unternehmen  die wachsende Konsumbevölkerung besser zu erreichen. Ausländisches Bier wird nicht nur nach Vietnam importiert; viele Brauereien entschließen sich ihre Geschäftstätigkeiten direkt nach Vietnam zu verlagern, um die Zuliefererkette effektiver zu gestalten und von Vietnams vorteilhaftem Steuersystem zu profitieren. Anheuser-Busch InBey hat z.B. angekündigt, eine Brauerei in der südlichen Provinz Binh Duong zu errichten, um deren Zugpferd Budweiser zu brauen. Auch das japanische Unternehmen Sapporo erweitert seine Geschäftsaktivitäten in Vietnam: vor kurzem wurde bekannt gegeben, dass die Produktionskapazität der Brauerei in der Provinz Long An, auch im Süden, von 40 Millionen auf 100 Millionen Litern gesteigert werden soll. Andere Marken, die ihre Tätigkeiten in Vietnam ausbauen wollen sind Chinas Tsingtao, Heineken aus den Niederlanden und das singapurische Tiger Bier.
Bei Fragen zu Wirtschaftsthemen, Steuern, Buchhaltung und Unternehmensgründungen in Asien kontaktieren Sie bitte:
Fabian Knopf, Sr. Associate, Co-Head of German Desk, Dezan Shira & Associates
Fabian.Knopf@dezshira.com
Silke Neugebohrn, Sr. Associate, Co-Head of German Desk, Dezan Shira & Associates
Silke.Neugebohrn@dezshira.com
Für weitere Information oder um mit Dezan Shira & Associates in Kontakt zu treten, senden bitte Sie eine Email an germandesk@dezshira.com oder besuchen Sie uns auf www.dezshira.com/de wo Sie unsere Unternehmensbroschüre herunterladen können.
Bleiben Sie auf dem Laufenden über die aktuellsten Wirtschafts- und Investitionstrends in Asien durch unseren Newsletter. Jetzt abonnieren!
Weiterführende Lektüre (Kostenlos zum Download):
Umsatzsteuer in Asien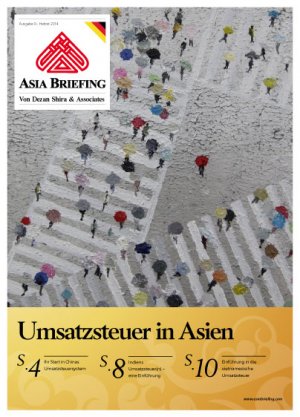 Diese Asia Briefing Ausgabe soll Ihnen die Möglichkeit geben, einen schnellen Überblick über die aktuell wichtigsten Details der Umsatzsteuersysteme in China, Indien und Vietnam zu erhalten.
Das könnte Sie auch interessieren:
Der Große Steuervergleich für Asien 2014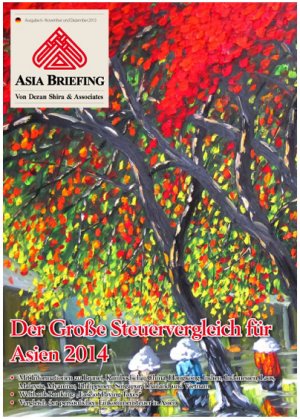 In dieser Ausgabe des Asia Briefing Magazins untersuchen wir die unterschiedlichen Steuersätzen von 13 asiatischen Ländern – den 10 ASEAN Ländern plus China, Indien und Hong Kong. Wir untersuchen die grundlegenden Steuersätze, die jedes dieser Länder als Abgabe verlangt, einschließlich Körperschaftsteuer, Einkommensteuer, indirekte Steuern und Verrechnungssteuer.