Von Hanno Rademacher
In der jüngeren Vergangenheit gab es in Hong Kong einige Neuerungen im Bereich der Unternehmensverordnungen (companies ordinances). Die aktualisierte Hong Kong Companies Ordinance (Cap. 622) ist bereits seit März 2014 in Kraft und besagt, dass jedes in Hong Kong registrierte Unternehmen bis Ende September 2014 mindestens eine natürliche Rechtsperson als geschäftsführenden Direktor einsetzen muss.
Einerseits hat diese Regelung die Erhöhung der Unternehmens-Transparenz zum Ziel. Anderseits sollen neben den unternehmerischen Rechenschaftspflichten gegenüber den Behörden und der Öffentlichkeit auch die Interessen der Anteilseigner von Kapitalgesellschaften gestärkt werden.
Eine alleinige rechtliche und faktische Vertretung des Unternehmens durch Nominal-Direktoren (nominal director) und Nominal-Gesellschafter (nominal shareholders) ist somit nicht mehr möglich. Der Rolle des Geschäftsführers einer in Hong Kong ansässigen Firma kommt somit seit jüngstem eine erhöhte Bedeutung zu. Auch im Bereich der unternehmerischen Offenlegungspflichten, bzw. der Aufstellung der Jahresbilanz, ist es zu Änderungen gekommen.
Mehr zum Thema: Neue Unternehmensverordnung in Hong Kong in Kraft getreten

Ein Überblick über die allgemeinen Pflichten eines Geschäftsführers in Hong Kong findet sich in dem Leitfaden der Pflichten eines Geschäftsführers (A Guide on Directors´ Duties). Die dort aufgelisteten Handlungsprinzipien sind eine Orientierungsgrundlage für das Handeln eines Geschäftsführers und keine verbindliche Rechtsnorm. Die im Leitfaden aufgeführten Grundsätze spiegeln vielmehr die Kerninhalte der anderweitig rechtlich normierten Regelsätze wieder.
Die wichtigsten Handlungsprinzipien für einen Geschäftsführer in Hong Kong sind Folgende:
1. Der Geschäftsführer ist verpflichtet, nach Treu und Glauben zum Wohle des ihm anvertrauten Unternehmens in seiner Gesamtheit zu handeln. Er hat die Aufgabe, im Interesse der Anteilseigner eine nachhaltige Steigerung des Unternehmenswertes zu erwirken.
2. Der Geschäftsführer hat die Aufgabe, die ihm übertragenen Rechte und Befugnisse gebührlich und sachgemäß zum Wohle aller Anteilseigner einzusetzen. Dabei gilt das Verbot der Zweckentfremdung der ihm verliehenen Befugnisse. Das Wohl des Unternehmens ist die Prämisse seines Handelns.
3. Es ist untersagt, die für die Durchführung der Geschäftsführung verliehenen Rechte und Befugnisse an Dritte zu delegieren, es sei denn die Unternehmensverfassung und/oder der Geschäftsführervertrag autorisiert dazu im Einzelfall. Es gilt das Gebot der eigenständigen und unabhängigen Urteilsbildung.
4. Der Geschäftsführer ist verpflichtet seine Tätigkeit gewissenhaft, sachkundig und mit der gebührenden Sorgfalt auszuführen.
5. Der Geschäftsführer unterliegt dem Gebot der Konfliktvermeidung von persönlichen und geschäftlichen Interessen.
6. Es gilt das Verbot der Durchführung von geschäftlichen Transaktionen außerhalb der Regelweite der rechtlichen Bestimmungen. Es ist dem Geschäftsführer untersagt, geschäftliche Transaktionen außerhalb der Reichweite der ihm verliehenen Rechte und Befugnisse durchzuführen. Gemäß den rechtlichen Bestimmungen muss der Geschäftsführer seine Interessen bei Durchführung offenlegen.
7. Es ist dem Geschäftsführer verboten, seine Position als Geschäftsführer zur persönlichen Vorteilsnahme (direkt und indirekt) zum Schaden des Unternehmens zu nutzen.
8. Es gilt das Verbot der unautorisierten Weitergabe von Firmeneigentum und – Informationen sowie Geschäftsgeheimnissen an Dritte. Ausgenommen sind Inhalte der öffentlichen Unternehmenskommunikation.
9. Es ist dem Geschäftsführer untersagt, persönliche Zuwendungen von Dritten in seiner Position als Führungskraft anzunehmen. Ausnahmen dieser Bestimmung sind die ausdrückliche Genehmigung solcher Zuwendungen seitens des Unternehmens oder der Fall der zwingenden Notwendigkeit der Annahme im Rahmen der regulären Geschäftsausübung.
Ergänzende Informationen über die Pflichten eines Geschäftsführers finden sich auf der Webseite des Hong Kong Institute of Directors sowie im Code on Corporate Governance Practices der Hong Kong Exchanges and Clearing Limited.
Generell gilt es zu beachten, dass die rechtlich verbindlichen Normen im Einzelfall über die genannten Leitfäden und Handlungsempfehlungen hinausgehen können.
Im Zuge der reformierten Unternehmensverordnungen haben sich somit neue Pflichtfelder, sowohl für Unternehmen als auch deren Geschäftsführer ergeben, die im Einzelfall eine umfassende rechtliche Beratung notwendig machen können. Dies gilt auch hinsichtlich der aktuellen rechtlichen Rahmenbedingungen zur nominellen Vertretung Ihres Unternehmens in Hong Kong sowie der Möglichkeiten des Schutzes Ihrer persönlichen Information als Geschäftsfüher.
Bei Fragen zu Wirtschaftsthemen, Steuern, Buchhaltung und Unternehmensgründungen in Asien kontaktieren Sie bitte:
Fabian Knopf, Sr. Associate, Co-Head of German Desk, Dezan Shira & Associates
Fabian.Knopf@dezshira.com
Silke Neugebohrn, Sr. Associate, Co-Head of German Desk, Dezan Shira & Associates
Silke.Neugebohrn@dezshira.com
Für weitere Information oder um mit Dezan Shira & Associates in Kontakt zu treten, senden bitte Sie eine Email an germandesk@dezshira.com oder besuchen Sie uns auf www.dezshira.com/de wo Sie unsere Unternehmensbroschüre herunterladen können.
Bleiben Sie auf dem Laufenden über die aktuellsten Wirtschafts- und Investitionstrends in Asien durch unseren Newsletter. Jetzt abonnieren!
Weiterführende Lektüre (Kostenlos zum Download):
Umsatzsteuer in Asien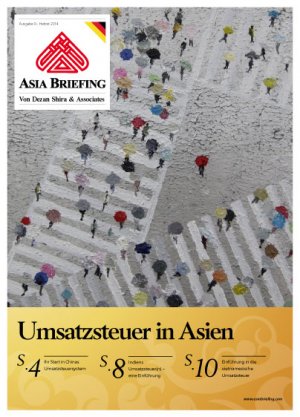 Diese Asia Briefing Ausgabe soll Ihnen die Möglichkeit geben, einen schnellen Überblick über die aktuell wichtigsten Details der Umsatzsteuersysteme in China, Indien und Vietnam zu erhalten.
Das könnte Sie auch interessieren:

Der Große Steuervergleich für Asien 2014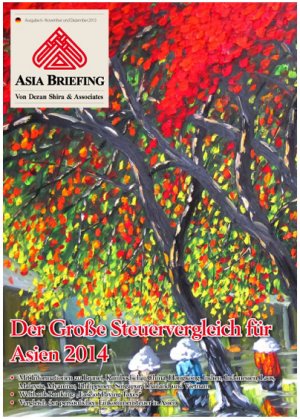 In dieser Ausgabe des Asia Briefing Magazins untersuchen wir die unterschiedlichen Steuersätzen von 13 asiatischen Ländern – den 10 ASEAN Ländern plus China, Indien und Hong Kong. Wir untersuchen die grundlegenden Steuersätze, die jedes dieser Länder als Abgabe verlangt, einschließlich Körperschaftsteuer, Einkommensteuer, indirekte Steuern und Verrechnungssteuer.