Die Verantwortlichen von 16 asiatisch-pazifischen Nationen haben sich in der ersten Juliwoche in Singapur getroffen, um die geplante "Umfassende Regionale Wirtschaftspartnerschaft" (Regional Comprehensive Economic Partnership, RCEP) weiter zu verhandeln. Noch im Jahr 2015 sollen die Mitglieder der Vereinigung südostasiatischer Nationen (ASEAN) und weitere sechs Freihandelspartner in einer einzigen Freihandelszone vereint werden.
Die RCE-Partnerschaft verspricht ein umfassendes, für alle Seiten vorteilhaftes Abkommen, welches regionalen Handel und Investitionen zusätzlich fördert und die Volkswirtschaften der zehn ASEAN-Mitglieder, sowie von China, Indien, Japan, Südkorea, Australien und Neuseeland weiter integriert.
Es ist eines von zwei großen Handelsabkommen, welche zurzeit in der Region verhandelt werden. Das andere ist die Trans-Pazifische Partnerschaft, welche 12 Länder in der Asien-Pazifik Region umfassen soll. Beide Abkommen sollen weitgreifende Vorteile für regionalen Handel und Wirtschaftsentwicklung bringen.
Beim letzten RCEP-Treffen diskutierten die Delegierten über ein Rahmenprogramm für Tarifverhandlungen und die Reduktion von nicht-tariflichen Barrieren, wie etwa Hygienemaßnahmen und Zollformalitäten. Außerdem wurden Themen wie geistiges Eigentum, Onlinehandel und Konkurrenzfähigkeit angeschnitten.
Eine Übereinkunft der Tarifreduktionen muss jedoch noch erzielt werden, was Zweifel an der Fristeinhaltung für das Jahr 2015 aufkommen lässt. Mehrere Delegationen unterstrichen die Notwendigkeit, schnellstmöglich zu einem Abschluss der Marktöffnung zu kommen, um den Fortschritt der Freihandelsverhandlungen zu beschleunigen.
Die Verhandlungen bezüglich der RCE-Partnerschaft laufen bereits seit Mai 2013, mit vergangenen Verhandlungsrunden in Brunei, Australien, Malaysia und China.
Die RCE-Partnerschaft wird vermutlich eines der weltweit größten Freihandelsabkommen erschaffen, welches eine Region mit drei Milliarden Menschen (fast die Hälfte der Weltbevölkerung) und ein Drittel des weltweiten Bruttoinlandsprodukts umfassen wird.
Die beteiligten Delegierten werden sich zunächst im August für das zweite RECP Ministertreffen versammeln; die nächste Verhandlungsrunde wird voraussichtlich im Dezember in Indien stattfinden.
Bei Fragen zu Wirtschaftsthemen, Steuern, Buchhaltung und Unternehmensgründungen in Asien kontaktieren Sie bitte:

Fabian Knopf, Sr. Associate, Co-Head of German Desk, Dezan Shira & Associates Fabian.Knopf@dezshira.com
Silke Neugebohrn, Sr. Associate, Co-Head of German Desk, Dezan Shira & Associates Silke.Neugebohrn@dezshira.com
Für weitere Information oder um mit Dezan Shira & Associates in Kontakt zu treten, senden bitte Sie eine Email an germandesk@dezshira.com oder besuchen Sie uns auf www.dezshira.com/de, wo Sie unsere Unternehmensbroschüre herunterladen können. Bleiben Sie auf dem Laufenden über die aktuellsten Wirtschafts- und Investitionstrends in Asien durch unseren Newsletter.
Folgen Sie uns auf Twitter!

Der Große Steuervergleich für Asien 2015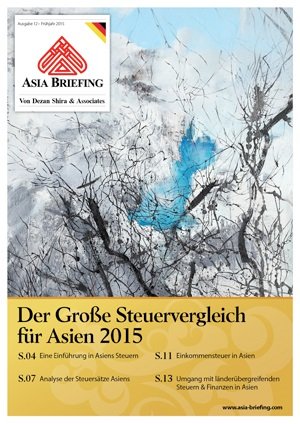 Diese Ausgabe von Asia Briefing behandelt den großen Steuervergleich 2015. Wir untersuchen die Steuersätze der zehn ASEAN Staaten sowie Indien, China, Hong Kong. Da sich das Investitionsumfeld in Asien stetig verändert, ist es von äußerster Bedeutung, immer auf dem aktuellsten Stand zu sein, um für Ihr Geschäft den passenden Standort zu finden. Diese Asia Briefing Ausgabe soll Ihnen ein Verständnis für die verschiedenen Steuersysteme in Asien geben.
Umsatzsteuer in Asien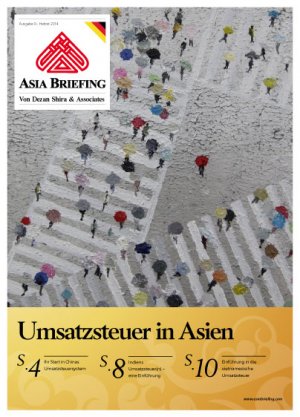 Diese Asia Briefing Ausgabe soll Ihnen die Möglichkeit geben, einen schnellen Überblick über die aktuell wichtigsten Details der Umsatzsteuersysteme in China, Indien und Vietnam zu erhalten. In den letzten Jahren kam es hier zu weitgreifenden Anpassungen. Im folgenden Heft wollen wir Ihnen deshalb die Handhabung dieser Steuer näherbringen.