Kambodscha hat seine erste Patentanmeldung anerkannt und markiert so einen Meilenstein für die Bereitstellung juristischer Dienstleistungen in dem Land. Im Zuge seiner WHO-Verpflichtungen hat das Land 2003 ein Patentrecht erlassen, jedoch mit geforderten internen Mechanismen gerungen, um überhaupt Anmeldungen aktiv bearbeiten zu können.
Im Licht der bevorstehenden ASEAN-Wirtschaftsgemeinschaftsfrist am Ende diesen Jahres für kambodschanische Compliance, verhandelte das Land eine Vereinbarung mit dem Büro in Singapur für geistiges Eigentum (Singapore's Intellectual Property Office – IPOS), um Hilfe bei der Bearbeitung solcher Anmeldungen zu bekommen. Infolgedessen wurde der erste Patentschutz in Phnom Penh am 4. März gewährt.
In einer Erklärung der vergangenen Woche sagte IPOS, dass die Zusammenarbeit zwischen Singapur und Kambodscha potenziellen Unternehmen einen effektiveren Zugang zum gemeinsamen Markt ermögliche und dass Unternehmen oder Erfinder, die Patentschutz in Kambodscha erlangen wollen, diesen nun über ihre Geschäftsstelle erhalten können.
Patentanmeldungsprozess in Kambodscha
In Kambodscha erfolgt die Patentierung durch die Einreichung einer Patentanmeldung beim Ministerium für Industrie und Handwerk (Ministry of Industry and Handicraft – MIH). Diese beinhaltet das Antragsformular, eine Beschreibung, Ansprüche (falls zutreffend), Informationen über etwaige frühere internationale Registrierungen und Nachweise für vorherige Anmeldungen. 
DAZU: Investitionsvorbereitung und Einstiegstrategien von Dezan Shira & Associates
Obwohl der offizielle Zeitplan für Maßnahmen, die vom Antragsteller oder Patentprüfer durchgeführt werden müssen, im Patentgesetz und den geltenden Regeln festgelegt sind, sind diese nach dem Ermessen des MIH erweiterbar. Während die Singapur Bewerbung als erstes Patent bewilligt wurde, kann es in der Praxis von der Anmeldung bis zur Patentausgabe rund vier Jahre dauern, auch wenn die neue Beziehung zu IPOS dies reduzieren könnte. Die Anforderung, alle Antragformulare in die Landessprache von Kambodscha (Khmer) zu übersetzen, trägt erheblich zum Genehmigungsprozess bei, da ein Mangel an Übersetzern und Anwaltskanzleien im Land besteht, die diese überprüfen können.
Bis dato ist das kambodschanische Patentrecht nicht vollständig in Einklang mit internationalen Standards, obwohl das kambodschanische Recht mit einem Rechtsbeistand bei solchen Arbeiten vertraut ist. Die Nation ist Vertragsstaat der Pariser Verbandsübereinkunft zum Schutz geistigen Eigentums. Bisher existieren etwa 125 ausstehende Prioritätsanmeldungen aus bestehenden Patenten, die an anderer Stelle eingereicht wurden.

MEHR ZUM THEMA: Die wichtigsten Märkte Asiens im Überblick
Dementsprechend gibt es ein großes Vertrauen in Recherche- und Prüfungsberichte aus dem Land, wovon Priorität in Anspruch genommen wird. Der neue IPOS Weg kann mit Hilfe Singapurs daher bis aufs Weitere als bevorzugten Weg für Rechtsberatungen angesehen werden.
Außerdem hat Kambodscha Patentverletzungen und strafrechtliche Sanktionen in sein Gesetz aufgenommen, sodass Patentverletzungsverfahren gegen Straftäter eingeleitet werden können. Es liegt im Ermessen kambodschanischer Gerichte Schadensersatz und Unterlassungsansprüche anzuordnen und strafrechtliche Sanktionen in Höhe von fünf bis zwanzig Millionen Riel (1.250 bis 5.000 USD) (1.157 bis 4.630 EUR) und/oder Freiheitstrafen bis zu fünf Jahren zu erlassen. Bei Wiederholungstätern kann sich das Strafmaß verdoppeln.
Bei Fragen zu Wirtschaftsthemen, Steuern, Buchhaltung und Unternehmensgründungen in Asien kontaktieren Sie bitte:

Fabian Knopf, Sr. Associate, Co-Head of German Desk, Dezan Shira & Associates Fabian.Knopf@dezshira.com
Silke Neugebohrn, Sr. Associate, Co-Head of German Desk, Dezan Shira & Associates Silke.Neugebohrn@dezshira.com
Für weitere Information oder um mit Dezan Shira & Associates in Kontakt zu treten, senden bitte Sie eine Email an germandesk@dezshira.com oder besuchen Sie uns auf www.dezshira.com/de, wo Sie unsere Unternehmensbroschüre herunterladen können. Bleiben Sie auf dem Laufenden über die aktuellsten Wirtschafts- und Investitionstrends in Asien durch unseren Newsletter.
Folgen Sie uns auf Twitter!

Der Große Steuervergleich für Asien 2015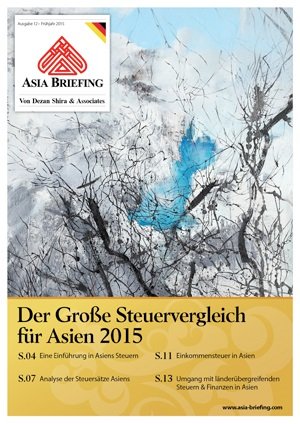 Diese Ausgabe von Asia Briefing behandelt den großen Steuervergleich 2015. Wir untersuchen die Steuersätze der zehn ASEAN Staaten sowie Indien, China, Hong Kong. Da sich das Investitionsumfeld in Asien stetig verändert, ist es von äußerster Bedeutung, immer auf dem aktuellsten Stand zu sein, um für Ihr Geschäft den passenden Standort zu finden. Diese Asia Briefing Ausgabe soll Ihnen ein Verständnis für die verschiedenen Steuersysteme in Asien geben.
Vorbereitung der Jahresabschlussprüfung für Ihr Asiengeschäft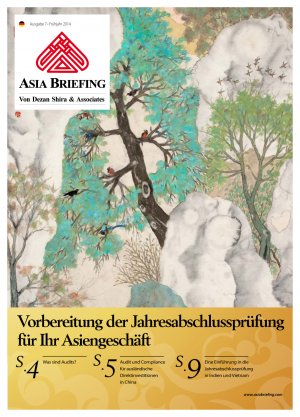 In dieser Ausgabe von Asia Briefing möchten wir Ihnen einen Überblick über die Ziele und Anforderungen der Compliance-Prüfungen in China, Indien und Vietnam bieten, damit Sie vor bösen Überraschungen in Rechts- und Steuerangelegenheiten gefeit sind und einen erfolgreichen Start ins Jahr des Pferdes erleben.