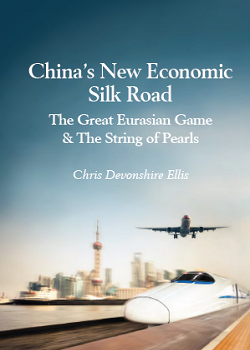 Chris Devonshire-Ellis, the Chairman of Dezan Shira & Associates, has just had his new book, an examination of Chinese President Xi Jinping's proposed "Silk Road Economic Belt", published by Asia Briefing.
Taking over 9 months to research and write, the book deals with the entire overland and maritime Silk Road routes and the 60 countries that make them up, including existing Chinese operations in these countries, infrastructure projects both underway and pending, and the new institutions that are paving the way to make Xi's dream a reality, such as the Shanghai Cooperation Organization, The Asian Infrastructure Investment Bank and the multi-lateral Silk Road Gold Fund.
China's proposed Silk Road Economic Belt will impact upon three billion people and will unite the biggest market in the world with unparalleled potential. Reconnecting China with Eurasia and South-East Asia has now become a cornerstone of China's foreign policy, with new banks being set up, billions of dollars of loans being made and diplomatic moves all being taken to ensure its success.
"China's New Economic Silk Road" explores the regional reforms, potential problems, opportunities and longer term impact that the Silk Road will have upon Asia, Africa, the Middle East, Europe and the United States.   
Praise for the book has been swift. Nirupama Rao, former Foreign Secretary of India and former Ambassador of India to China and the United States of America, has said: "China's Silk Road deserves extensive study and scrutiny. This study highlights both the challenges and opportunities that confront maritime and continental Asia as China articulates its growing hard power", while Joerg Wuttke , Chairman of the European Chamber of Commerce for China, echoed those views, stating: "How timely: President Xi Jinping's vision of new Silk Road routes will shape and affect the future of Eurasian trade flows. Chris Devonshire-Ellis provides the best guide on the market at this early stage".
Kerry Brown, Professor of Chinese Studies at Kings College London, also valued Devonshire-Ellis's work, saying: "The 'New Silk Road', or 'One Road One Belt' vision of the current Chinese government is one of their biggest diplomatic and economic ideas. It embraces a vast and diverse territory, opening up new opportunities, but revivifying some old ones. This accessible guide sets out in one place the key countries, the driving rationale behind the idea, and ways to start engaging with it, and offers an invaluable resource", while Jack Weatherford,  former DeWitt Wallace Professor at Macalester College and the New York Times best selling author of "Genghis Khan and the Making of the Modern Age", said: "Devonshire Ellis knows all the players and the inner workings of the modern Silk Road and explains them in an engaging and straightforward manner. There are many tourist guides to the area, but he has written the only complete financial guide to the Silk Road Economic Belt".
Christopher Hammerbeck, Senior Advisor to the Chinese Council for the Promotion of International Trade (CCPIT), also praised the work, saying: "This remarkable book draws together the information on the creation of new 'Silk Roads' both on land and on sea as launched by President Xi Jinping. The magnitude of the concept which the author describes in the book, and the way that he covers the challenges that its implementation will present, underlines with great clarity China's bold ambitions and makes the case that its future historic potential will change the economic and social geography of 'EuroAsia'. For anyone who is serious about looking ahead for business opportunities in China and the economic zones that are to be created along the entire length of the land corridor, this is a seminal work."
John Grimley of the Asia Law Portal, meanwhile, outlined the book's importance to regional legal counsel throughout Asia in his review here: "New Book Analyzing China's Economic Silk Road Is Essential Reading".
Journalists and media wishing to obtain a promotional copy of the book for review may email editor@asiabriefing.com. 
About the Author:
Chris Devonshire-Ellis is the Chairman of Dezan Shira & Associates  and the Publisher of Asia Briefing. He lived in China from 1987-2012 as well as in Hong Kong, India and Singapore, and has written several business guides to China, India and Asia, amongst them Business Guides to Beijing , Shanghai  and The Pearl River Delta, West China, China's Second & Third Tier Cities ; Legal Guides to Setting Up Representative Offices, WFOEs and Joint Ventures in China, the first edition of the China Tax Guide, China's Neighbors, Doing Business in India, and An Introduction to ASEAN. He is frequently quoted in international media on matters of foreign direct investment into the Asian region. He also holds several MNC company directorships and is a board advisor to the Schneider Group in Moscow. He is well known throughout China and Asia as an experienced Asia Hand. He is currently based in Sri Lanka, South-East Asia, and St.Petersburg, Russia.
Copies of "China's New Economic Silk Road" can be ordered, in both electronic format or print, from the Asia Briefing bookstore priced at US$29.99.