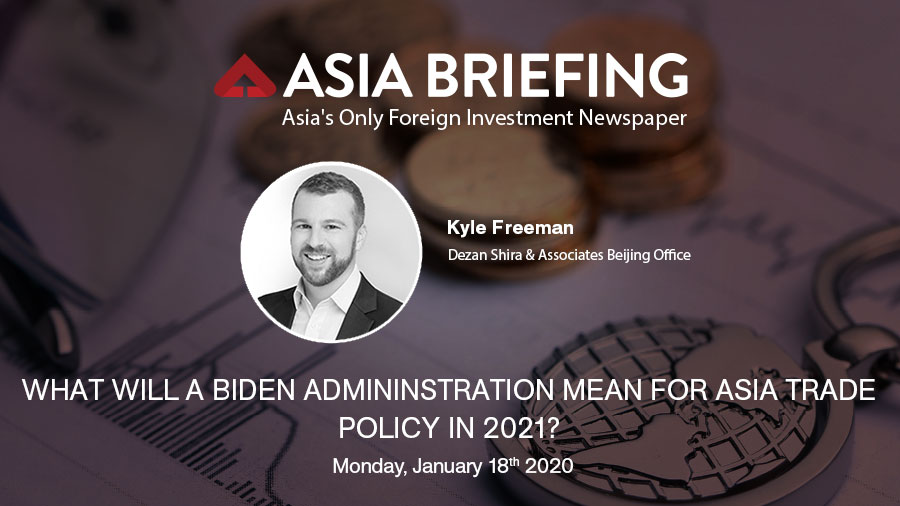 Kyle Freeman is a Partner based in Dezan Shira & Associates' Beijing office, where he leads the firm's International Business Advisory team and North American Client Services Desk in Asia. Prior to joining Dezan Shira & Associates, Kyle worked in government relations and China trade policy for various public and private organizations. His work included assisting in high-level, U.S.-China bilateral trade dialogues and organizing public-private cooperation programs to promote U.S. and foreign investment in China. Kyle holds a master's degree in economics and international trade from the University of International Business and Economics in Beijing, dual bachelor's degrees in economics and global affairs from George Mason University in Washington D.C., and has also been a visiting fellow at the University of Oxford.  
---
After four years of an America First trade policy under the Trump administration, the incoming Biden administration will be looking to conduct a course correct and pursue a broader, more multilateral trade policy.  
Though some policies, such as a stronger stance on China, will likely remain from the Trump administration, the incoming Biden administration has strongly signaled it will look to repair trade ties with traditional partners and reengaging with international bodies such as the World Trade Organizations (WTO). 
The initial focus of the Biden administration will undoubtedly be addressing pressing domestic issues such as COVID-19, the economy, and reconciliation. Nevertheless, the new administration will need to develop a larger trade agenda to support economic recovery and address the outsized expectations of reengagement traditional U.S. partners have for the administration. 
Given the ongoing U.S.-China trade frictions and the recent signing of the Regional Comprehensive Economic Partnership (RCEP), a massive free trade agreement amongst 15 Asian countries that will create world's largest regional free trade zone, the administration's trade agenda will naturally gravitate towards Asia. In Asia, the Biden administration will not only need to navigate a decoupling with China that is already underway, but also how to pursue its own decoupling from the previous administration's trade policy in the region.  
The development of trade policy takes time. We should not expect to see wholesale changes in U.S. trade policy within the region during 2021. However, investors should watch certain developments with key trading partners over the coming year to gauge the longer-term direction of the Biden administration's Asia trade policy. 
China 
While trade tensions between the U.S. and China did not start under the Trump administration, the administration expanded the dispute through a series of escalating tariffs on Chinese goods and an increasing number of China-related sanctions. U.S.-China trade tensions will not disappear under the Biden administration, but they will evolve. 
Since initiating the first round of tariffs on Chinese goods in 2018, tariffs have grown to cover more than 70 percent of Chinese goods imported to the U.S. Retaliatory tariffs by China have increased the share of U.S. goods imported to China that are subject to tariffs to more than 50 percent. During this same time, the U.S. has implemented 11 rounds of sanctions against Chinese companies. There are now 350 Chinese companies on the U.S. Department of Commerce's list of export-controlled entities – the most for any country. 
Biden has stated his administration will not make any meaningful changes to the country's China policy until he conducts a full review of existing policies and consults with traditional U.S. partners. By retaining current tariffs and sanctions while working with allies, the administration will attempt to leverage these resources in longer-term trade discussions with China. Even with this more measured, multilateral approach, tough decisions will still need to be made in the near-term.  
Under the U.S.-China phase one trade agreement, China has subscribed to a set of purchase commitments to increase imports from the U.S over two years. The agreement schedules China to purchase roughly $164 billion worth of U.S. goods in 2020 and roughly $199 billion worth of U.S. goods in 2021. As of November 2020, China had fulfilled just 57% of its annual purchase commitments for 2020.  
China will likely face similar demand constraints in meeting the agreement's annual purchase commitments in 2021. Though the Chinese government has signaled a political willingness to meet the full purchase commitments in the agreement, the private sector in China accounts for nearly 80% of demand for U.S. imports and may not be willing to acquiesce to these purchase commitments unless market forces, rather the government, dictate the need to do so. 
If China is unable to meet the purchase commitments in phase one trade agreement by the end of 2021, political pressure in U.S. may require the administration take retaliatory action. However, China has already met or is scheduled to meet many of the policy reform obligations in the agreement and traditional U.S. partners the administration is looking to build a coalition with may appeal to the U.S. to abandon this managed trade strategy over concerns it undermines their own country's exports to China by diverting trade through non-market factors. 
ASEAN 
Recent U.S.–China trade frictions have broadly benefitted the ASEAN region. In 2019, ASEAN saw a record level of foreign direct investment (FDI) as companies seeking to diversify manufacturing operations and supply chains increased investment in the region. The Biden administration may look to build upon this investment diversification trend by pursuing, where the Trump administration did not, multilateral or biliteral trade agreements with select ASEAN countries. 
Within its first week, the Trump administration withdrew the U.S. from the Trans–Pacific Partnership (TPP), a proposed trade agreement of 12 pacific nations that together comprised 40 percent of the global economy and was a cornerstone of the Obama administration's trade policy in the region. The remaining 11 TPP member countries have since implemented a revised version of the agreement in the form of the Comprehensive and Progressive Trans-Pacific Partnership (CPTPP). 
Given then Vice President Biden's support for the TPP during the Obama administration, there are growing expectations the Biden administration will attempt to join CPTTP or initiate bilateral trade agreements with emerging investment destinations, such as Vietnam, within the region. This may prove to be politically difficult for the administration.  
The TPP was generally criticized domestically in the U.S. Even though the renegotiated CPTPP largely resembles the United States-Mexico-Canada Agreement (USMCA), which was approved with bipartisan support, the Biden administration would likely need to renegotiate and rebrand any similar agreement in the pacific to make it politically viable for ratification domestically. 
There is also the question of whether the Biden administration would be willing to spend the political capital necessary to have such a trade agreement ratified in congress considering the administration's pressing domestic agenda. Complicating this political calculation, organized labor constituted an important voting bloc for the Biden campaign but has traditionally opposed these types of trade agreements. 
An early indicator of the administration's political willingness to push through such trade agreements may be whether it chooses to ask congress for renewal of Trade Promotion Authority (TPA), which is set to expire in July 2021. This legislative tool has been the basis of approval for most recent U.S. trade agreements and permits an administration to negotiate international agreements in an expedited manner with limited congressional oversight and a reduced threshold for congressional approval.  
In 2008, the incoming Obama administration chose not to ask congress for renewal of the then expiring TPA, with the administration instead choosing to congressionally pursue a domestic focused agenda around healthcare reform. TPA lapsed until renewed in 2015, during which time no new trade agreements were ratified. However, during that period, the Obama administration did undertake TPP negotiations as if the authority were still in effect and only asked for renewal of TPA when finalizing the TPP. 
India 
With growing U.S.-China trade tensions, there was some expectation that the U.S. would seek to further engage India, a traditional strategic U.S. partner, to act as a counterbalance to China in the region. However, this did not translate into substantive positive changes in U.S. trade policy towards India during the Trump administration. 
In February 2020, the Trump administration removed India from its Generalized System of Preferences (GSP) program, which allowed zero tariffs on $6.3 billion of exports to the U.S and accounted for one-tenth of U.S. goods imports from India. This came after Trump requested his administration to review the eligibility criteria for the program to safeguard U.S. interests, which caused India to be reclassified as a developed country and therefore ineligible for the program.  
India's removal from the program caused concern this would further impede already sluggish trade talks between the two countries. However, during Trump's visit to India in late February 2020, both countries agreed to promptly conclude the ongoing negotiations towards phase one of a comprehensive bilateral trade agreement. A limited U.S.-India trade agreement, expected to cover an estimated annual trade in goods of $13 billion or roughly 15 percent of bilateral trade in 2020, was reported to be nearing conclusion before talks were postponed in late 2020 due to the U.S. presidential elections. 
The Biden administration could continue discussions on the restoration of India's GSP status or pursue trade deal negotiations already in progress under the Trump administration to achieve substantive positive change in trade policy with India. 
Restoring India's GSP status would likely be the easier of the two to achieve in the short-term if such discussions were not linked to the trade deal negotiations as they were under the Trump administration. Though ultimately unsuccessful, India had already entered into discussions with Trump administration for an exemption that would allow it to remain in the program, offering to import $6.5 billion worth of US goods in exchange for such an exemption. The Biden administration could look to renegotiate similar types of purchase commitments or other policy concessions for similar exemption terms. 
Any progress on a potential U.S.-India trade agreement under the Biden administration would require a longer time horizon. The new administration would need to review and renegotiation terms agreed to under the Trump administration. Further, the limited scope of the deal negotiated under the Trump administration still left considerable issues, such as intellectual property and market access for certain goods, unaddressed. If the Biden administration attempted to expand the scope of the deal to address these issues, this would push the time horizon for successful completion of negotiations further out.  
The first official 2021 Trade Policy Agenda of the Biden administration is not expected in until spring 2021, when the administration and the new United States Trade Representative (USTR) will have begun work. It is unclear if the abovementioned issues will make it into the official Trade Policy Agenda, but movement on these issues in 2021 will likely signal the longer-term trajectory of the Biden Administration's trade policy in Asia. 
Kyle Freeman 
Dezan Shira & Associates
Beijing Office
E: kyle.freeman@dezshira.com 
W: www.dezshira.com 
Back to News