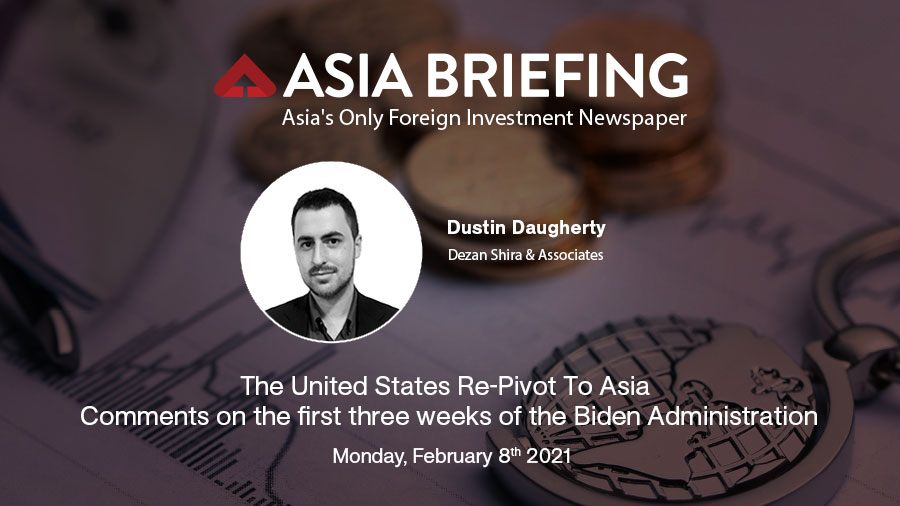 Dustin Daugherty, Dezan Shira & Associates 
In the first two weeks of his term, President Joe Biden has signed 28 executive orders, more than any modern president, since Franklin Roosevelt in his first month in office. He has also signed two letters (rejoining the WHO and Paris Climate Agreement), four substantial proclamation, and 10 presidential memoranda.
All these policy decisions have understandably focused on domestic issues by working to fulfill his campaign promises of guiding the U.S. back to recovery, addressing inequality, and prioritizing climate change. However, Biden's first visit in office was to the State department, underlying his priority on restoring the U.S.' international image.
During his visit on Thursday, February 4, 2021, President Biden delivered his first foreign policy speech since taking office. In the speech, Biden reassured allies that "America is back," and that "diplomacy is back at the center of our foreign policy." He also reassured the domestic audience by linking foreign policy to middle class needs, "we will compete from a position of strength by building back better at home."
Biden's speech was light on specifics and did not mention developing Asia explicitly – Southeast Asia was largely neglected during Trump's term. However, Biden had a few words to say about China. China's growing influence got a nod in the first minute of the speech, as one the largest challenges the U.S. faces, even before Russia.
While there have not been any policy directives issued yet on Asian trade policy, we can look to other actions and words that signal which way the wind will blow.
Biden's key player in Asia policy
Secretary of State Antony Blinken has pledged to reframe the U.S.' relationships with the world and previously served in the Obama administration as deputy secretary of state and deputy national security advisor.
When it comes to Asia, Blinken affirmed he will strengthen strained relationships with Asia allies. However, Blinken agrees with many of Trump's foreign policy initiatives, including a tough stance on human rights and its assertiveness in the South China Sea.
Furthermore, there is strong bipartisan support in Congress – one of the few issues there is consensus on – for being tough on China, any softening in stance will be seen as weakness by Republicans and seized upon (to the detriment of badly needed bipartisan cooperation on more immediate, domestic issues).
What about the rest of Asia?
Given recent rhetoric by both President Biden and his senior advisors, it would be safe to assume that the U.S. will be engaging positively with allies in Asia to counter-balance China.
All this portends good things for bilateral trade relationships in the region – sans China. With renewed attention on security comes renewed engagement in people-people affairs and trade. Coupled with a pandemic and Trade War driven trend of diversifying supply chains, we expect U.S. investment to increase in places like, India, Vietnam, and even Indonesia.
In signs of burgeoning Southeast Asia investment, Tesla recently submitted a proposal for an Indonesian battery plant. Intel, this past January, also announced a US$475 million injection into their Vietnam division to improve technologies and boost production of its 5G products and core processors. This injection takes their total investment to US$1.5 billion. India is also on the minds many of American firms, especially in the electronics and tech industries.
The Biden administration may also consider rejoining the Comprehensive and Progressive Agreement for Trans-Pacific Partnership (CPTPP) – the UK just announced their intention to apply for membership themselves. Even if rejoining the accord becomes unfeasible, we will see engagement with strategic Asian partners such as India and Vietnam on trade by the end of Biden's first four years in the Oval Office, especially given the pressure applied on the US by the China led RCEP agreement.
The "Re-Pivot to Asia"
While it may have been far from the public's mind during the 2020 election cycle, the US badly needs to re-engage with emerging Asia – especially with those dynamic economies which likewise seek to balance an assertive China. The early days of the Biden administration will be inward looking given the havoc brought by the Covid-19 pandemic on the states, however the spirit of the "pivot to Asia" will return to Washington. Measures encouraging firms, especially those intersecting the tech industry, to move their supply chains out of China are likely to intensify. This administration is aware that the great majority of these firms will not be onshoring investment back to the U.S., and instead will look to China supplements in the region. We expect the federal government to be supportive of U.S. firms who see great opportunity in countries like Vietnam and India, and to roll out policy to this effect once some of the fires at home are put out. American industry may once again pre-empt the government, given the expected surge of U.S. FDI into China alternatives throughout Asia this year, but this administration will make it a priority to build supporting policy infrastructure to that end.
Dustin Daugherty leads Dezan Shira & Associates' business development in North America from our Salt Lake City office in Utah, USA. He is the point of contact for our North American clients and partners, having extensive experience in our major offices across the Asian region, including Beijing and Shanghai in China, Hanoi and Ho Chi Minh in Vietnam and Delhi in India.
Dustin is a native of New York City, where he studied Political Science and International Relations at Columbia University. He has mastery over his native English and Mandarin Chinese.
E: asia@dezshira.com
W: www.dezshira.com