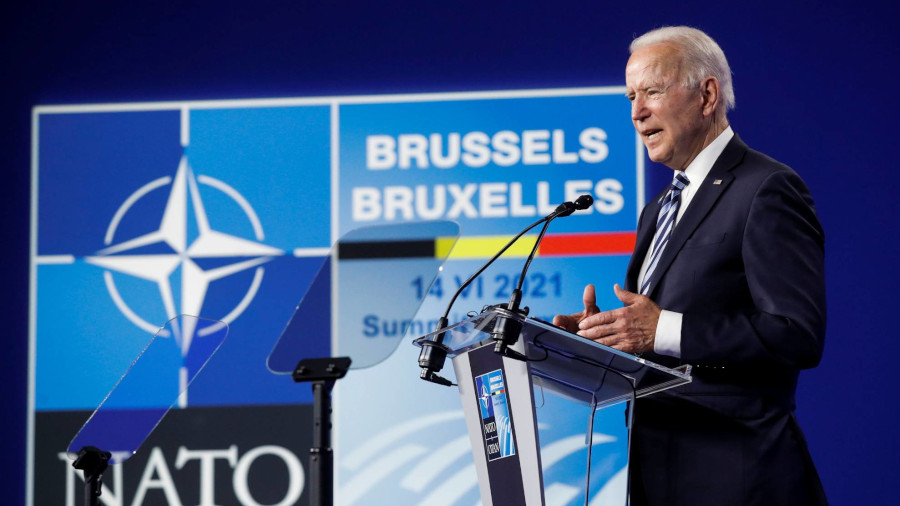 By Chris Devonshire-Ellis and Bob Savic 
The NATO communique issued yesterday (see here) addresses China as a security threat to the West for the first time. However, within the text there is relatively little on China (vs Russia) other than reference to it being a "systemic rival", mirroring earlier EU wording on its relations with China. Interestingly there's no mention of the South China Sea, suggesting that NATO's concerns are more to do with the EU and Turkey being on the same Eurasian land mass as China, and towards Chinese-built infrastructure edging up to the borders of the EU in particular. It also doesn't mention that record supplies of equipment and products to and from Europe and China via intercontinental rail routes are a major boom to the EU's economy.
While the communique briefly mentions the development of nuclear warheads, the opacity of its weapons programs, disinformation, and China's partnership with Russia, it is clearly concerned however about China's maritime, cyber and space programs. These concerns are not explained in the communique other than saying China needs to act responsibly.
Notably, NATO's Stoltenberg has downplayed the possibility of China being an "adversary" or "enemy". Moreover, Boris Johnson and Stoltenberg emphatically ruled out prospect of a Cold War emerging with China. If anything, Western political leaders seem somewhat nervous about offending China too much, likely fearing trade retaliation of the sort they mete out to errant powers.
In contrast, the NATO communique is extensively scathing on Russia, from every possible angle. Johnson, on other hand, takes a more amenable approach hoping for improved relations with Russia. This is likely a reflection of Biden's position in upcoming talks with Putin, with one plausible scenario being our report on the NASA's need to cooperate with Russia should they wish the US Artemis space program to succeed, and of Russia as a potential alternative supplier to China for Rare Earths – a critical component of new hi-tech technologies. NASA will be present at tomorrow's Biden-Putin summit in Geneva.
In doing so, NATO appear to be attempting to play Russia off against China, in much the same way that the G7 attempted to split the BRICS alliance by inviting India and South Africa, both BRICS nations (along with Brazil, China and Russia) to last week's G7 meetings in the UK. Russian President Putin, a formidable political opponent to an aging Biden, has been asked not to be present at a joint debriefing session after tomorrow's talks – suggesting something will have been discussed or agreed that purely the American's wish to possess spin rights over.
Concerning China, the NATO communique states that China's growing influence and international policies can present challenges that NATO members need to address as an Alliance, and state:
"We will engage China with a view to defending the security interests of the Alliance.  We are increasingly confronted by cyber, hybrid, and other asymmetric threats, including disinformation campaigns, and by the malicious use of ever-more sophisticated emerging and disruptive technologies.  Rapid advances in the space domain are affecting our security.
China's stated ambitions and assertive behavior present systemic challenges to the rules-based international order and to areas relevant to Alliance security.  We are concerned by those coercive policies which stand in contrast to the fundamental values enshrined in the Washington Treaty.
China is rapidly expanding its nuclear arsenal with more warheads and a larger number of sophisticated delivery systems to establish a nuclear triad.  It is opaque in implementing its military modernization and its publicly declared military-civil fusion strategy.  It is also cooperating militarily with Russia, including through participation in Russian exercises in the Euro-Atlantic area.  We remain concerned with China's frequent lack of transparency and use of disinformation.  We call on China to uphold its international commitments and to act responsibly in the international system, including in the space, cyber, and maritime domains, in keeping with its role as a major power.
NATO maintains a constructive dialogue with China where possible.  Based on our interests, we welcome opportunities to engage with China on areas of relevance to the Alliance and on common challenges such as climate change.  There is value in information exchange on respective policies and activities, to enhance awareness and discuss potential disagreements.  Allies urge China to engage meaningfully in dialogue, confidence-building, and transparency measures regarding its nuclear capabilities and doctrine.  Reciprocal transparency and understanding would benefit both NATO and China."
NATO is of course a military alliance, yet also acts as a quasi-marketing organization for US and other members (especially the British and French) weapons manufacturers, and in doing so has a vested interest in talking up the potential for conflict.
While the nuclear weapons issue remains concerning, the US has signed off a new START treaty limiting the number of warheads possessed by the US and Russia. It will be seeking similar agreements with China and Beijing will be aware of this, although it remains a curious diplomatic attempt to be using the non-Asian region NATO to be delivering this message.
Elsewhere, NATO expressly mentions space, where Russia has long been a partner with the United States and effectively built and maintain the International Space Station. Except for the sole recent SpaceX supply mission to the ISS, all previous trips to the ISS and back over the past decade have been provided by Russia, and it is probable that now, Russia is ahead in space technologies.
Russia and China have agreed to partner together to develop a permanent lunar base, while China is intent on building and manning its own Space Station. The United States program by comparison seems to be dominated by ego-driven billionaires for tourist dollars. If there are concerns here; then that is down to Washington's downgrading of NASA, not any untoward threat from China.
We view last week's message that the G7 would spend US$40 trillion on infrastructure in democracies of lesser developed countries, by G7 countries on a geographically defined basis for each, as an attempt at securing their own backyards against the expansion of Chinese and Russian interests worldwide. That same message is now being presented by NATO.
This means that rather than directly seek to confront China, or Russia, Washington will look to focus on investment into Latin American infrastructure. This is the United States' politically unstable and economically weak backyard, and it would make some sense to restructure the region as a US supply chain of its own as it otherwise withdraws from the rest of the world, under ongoing and relentless pressure from domestic political forces. In doing so, it has already ceded China's massively growing Eurasian infrastructure presence to Beijing and Moscow. The withdrawal of US and NATO troops from Afghanistan is a distinct factor in this conclusion. China – developing infrastructure, and Russia, with military capabilities – will fill in the gaps.
They are also both putting into place the soft infrastructure incentives to promote stability, in a format that neither the US, EU or NATO have managed to export – the promotion of free trade. It has skipped many analyst's attention, but the development of security institutions such as the Shanghai Cooperation Organization bring together significant resources in military and intelligence facilities and have been boosted by trade organizations such as the Eurasian Economic Union.
Further downstream, as Eurasia, Central and South Asia are secured, infrastructure components such as the International North-South Transport Corridor, Trans-Afghan Railway, the entire CPEC project among others are now being augmented on the ground with the creation of Special Economic Zones on the border with Afghanistan. Pakistan's upcoming Rashakai SEZ alone will create 200,000 new jobs, and ultimately lead to regional peace as local tribesmen realize it is more profitable to trade than shoot each other. Anyone familiar with China's Shenzhen SEZ experiment in the early 1990's and how that ultimately led to a complete transformation of China will appreciate the comparisons. Much still needs to be done – but China now oversees the regional destiny.
This means that the US, EU, and NATO, have effectively conceded the territory. It also means that US President Biden's upcoming meeting with Putin tomorrow to establish "stable and predictable" relations will be the military component of this backyard consolidation.
Washington is interested in "predictable" relations with Russia because it is fearful that Putin's unpredictable military interventions will sooner or later expand to Latin America. Maybe Venezuela? Who knows? Russia has been supportive of the country and China has been making BRI inroads into Latin America, though not to the extent it has elsewhere.
Our view therefore is that America and the other G7 nations are not seeking to expand against China/Russia, in the developing world, they're merely looking to limit China/Russian expansion.
As for the proposed US$40 trillion 'Build Back Better World' (B3W) Partnership, as we stated in our analysis here, it is significant that the financing of this was slated to come from the private sector.
Raising public debt for this infrastructure is politically impossible, and financially impossible given the US and G7's current debt burdens. As for raising private debt; that's even tougher. Large Western companies are totally risk averse. Their only interest is in continuing to buy back their own shares, whenever they can. Corporate investment in the real economy is also continuing at a record low level among highly profitable US companies.
Japanese companies are sitting on immovable cash mountains, and Europe is simply hemmed in by Russia, Turkey and China in the Middle East and Africa.
Nearby Eastern Europe is also falling under mounting Chinese and Russian incursions, in some form or another, particularly given Hungary, Poland and the Czech Republic falling out with EU institutions over mounting governance issues and criticisms over an inability by the EU to license Russia's Sputnik vaccines.
Everything the G7, EU, NATO are doing, is therefore oriented toward damage limitations vis a vis the non-rich world. Expansion is simply not a reality. The NATO communique is really just double talk to convince the Western public and media that all is now fine on the Capitol, even though it is more heavily guarded and fortified than is China's Tiananmen Square.
Chris Devonshire-Ellis is the Publisher of Asia Briefing and a Visiting Professor at the Moscow State University.

Bob Savic is a senior research fellow at the Global Policy Institute.