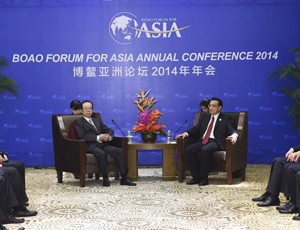 SHANGHAI – The securities commissions of China and Hong Kong jointly announced last week during the 6th annual Boao Forum for Asia (BFA) conference that traders in both regions will soon be able to buy and sell a restricted selection of shares listed on each other's markets.
Set to begin in six months from now, the move is being hailed by many as yet another example of China's recent campaign to promote the yuan as an international monetary unit.
While limitations will be put in place on how much investors may trade in a given day (13 billion yuan for mainland investor trading in HK stocks and 10.5 billion yuan for Hong Kong investors), the increased volume of share trading is expected to be a big step forward in opening up China's capital account.
The Boao Forum, which opened last Tuesday in the Chinese city of Boan, Hainan Province, aims to bring together political, academic and business leaders to discuss today's most critical Asia-related issues.
This year's high-profile attendees included Chinese Premier Li Keqiang, Australian Prime Minister and Korean Prime Minister Jung Hong-won, among other leaders from across Asia, Oceania and Europe. Also in attendance were executives from 150 multinational companies, including Petro China, Lenovo, Apple, Toyota, Bloomberg and Samsung.
RELATED: Frankfurt Beats London to Become First RMB Clearing Hub Outside Asia
Sustainable economic reform was at the heart of the conference's twenty-three sessions based around an overall theme of "Asia's New Future: Identifying New Growth Drivers." A list of English-language summaries of select panels may be found here.
Initially founded in 2001 as a non-profit organization in partnership between the Philippines, Japan, Australia and China on the model of the World Economic Forum, the BFA has since become an increasingly important conference for China in its promotion of economic growth in the region. The agenda of this year's forum, including panels on the South China Sea, the China (Shanghai) Free Trade Zone and urbanization, contained many subjects of particular interest to China's larger economic and political goals.
The impressive list of political and economic leaders in attendance should make the BFA a priority meeting for Asian market leaders in the years to come.
Dezan Shira & Associates is a specialist foreign direct investment practice, providing corporate establishment, business advisory, tax advisory and compliance, accounting, payroll, due diligence and financial review services to multinationals investing in emerging Asia. Since its establishment in 1992, the firm has grown into one of Asia's most versatile full-service consultancies with operational offices across China, Hong Kong, India, Singapore and Vietnam, in addition to alliances in Indonesia, Malaysia, Philippines and Thailand, as well as liaison offices in Italy and the United States.
For further details or to contact the firm, please email asia@dezshira.com, visit www.dezshira.com, or download our brochure.
You can stay up to date with the latest business and investment trends across Asia by subscribing to Asia Briefing's complimentary update service featuring news, commentary, guides, and multimedia resources.
Related Reading

The Gateway to ASEAN: Singapore Holding Companies
In this issue of Asia Briefing Magazine, we highlight and explore Singapore's position as a holding company location for outbound investment, most notably for companies seeking to enter ASEAN and other emerging markets in Asia. We explore the numerous FTAs, DTAs and tax incentive programs that make Singapore the preeminent destination for holding companies in Southeast Asia, in addition to the requirements and procedures foreign investors must follow to establish and incorporate a holding company.
Guide to the Shanghai Free Trade Zone
In this issue of China Briefing, we introduce the simplified company establishment procedure unique to the zone and the loosening of capital requirements to be applied nation wide this March. Further, we cover the requirements for setting up a business in the medical, e-commerce, value-added telecommunications, shipping, and banking & finance industries in the zone. We hope this will help you better gauge opportunities in the zone for your particular business.
Are You Ready for ASEAN 2015?
ASEAN integration in 2015, and the Free Trade Agreements China has signed with ASEAN and its members states, will change the nature of China and Asia focused manufacturing and exports. In this important issue of Asia Briefing we discuss these developments and how they will impact upon China and the Global Supply Chain.
Shanghai Free Trade Zone Allows Offshore RMB Borrowing
PBOC Simplifies Cross-Border RMB Transactions
China's First Onshore Bond Default: A New Precedent