HANOI – Vietnams Premierminister, Nguyen Tan Dung, nannte die langwierigen Import-Export-Verfahren seines Landes "inakzeptabel" und schlug vor, den Prozess so zu verbessern, dass er mit den Standards der asiatischen Region übereinstimmt.
Im Besonderen muss Vietnam die Zollverfahren und Prozesse, die mit Import- und Exportaktivitäten verbunden sind, vereinfachen, um den damit verbundenen Zeitaufwand zu reduzieren. Außerdem müssen die staatlichen Verwaltungskapazitäten gestärkt werden, damit diese transparenter werden und internationalen Normen entsprechen.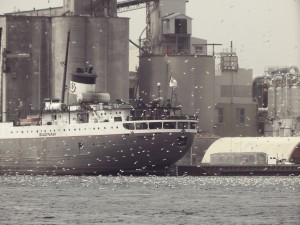 Im Moment dauern Exportverfahren in Vietnam 4 Tage – der regionale Durchschnitt liegt bei 2 Tagen. Der Premierminister hat auch anerkannt, dass es während dieses Verfahrens oft zu Fällen von Korruption und Schikanen kommt. Die Regierung hat deshalb vorgeschlagen ihre Nutzung von Informationstechnologien zu verbessern, um Import- und Exportverfahren zu vereinfachen und die Kontaktzeit zwischen den Unternehmen und den Zollbeamten und somit die Wahrscheinlichkeit der Korruption zu reduzieren.
Mehr zu diesem Thema: Vietnam Applies "Single Door" Mechanism to Customs Process.
Der Premierminister fügte außerdem hinzu, dass die Zollverwaltung mit moderner Technologie, wie Scannern, ausgestattet werden soll, um Schmuggel besser kontrollieren zu können.
Die Regierung wird auch gegen derzeitige Aktivität wie Import und Wiederausfuhr, vor allem bei Produkten wie alkoholhaltigen Getränke, Tabak und tierischen Teilen, hart vorgehen.
Ein Bericht, der für die vietnamesische Zollverwaltung verfasst wurde, besagt, dass der Kampf gegen Schmuggel und Handelsbetrug in der ersten Hälfte dieses Jahres positive Ergebnisse gebracht hat. Bis Mitte Juni 2014 wurden mehr als 8.900 Fälle entdeckt und gelöst. Import- und Exportzahlungen an das staatliche Budget betrugen VND 117,5 Bill. (fast USD 5,5 Mrd.), 24,4% höher als im Jahr zuvor. Import- und Exportsteuern betrugen VND 38,1 Bill. (USD 1,8 Mrd.), spezielle Verbrauchersteuern betrugen VND 6,9 Bill. (USD 329 Mrd.), Umweltschutzsteuern erreichten VND 94 Mrd. (USD 4,4 Mio.) und VND 72,2 Bill. (USD 3,4 Mrd.) kamen von Umsatzsteuern.
Stellvertretender Generaldirektor des vietnamesischen Zolls, Nguyen Duong Thai, erklärte, dass die 6-monatige Erhöhung der Einnahmen durch einen starken Zuwachs bestimmter importierter Produkte zustande kam, wie zum Beispiel Petroleum, Autos und Maschinen, die eine hohe Absatz- sowie eine hohe Steuerrate haben.
Bei Fragen zu Wirtschaftsthemen, Steuern, Buchhaltung und Unternehmensgründungen in Asien kontaktieren Sie bitte:
Fabian Knopf, Sr. Associate, Co-Head of German Desk, Dezan Shira & Associates
Silke Neugebohrn, Sr. Associate, Co-Head of German Desk, Dezan Shira & Associates
Für weitere Information oder um mit Dezan Shira & Associates in Kontakt zu treten, senden bitte Sie eine Email an germandesk@dezshira.com oder besuchen Sie uns auf www.dezshira.com/de wo Sie unsere Unternehmensbroschüre  herunterladen können.
Bleiben Sie auf dem Laufenden über die aktuellsten Wirtschafts- und Investitionstrends in Asien durch unseren Newsletter. Jetzt abonnieren!
Weiterführende Lektüre (Kostenlos zum Download):
Die Erweiterung Ihres Chinageschäfts nach Indien und Vietnam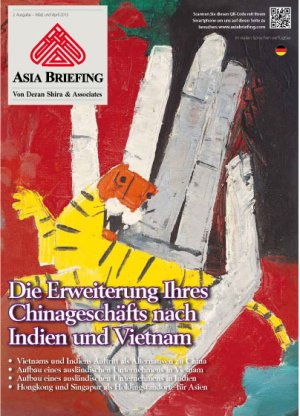 Diese Ausgabe des Asia Briefing Magazins erörtert Gründe, weshalb China nicht länger die einzige Destination für exportgetriebene Unternehmen darstellt und inwiefern die Evolution des Handels in Asien Vietnam und Indien zu wettbewerbsfähigen Alternativen werden lässt. In Anbetracht dessen untersuchen wir den Zweck, sowie Vor- und Nachteile unterschiedlicher Markt-Eintritts Varianten, welche ausländischen Investoren mit Interesse an Vietnam oder Indien zur Verfügung stehen.
Das könnte Sie auch interessieren:
Umsatzsteuer in Asien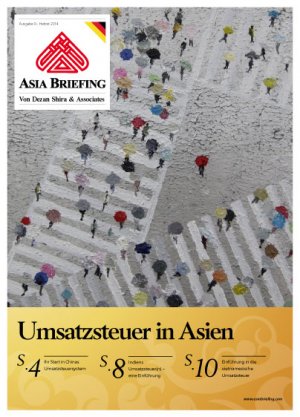 Diese Asia Briefing Ausgabe soll Ihnen die Möglichkeit geben, einen schnellen Überblick über die aktuell wichtigsten Details der Umsatzsteuersysteme in China, Indien und Vietnam zu erhalten.