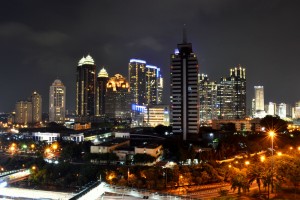 Indonesien sucht nach Wegen um mehr ausländische Investitionen anzulocken und so der eigenen Wirtschaft einen Aufschwung zu geben. Es ist vorbereitet, für ein geschäftiges Jahr mit investorenfreundlichen Reformen. Es ist beschlossen, dass die Erteilung von Ministeriumslizenzen in nur einem Schritt durchgeführt werden soll. Dies beschleunigt die Ausführung von staatlichen Ausschreibungen zum März jeden Jahres, die Gründung einer Hypothekenbank, um Infrastruktur Projekte zu beschleunigen und Veröffentlichung eines fünf-Jahres USD 450 Mrd. Infrastruktur Investment Planes. Nach Angaben der Asian Development Bank (ADB), benötigt Indonesien USD 50 Mrd. in den nächsten fünf Jahren zur Entwicklung der Infrastruktur.
Der indonesische Präsident Joko Widodo hat Indonesiens Bedarf an ausländischen Investments hervorgehoben. Im Dezember 2014 teilte er dem Wall Street Journal mit: "Unser nationales Budget ist beschränkt, deshalb brauchen wir Investments, wir brauchen Investoren, um unser Wirtschaftswachstum anzukurbeln, um unsere Tiefwasserhäfen zu errichten, unsere Flughäfen zu bauen."
Unterstützt durch den einbrechenden Ölpreis, hat Herr Widodo sein Wahlversprechen zur Beseitigung verdrehter Zuschüsse für Kraftstoffe, gehalten. Benzinpreise an den Tankstellen in Indonesien sind von INR 8,500 (USD 0,67) pro Liter im Dezember 2014, auf INR 6.600 (USD 0,52 (im Januar 2015 gefallen. 61 % der Rücklagen in Höhe von USD 18 Mrd. der beseitigten Zuschüssen werden für notwendige Infrastruktur Projekte aufgewendet. Zusammengefasst werden 20 % der Kapitalausgaben der Zentralregierung für den überarbeiteten Haushaltsvoranschlag 2015 aufgewendet.
Reform der Lizensierung
Indonesien überholt das System zur Erteilung von Geschäftslizenzen. Unter dem alten System mussten Unternehmen länger als ein Jahr auf die Erteilung von Genehmigungen warten. Unter dem neuen System, sollen Lizenzen innerhalb von Wochen erteilt werden. Es liegt im persönlichen Interesse von Widodo das Verfahren mit den Lizenzen zu beschleunigen. Um sicher zu stellen, dass das Lizenzierungsverfahren beschleunigt wird, gibt es Berichten zufolge in den Regierungsabteilungen unangekündigte Besuche.
Im Januar 2015 startete das Investment and Coordinating Board (BKPM) einen Pilotversuch mit der Lizenzierung in nur einem Schritt in den 15 wichtigsten Provinzen in Indonesien und mit 135 Hauptarten der Lizenzen im Energie, Infrastruktur und Landwirtschaftssektor. Laut dem Leiter des BKPM, erwartet Indonesien bis 2019 USD 75,33 Mrd. an Investitionen.
Die neuen Verwaltungsschritte zur Verbesserung des Geschäftsklimas haben das Vertrauen der Investoren und Darlehensgeber gestärkt. Zunächst hat Moodys im Januar die Subventionsmaßnahmen als "Kredit-positiv" eingestuft und erörtert, dass es das Vertrauen des Privatsektors in Indonesiens Geschäftsumfeld stärken wird. Zweitens, in dem Zeitraum der Optimierung in der Infrastruktur hat es Genehmigung eines Kredits in Höhe von USD 1,5 Mrd. für Indonesien gegeben, das ist fast die doppelte Summe, wie im Jahr davor. Schlussendlich, die Befragten der Umfrage zum Ausblick auf die ASEAN Geschäfte 2015 der Amerikanischen Handelskammer zitierten Indonesien als einer der Topadressen für Expansionspläne.
Indonesien hat einen vollen Kalender mit unternehmensfreundlichen Reformen im Jahr 2015, dennoch bleiben bürokratische und politische Herausforderungen. Das Parlament muss den Haushaltsplan 2015 verabschieden und der Regierung fehlt die einfache Mehrheit. Der Grundstückserwerb ist zu einem Hauptproblem für viele Investoren geworden. Zum Beispiel, wurde letztes Jahr berichtet, dass ein Zusammenschluss aus japanischen und indonesischen Unternehmen von dem USD 4 Mrd. Central power plant project Abstand genommen hat, aufgrund von Verspätungen beim Grundstückserwerb.
Verglichen zu dessen ASEAN Nachbarn, hat Indonesien noch viel Arbeit vor sich, wenn ausländische Investitionen im Land weiter zunehmen sollen. Der Doing Business Report 2015 der World Bank, hat das Land auf Platz 114 gelistet, vergleichen mit Singapur auf Platz 1 und Malaysien auf 18. Wenn Indonesien allerdings weiter auf dem Pfad mit den Reformen bleibt, kann es im Ranking höher aufsteigen.
Bei Fragen zu Wirtschaftsthemen, Steuern, Buchhaltung und Unternehmensgründungen in Asien kontaktieren Sie bitte:

Fabian Knopf, Sr. Associate, Co-Head of German Desk, Dezan Shira & Associates Fabian.Knopf@dezshira.com
Silke Neugebohrn, Sr. Associate, Co-Head of German Desk, Dezan Shira & Associates Silke.Neugebohrn@dezshira.com
Für weitere Information oder um mit Dezan Shira & Associates in Kontakt zu treten, senden bitte Sie eine Email an germandesk@dezshira.com oder besuchen Sie uns auf www.dezshira.com/de, wo Sie unsere Unternehmensbroschüre herunterladen können. Bleiben Sie auf dem Laufenden über die aktuellsten Wirtschafts- und Investitionstrends in Asien durch unseren Newsletter.
Folgen Sie uns auf Twitter!

Vorbereitung der Jahresabschlussprüfung für Ihr Asiengeschäft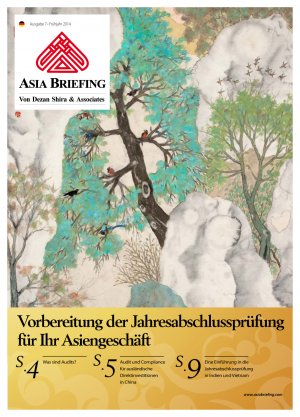 In dieser Ausgabe von Asia Briefing möchten wir Ihnen einen Überblick über die Ziele und Anforderungen der Compliance-Prüfungen in China, Indien und Vietnam bieten, damit Sie vor bösen Überraschungen in Rechts- und Steuerangelegenheiten gefeit sind und einen erfolgreichen Start ins Jahr des Pferdes erleben.
Umsatzsteuer in Asien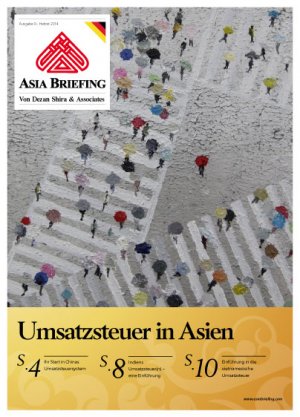 Diese Asia Briefing Ausgabe soll Ihnen die Möglichkeit geben, einen schnellen Überblick über die aktuell wichtigsten Details der Umsatzsteuersysteme in China, Indien und Vietnam zu erhalten. In den letzten Jahren kam es hier zu weitgreifenden Anpassungen. Im folgenden Heft wollen wir Ihnen deshalb die Handhabung dieser Steuer näherbringen.