Report Linker has just released a report on the future of China's automated logistics industry covering the period 2016 to 2020. Titled "China Automated Logistics Equipment Industry Report, 2016-2020 ", it's a timely piece, given that much of China's logistics industry is set to change, especially with an eye on the overland routes that will start to come into play with the advent of the new Silk Road Economic Belt.
In fact, the One Belt One Road project has some experts divided as to the merits of the overland versus sea routes. Shipping freight by sea is always going to be less expensive than by land, yet China has built two extraordinary inland ports at Alashankou in Xinjiang and Manzhouli in Inner Mongolia. So what gives? After all, the Russian economy isn't exactly doing brilliantly right now.
The deal for upgrading China's logistics for inland – primarily meaning rail transportation and massive upgrades and additions to the Trans-Siberian Rail and its various spurs – isn't an equation that compares the costs of getting cargo to Europe cheaper than by sea. In such equations, the maritime routes win, and will continue to be far more financially viable indefinitely. The rationale for developing China's inland logistics and Ports however is nothing to do with getting freight overland from China to Europe. There are two main drivers for this new development phase of China's logistics and transportation industries:
* Rail will compete more with air travel and air freight across Eurasia;
* Rail will help move commodities from Siberia and Central Asia to China for processing
Alashankou Inland Port, Xinjiang
Rail competing with air for Central Asian freight
This is a Category A Port in China, meaning it is financed by the State Council and has first rate facilities.
The port has both rail and highway routes passing through it, and links through to Almaty in Kazakhstan. It can also handle third country customs inspections, enabling it to serve international inter-modal transport, such as goods to and from the Russian led CIS, which includes Armenia, Azerbaijan, Belarus, Kazakhstan, Kyrgyzstan, Moldova, Russia, Tajikistan, and Uzbekistan. It serves both as a supporting service route for China's extensive energy investments and pipelines in Kazakhstan, but is increasingly being developed for accommodating further mining and exploration facilities in addition to trade. That includes the provision of regional access to countries such as Japan and South Korea, both of whom have been active in the Central Asia region. Alashankou Port covers an area of 155km2, and is divided into residential, warehousing, offices, with an economic development zone, tax-free zone, border trade zone and highway port zone all supporting the Port functions.
Alashankou is a part of the rail route that directly connects China through to Europe, although as mentioned, the use of that complete through route for normal freight is uneconomic, its real benefit lies in competing with air routes along the length, and especially for heavy duty freight too heavy for air transportation.
Alashankou is 460 km from Urumqi, the Provincial capital and also well served by rail and road links through to the main Chinese networks. Almaty, the nearest major city in Kazakhstan, is 880km to the West. Routes also play out across Central Asia from here, many having been upgraded or in the process of being upgraded with Chinese financing.  
Manzhouli Inland Port, Inner Mongolia
Carries 60 percent of all Sino-Russian Trade
Manzhouli is also a Category A Port, and links through to the main Trans-Siberian spur which heads both west across the Eurasian steppes to Moscow, and east either terminating at Vladivostock, or at Beijing via Mongolia. As such, it is an important gateway to Russia (and vice versa). The main purpose of the Manzhouli Port is handling raw materials processing for goods brought down from Siberia; China's only timber futures exchange is sited here. It has a capacity to handle 6 million TEU, while the city has a population of 300,000. Both are under-utilized, Manzhouli is operating at a fraction of its capacity, and problems at the border crossing delay shipments. This may change when China agrees an FTA with the EAEU. Negotiations to do so commenced last year, just as I predicted they would in my recent book "China's New Economic Silk Road".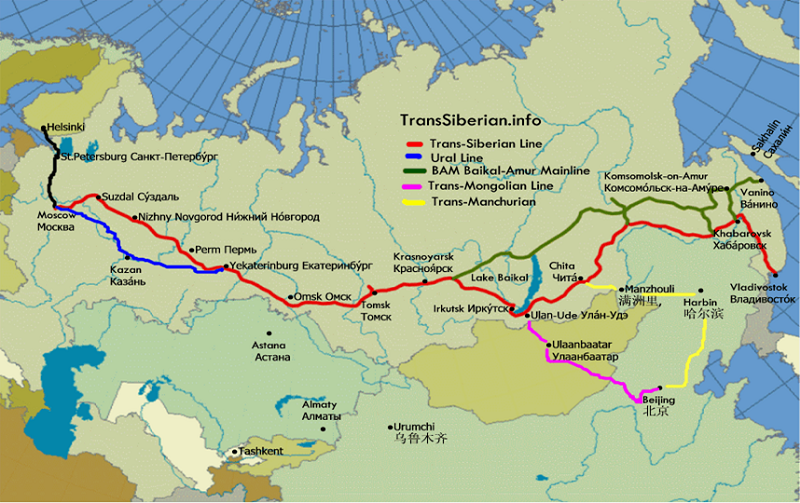 Manzhouli's development as a trading city is an example of how China can effectively build an entire new city in the Steppes. Despite a population of 300,000, it has the infrastructure to handle a population of 5 million people. The timber processing industry here – well known to all Asian buyers and processors of lumber – is set to be expanded into other processing industries as well. When one looks at the sheer quantity of resources in Siberia, Manzhouli is the primary location being developed by China to handle these:
Major Siberian Commodity Reserves
10% of global reserves of explored oil
25% of global reserves of natural gas
12% of global reserves of coal
9% of global reserves of gold
7% global reserves of platinum
16% global fresh water
21% global forests
22% of Russia's viable arable land
Russia's problem with Siberia is its low population density, something China can assist with. Manzhouli's potential for huge expansion into becoming a primary hub for the processing of Siberian commodities is, without question, vast.  
When looking then at the reasons for China developing the inland ports, the economic comparison with the sea routes becomes irrelevant. It will remain cheaper to transport freight by sea, and a boom in China's consumer class, coupled with an upturn in Europe's fortunes, will boost that trade. I will go into more detail concerning China's maritime ambitions in a future article. 
However, when one considers the role of China's inland Ports – much criticized for being too expensive – often the wrong comparisons are being made. China's inland ports and the overland routes of the Silk Road will develop to see rail compete with air freight for journeys along the route, while also seeing the drive to getting equipment, workers and even entire cities in place to better exploit the commodities that lie across the Central Asian and Siberian regions. China has in fact already completed the work on its side. Greater capacity and better infrastructure needs to be developed in Russia, Kazakhstan and beyond to better utilize the Chinese initiative. Administration, too, can be improved, something that will occur when China signs off on its proposed FTA with the EAEU – which includes Kazakhstan and Russia as members.
These mean that there are significant development pointers for logistics, mining, and suppliers to these industries then looking at China's inland Port development. Often misunderstood today, they represent just the first phase of a development plan that will see commodity exploration and logistics technology become very much a watch word across the entire Eurasian region. Alashankou and Manzhouli stand to be the primary ports, and trading hubs when this occurs.  
Meanwhile, the China Automated Logistics Equipment Industry Report, 2016-2020 is best summarized as follows:

Market size, product mix, demand structure, and competitive landscape of automated logistics system in China; Development, market size, and competitive landscape of product segments of automated logistics equipment in China, including automatic stereo warehouse, automated conveyor, AGV, and forklift; Development, demand, corporate competition of automated logistics equipment in major downstream sectors like automobiles, tobacco, and medical drugs in China; Development of and trends in logistics, e-commerce, and cold-chain logistics markets in China Operation of 8 global automated logistics equipment companies and their development in China; Operation and development strategies of 11 Chinese automated logistics equipment enterprises.
It can be downloaded for US$2,450 from the Report Linker website here.

Chris Devonshire-Ellis is the Chairman of Dezan Shira & Associates, a full service foreign direct investment practice with 28 offices across ASEAN, China and India. The practice advises foreign investors in these markets with research, legal advisory, tax advisory and related business services, including due diligence, compliance, accounting, payroll and related assistance. Please email to asia@dezshira.com  or visit our website at www.dezshira.com .
To obtain a complimentary subscription to Asia Briefing and Chris's updates, please click here.

China's New Economic Silk Road
China's Silk Road Economic Belt is the largest and most ambitious undertaking yet proposed by Beijing. With financing and the value of resources across Eurasia running into the hundreds of billions of dollars, we outline the fundamentals of China's plans. Included are details of the overland route from China through Central Asia, Russia and to Europe, and the maritime and overland routes through South-East Asia and beyond. Includes maps.

A Single Economic Space from Lisbon to Vladivostok
This comprehensive guide is ideal not only for businesses looking to enter the Indian market, but also for companies who already have a presence here and want to keep up-to-date with the most recent and relevant policy changes. Within it, we discuss a range of pertinent issues for foreign businesses, including India's most recent FDI caps and restrictions, the key taxes applicable to foreign companies, how to conduct a successful audit, and the procedures for obtaining an employment visa.

Customs Union, Certification and Import
In this issue of RUSSIA BRIEFING, we take a close look at the import and export procedures into, out of, and within the Russia, Belarus and Kazakhstan Customs Union. We then look at the current situation one year after Russia's WTO accession. Next we look at issues of product certification and VAT procedures in the Customs Union. Finally, we explain the processes involved with the import of goods between affiliate companies.