by Kyle Freeman, Dezan Shira & Associates Beijing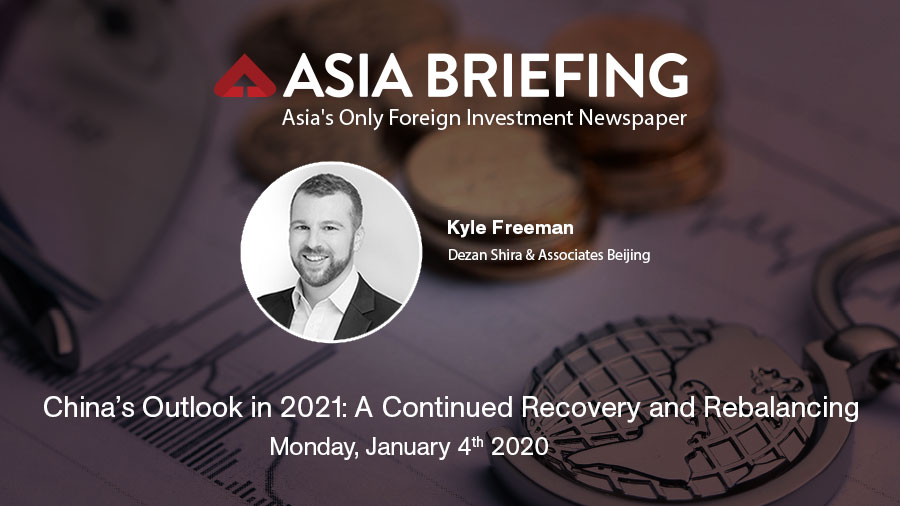 Kyle Freeman is a Partner based in Dezan Shira & Associates' Beijing office, where he leads the firm's International Business Advisory team and North American Client Services Desk in Asia. Prior to joining Dezan Shira & Associates, Kyle worked in government relations and China trade policy for various public and private organizations. His work included assisting in high-level, US-China bilateral trade dialogues and organizing public-private cooperation programs to promote US and foreign investment in China. Kyle holds a master's degree in economics and international trade from the University of International Business and Economics in Beijing, dual bachelor's degrees in economics and global affairs from George Mason University in Washington D.C., and has also been a visiting fellow at the University of Oxford.
Being one of the only major economies expected to see economic growth in 2020, China is set to carry this momentum forward and see even more robust growth in 2021, while at the same time implementing measures to rebalance its economy for more sustainable growth in the future.
Since experiencing an economic contraction of 6.8 percent in the first quarter of 2020, its first contraction since records began in 1992, China has seen a resilient economic recovery through the latter half 2020. With lockdown measures eased and new domestic COVD-19 cases limited by the early second quarter of 2020, China has registered year-on-year growth of 3.2 percent in in second quarter of 2020 and 4.9 percent in the third quarter. Preliminary annual data suggests China will see roughly two percent growth for the full year in 2020.
At the same time, China has maintained comparatively strong foreign direct investment (FDI) growth in 2020. Driven by eight consecutive months of positive FDI growth, FDI into China has risen 6.3 percent through the first 11 months of the year. This contrasts sharply with an estimated 40 percent reduction in global FDI inflows in 2020. Even Vietnam, an often-cited new alternative to China, saw its FDI inflow fall by 5.1 percent in the first eight months of 2020.
Building upon the recovery during the latter half of 2020, China is expected to see further accelerated growth in 2021. The World Bank's most recent economic projections released in December 2020 anticipate China will grow 7.9 percent in 2021. This far outpaces the Bank's expected 2021 growth for developed economies and ranks only behind the Bank's expected 2021 growth for India amongst large economies in Asia.
As China eases out of recovery and into growth partners more closely resembling pre-COVID factors, investors should closely watch several key growth drivers in 2021:
Sustained Manufacturing
China's economic recovery during the latter half of 2020 was led by increased manufacturing and production, largely for export purposes.
Despite supply and production disruptions due to COVID-related factory closures in the first quarter of 2020, China's manufacturing PMI returned to positive growth in March 2020 and has sustained this growth for most the year. In November, manufacturing PMI showed its sharpest improvement in conditions since 2010, while China recorded a record $74.4 billion trade surplus as exports surged 21.1% over a year earlier.
The pandemic and U.S.-China trade frictions have given rise to renewed calls to diversify supply chains. Concerns around the rising cost of wages and environmental-related regulatory issues in China have led some companies, especially those in low-margin, labor-intensive industries, to relocate manufacturing operations to Southeast Asian countries even before the current pandemic or trade fractions. However,
China manufacturing supply chains have overall proven to be incredibly sticky and China is still well positioned to continue to act as a global manufacturing hub.
During the annual member survey of American Chamber of Commerce in Shanghai in September 2020, 92.1 percent of members said they did not have plans to leave China and only 5.1 percent of companies with global revenues greater than US$500 million planned to leave China.
China continues to maintain certain competitive advantages across a number of manufacturing sectors that cannot be easily found in alternative locations, including an advanced infrastructure, a skilled labor force, and large supply and production capacity. Moreover, manufacturing in China has developed in higher value sectors, with China increasingly producing its own components and high-value goods, and more companies in China are now producing in China for domestic consumers.
Increased Consumption
Though China has seen a resilient and rapid recovery in 2020, the recovery has been uneven, with domestic demand and consumption recovering more slowly than production and investment. While companies benefitted from strong policy support initiatives as well from an easing of lockdown measures and roughly 94 percent of personnel returning to work by April, consumption was held back during the first half of 2020 due to loses in household income and lingering behavioral effects of the pandemic.
However, helped by an improving labor market, rising household income, lower precautionary savings, and strengthening consumer confidence, consumption began to positively contribute to economic growth by 1.7 percent in the third quarter of 2020 and has continued to do so in an increasing manner since.
Retail sales, a key indicator for consumption, have steadily improved across a wide range of goods in the second half of the year and service consumption has slowly improved in the last few months as lingering restrictions in sectors requiring close consumer interaction have been eased.
These trends that have led to a revitalization of consumption in the latter half of 2020 are expected to continue and lead to further consumption growth in 2021.
Continued Market Reforms
During recent years, and especially during the economic slowdown in 2020, China has sought to attract greater foreign investment by relaxing market access restrictions and continuously introducing improvements to the business and regulatory environment.
Evidence of these reforms can be seen in China improving from 78th to 31st in the World Bank's global ease of doing business rankings during the two-year period from 2018-2020, with China ranking among world's top ten most improved economies for ease of doing business in each of these two years.
Having implemented a new Foreign Investment Law, together with other reforms in the areas of company establishment, tax, finance, reporting, and compliance management in recent years – the key to further reforms for foreign investment will be in changes to China's negative list and piloting of new policies in China's free trade zones (FTZ).
The 2020 National Negative List cut the number of restrictive measures by 17.5 percent, from 40 to 33, and the 2020 FTZ Negative List cut the restrictive measures by 18.9 percent, from 37 to 30. We should expect to see updated national and FTZ negative lists with further cuts to restrictive measures during the summer months of 2021.
In September 2020, China announced it would establish three new pilot FTZs in Beijing, Tianjin, and Anhui, raising the country's total number of FTZs to 21. Along with existing FTZs, these new FTZs are expected to diversify the scope of and access to preferential incentives as well as pilot sector- and region-based relaxation of certain policies.
Dual Circulation Strategy
Reinforcing the above trends, China will begin to introduce what it has termed a dual circulation strategy (DCS) in 2020. Presented as a new economic model by president Xi Jinping at a Politburo meeting in May 2020, the DCS is a two-pronged strategy that refers to a parallel emphasis on an 'internal circulation' and an 'international circulation' and a shift towards becoming a demand and innovation-driven economy.
Internal circulation will seek to spur China's domestic demand and consumption, while international circulation will look to continue to develop conditions to facilitate foreign investment and boost production for exports.
Moving forward, it is expected China will focus more on "internal circulation" – the domestic cycle of production, distribution, and consumption – for its development, supported by continued innovation and upgrades in the economy. The focus on tapping into China's internal consumption patterns and domestic markets while driving innovation and production domestically, should help to reinforce the abovementioned positive consumption and manufacturing trends.
Though the policy focus will be on internal circulation, the government has emphasized that this does not preclude foreign companies from being involved and that foreign investment is still encouraged. Moreover, this represents a critical opportunity for the government to continue to deepen market-oriented reforms as this would also help address concerns relating the allocation of production factors (land, labor, capital, and data) in the market, further gearing local and foreign producers in China to meet growing domestic demand and expand industrial output for both the domestic market and exports.
Details around the DCS are still being developed. However, given the rapid elevation of and support for the strategy by the government during recent months, we should expect to hear more details about this policy during the National People's Congress (NPC) in March 2021 when the upcoming 14th Five-Year Plan (2021-2025) will be released.
Like most countries, China will continue to face difficulties in 2021 due to the uncertain nature of the pandemic. However, China's promising recovery in 2020 and the factors that have led to this recovery have it well positioned to further grow in 2021. Continued market reforms and the introduction of the dual circulation strategy should help to protect it against global economic headwinds and unpredictable external events in 2021.
Best regards;
Kyle Freeman Dezan Shira & Associates Beijing Office
E: kyle.freeman@dezshira.com
W: www.dezshira.com
Back to News