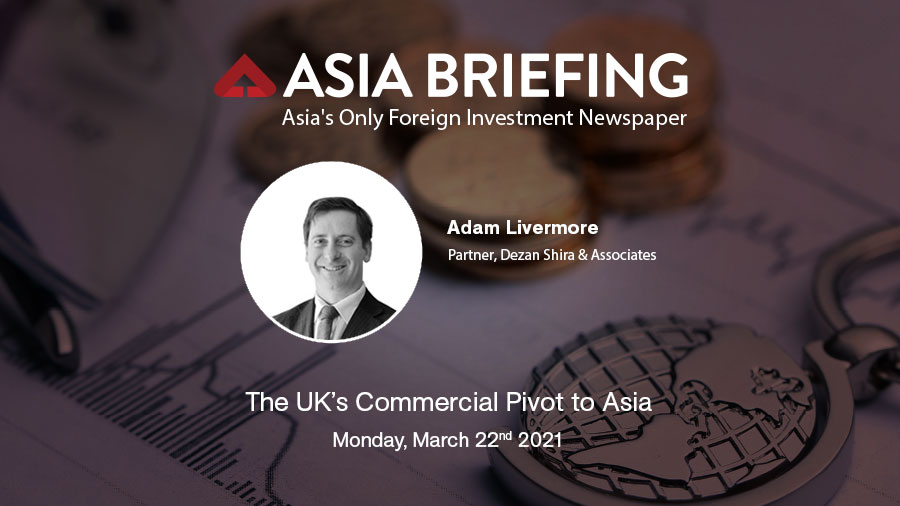 By Adam Livermore, Dezan Shira & Associates 
Three months after the UK officially left the European Union, the British government seems keen to make Asia a key focus for the future development of its global trade relationships.  Trade with Europe is expected to decline, and the US has indicated its reluctance to prioritize the negotiation of a new FTA.  Absent any other large, lucrative, and geographically close markets for UK products, exporters need to become comfortable with dealing with more distant and unfamiliar territories.  Asia, with its huge population, increasingly integrated economies, and high levels of GDP growth, fits the bill.
However, promoting trade across the region will not be straightforward.  Two countries (India and China) dominate the region in terms of population and are set to be the geopolitical powers in the region for decades to come, but it will be difficult for the UK to stay "onside" with both regimes as they increasingly go head-to-head in the region.  Japan and Korea are mature economies, but it's not clear whether there will be scope to generate substantial increases in exports to these countries.  The remainder of Asia is primarily made up of countries that are growing quickly, but the only one among them with real heft in terms of market size (from a perspective of population and land area) is Indonesia.  That country is still an unknown quantity to all but the larger multinationals and can be expected to be a difficult place in which to do business for the foreseeable future.
Turning to these countries individually, the priorities can see seen from the recent initiatives and statements coming from the policymakers.  China is already a big market for UK companies.  As the China-US relationship sours, Britain is keen to distance itself from the impending fray.  Just last week Foreign Secretary, Dominic Raab, signaled that commercial relationships would be prioritized, and issues such as human rights abuses will not be allowed to seriously impede the efforts of UK companies looking to globalize.  In his words, "If we restrict trade to countries with ECHR-levels of human rights, we're not going to do many trade deals with the growth markets of the future".  That statement may have been prompted by concerns over expanding trade with China, but a similar reality also exists in several the mid-sized developing economies in the Asia region, such as Vietnam and Bangladesh.
Hong Kong may also become a hot potato, due to the legacy complexities that need to be dealt with as the "handover" to China increasingly goes off the rails.  Hong Kong, like Singapore, may be a small jurisdiction in terms of population, but the demand for UK-sourced services (which makes up 43% of all UK exports) is much higher in those locations compared with other most other Asian countries.  A realistic aim for UK in Hong Kong is probably to just try to slow the erosion of both influence and trade.  Such an eventuality will probably also be acceptable to Beijing.  Presumably both countries will look to avoid major blow-ups in the coming months.
While the UK will likely follow a "treading water" policy with China, it is apparently much more proactive in developing stronger ties with India.  The Secretary of State for International Trade (Elizabeth Truss) was in India in February, presumably putting together the roadmap for signing of an FTA.  Boris Johnson is expected to travel to India later in the year, which might be the catalyst for major progress in that area.  There are major opportunities for both countries here.  Both are strong in technology and complement each other as well.  UK would be considered more "cutting edge", while India has a far larger sheer number of people working in the sector.  Outside of technology, India is looking to compete with China in terms of growing its manufacturing base.  For that it needs foreign investment.  Britain knows it will never be a low-cost production hub, so common ground exists in this area too.  Before India can really challenge China in this area, it needs to make a lot of progress on its infrastructure. For that, finance, and planning (architects / civil engineers etc.) are required.  That's another area where the UK is strong.  Having lost some degree of equal access to the UK market, we can assume UK companies active in these areas will be aggressively looking to India.
As China and India increasingly take the spotlight in Asia, Japan and Korea will be feeling marginalized.  South Korea has an over-dependency on China already in terms of its trading relationships and would like to diversify.  Japan, as an island nation like the UK, is going through a process of (relative) managed decline as its population shrinks and continues to age.  These situations will prompt both countries to take an interest in dealing more with countries like the UK in the future.  But their focus will be on South / Southeast Asia – economies closer to their own geographically and which will follow an economic development pattern which Japan and South Korea went through just a few generations ago.  It's unlikely either of these countries will become a game-changer for the UK.
That leaves Southeast Asia.  An unknown quantity for most UK companies, it's going to be a major engine for global growth in the coming decades.  A recently signed FTA with Vietnam will provide better opportunities in the education, healthcare, infrastructure, and renewables sector.  It will also encourage UK firms to setup production facilities in the country.  While the Vietnamese domestic market is likely to lack the scale and purchasing power to be major consumers of most UK products, with the Comprehensive and Progressive Agreement for Trans-Pacific Partnership (CPTPP) in place facilitating reduced trading barriers between signatory nations, Britain can utilize Vietnam as a backdoor into the much larger market that it has created (estimated at 13.5% of global GDP).  Going forward, Britain will also hope to be invited into the CPTPP directly.
More important than Vietnam and other Southeast Asian nations however, from a strategic perspective, are Singapore and Indonesia.  Singapore because of its pivotal role in the entire region.  Concentrated knowledge about all the surrounding economies is available there.  Finance for projects across the region is centralized there.  As Southeast Asia grows, Singapore will be riding the crest of the wave.  It is and will continue to be the gateway.  As Britain manages a slow retreat from Hong Kong, it should be quietly encouraging Singapore.  Indonesia, on the other hand, is not yet on the radar for many exporters, but it develops in a quiet and unassuming fashion.  Some distance from most geopolitical disputes, and considered relatively benign by its neighbours, Indonesia is in an ideal situation to capitalize on problems experienced by "spotlight" countries – India and China.  But even if those countries both develop smoothly in the coming years, Indonesia is still in a good place to benefit as the entire Asian geography takes centre-stage.  It's in a win-win situation.  UK companies should be looking at where opportunities exist from a medium-long term perspective.
Adam Livermore is an equity partner at Dezan Shira & Associates.  Born in London, he has been living in China for the past sixteen years and is proficient in Chinese and Japanese. 
Adam is based in our Dalian office where he manages both client-facing resources as well as several internal functions for the firm.  Adam has been exposed to most areas of the firm's broad range of operations but has a particular specialization in the areas of Human Resources in China, relating to both the legal and administrative aspects.  He also possesses a comprehensive understanding of the key legal and accounting topics related to foreign direct investment in China.  Having overseen Dezan Shira's Indian operations for the past several years, Adam is able to compare these two huge, yet fundamentally different economies, and can provide insights into their respective business cultures and the operational challenges foreign investors face.
E: asia@dezshira.com
W: www.dezshira.com