Search Result (2 results)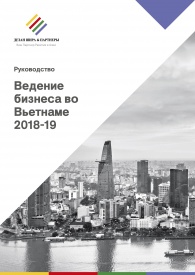 Complimentary
View
Published: October 2019
В данном руководстве Вьетнам Брифинг мы предлагаем иностранным инвесторам подробное руководство по выходу и ведению бизнеса во Вьетнаме. Вы сможете ознакомиться с различными инвестицоинными моделями, налогооблажением, вопросами связанными с наймом персонала и возможностями в свободной торговой зоне. Эта публикация, предназначенная для ознакомления с основами инвестирования во Вьетнаме, была составлена компанией «Дезан Шира и Партнеры», экспертом по прямым иностранным инвестициям в развивающуюся Азию.
---
Published: June 2018
An Introduction to Doing Business in Vietnam 2018-19 will provide readers with an overview of the fundamentals of investing and conducting business in Vietnam. Compiled by Dezan Shira & Associates, a specialist foreign direct investment practice, this guide explains the basics of company establishment, annual compliance, taxation, human resources, payroll, and social insurance in this dynamic country.
---