Search Result (2 results)
Published: January 2019
In this issue of Indonesia Briefing magazine, we focus on emerging FDI opportunities in Indonesia and highlight the country's potential as a sound investment destination, including for those looking to shift a part of their production lines from China to ASEAN. We begin by describing the tax incentives available for foreign investors in Indonesia. We next focus on Indonesia's Special Economic Zones as potential locations for FDI projects. Finally, we analyze the growing opportunities for foreign investors in Indonesia's lucrative e-commerce sector.
---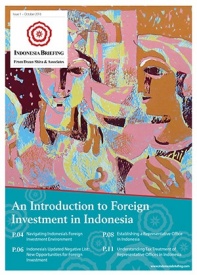 Complimentary
View
Published: October 2016
Indonesia stands out in the ASEAN region for its competitive wages, large labor pool, and burgeoning domestic market. With a population exceeding 250 million, the country is poised to become an immensely lucrative market as it develops further and the urban consumption class continues to grow. In this inaugural issue of Indonesia Briefing magazine, we examine these trends, and highlight how Indonesia has made enormous strides in streamlining and liberalizing its business environment in order to capture larger inflows of foreign direct investment (FDI).
---