Export capacity building up throughout South-East Asia
Op-Ed Commentary: Chris Devonshire-Ellis
As global manufacturing starts to spread its tentacles across Asia, Export Processing Zones – once the sole preserve of China – are springing up all over. Conceived as ideal for emerging markets as they help develop worker skill sets and begin the development of supply chain infrastructure, they are also popular with foreign investors as they negate the need to import directly into the host country (avoiding import duties) and assist with being able to deliver a cost-effective product by offering VAT rebates on any locally sourced components.
Here we list ten of Asia's most dynamic Export Processing Zones – and almost certainly most you will not yet have heard of. That maybe about to change…as even Myanmar gets in on the act with its Thilawa EPZ to be completed in 2015 with significant investment from Japan.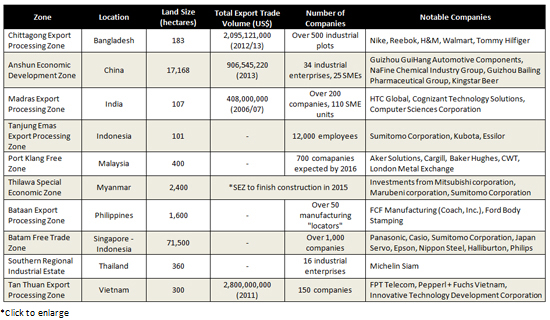 The reason I highlight these – which just scratch the surface of the numbers of Export Processing Zones across Asia – is to provide some sort of idea of the growth potential for global manufacturing that Asia is now collectively putting into place.
China tends to dominate media attention about export manufacturing, and often other countries get left in the shade.  Take Bangladesh for example. Generally considered a poor and backward country, it is in fact upgrading big time. Honda are investing more into their auto manufacturing capabilities there, while it is generally not well known that the country is the world's second largest producer of textiles. Consequently, the Chittagong EPZ is well up to speed with numerous well known global brands well established there.
The Madras EPZ, near Chennai on India's east cast is also thriving – a serious player in electronics and IT. Indonesia has been making impressive strides with its EPZ's, both on its own, and in partnerships with Singapore at Batam – now one of the world's largest EPZ in its own right. As an Australian manufacturer confessed to me recently, "When I say I'm on a business trip to Surabaya, no-one has ever heard of it."  Surabaya is Indonesia's second largest city, a deep water port and with a population of over 3 million, one of the many gateways to Southeast Asia. It is just 1,200km from Darwin, Australia.
RELATED: Special Economic Zones in Myanmar
Vietnam's Tan Thaun EPZ is also thriving. Sited near Ho Chi Minh City, it, and others like it, are set to explode with business investments – many expected to be adding manufacturing capacity for the China market – as Vietnam comes into economic integration with ASEAN at the end of next year and the Vietnamese government follow that up with a reduction of profits taxes to 20 percent.
The sheer size of the still to be completed Thilawa EPZ in Myanmar is also impressive. Some 2,400 hectares – 24 sq kilometers, major investors are pouring in from Japan and South Korea to get it up to speed. Which countries border Myanmar? China and Bangladesh, with India a stone's throw away.  The Japanese, already in Bangladesh in a big way, will leverage their facilities there to help develop Thilawa. Within a decade, motorbikes driven on the roads in China will have been manufactured and assembled in Myanmar. China's minimum wage in Guangdong is US$290 a month. In Myanmar it is US$37.
While the chart we provide is far from inclusive, the message is clear. South-East Asia is gearing up to be the manufacturing export hub for the global consumer market – and that includes manufacturing to service the Chinese.
Asia Briefing Ltd. is a subsidiary of Dezan Shira & Associates. Dezan Shira is a specialist foreign direct investment practice, providing corporate establishment, business advisory, tax advisory and compliance, accounting, payroll, due diligence and financial review services to multinationals investing in China, Hong Kong, India, Vietnam, Singapore and the rest of ASEAN. For further information, please email china@dezshira.com or visit www.dezshira.com.
Stay up to date with the latest business and investment trends in Asia by subscribing to our complimentary update service featuring news, commentary and regulatory insight.
Related Reading
An Introduction to Development Zones Across Asia
In this issue of Asia Briefing Magazine, we break down the various types of development zones available in China, India and Vietnam specifically, as well as their key characteristics and leading advantages. We then go on to provide a snapshot of the latest development zones across the rest of Asia. With several hundred development zones operating in the region, it is impossible to cover them all in the pages of just one publication. However, we hope that this issue will provide the basic fundamentals to understanding one of the most important business tools available to international businesses operating in Asia.
An Introduction to Tax Treaties Throughout Asia
In this issue of Asia Briefing Magazine, we take a look at the various types of trade and tax treaties that exist between Asian nations. These include bilateral investment treaties, double tax treaties and free trade agreements – all of which directly affect businesses operating in Asia.

The Gateway to ASEAN: Singapore Holding Companies
In this issue of Asia Briefing Magazine, we highlight and explore Singapore's position as a holding company location for outbound investment, most notably for companies seeking to enter ASEAN and other emerging markets in Asia. We explore the numerous FTAs, DTAs and tax incentive programs that make Singapore the preeminent destination for holding companies in Southeast Asia, in addition to the requirements and procedures foreign investors must follow to establish and incorporate a holding company.
Understanding Development Zones in China