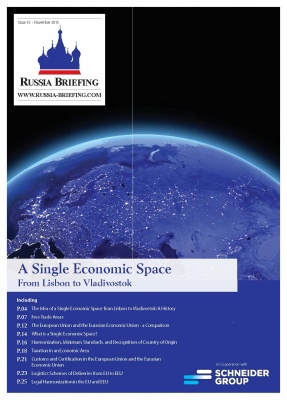 A Single Economic Space From Lisbon to Vladivostok
Published: November 2015
This issue of Russia Briefing introduces the idea of a single economic space between Lisbon and Vladivostok. It presents the history of this concept as well as the potential benefits if it had been realized.
In this issue:
The Idea of a Single Economic Space from Lisbon to Vladivostok
Free Trade Areas
The European Union and the Eurasian Economic Union
What is a Single Economic Space?
Harmonization, Minimum Standards, and Recognition of a Country of Origin
Taxation in an Economic Area
Customs and Certification in the European Union and the Eurasian Economic Union
Logistics Schemes of Deliveries from the EU to the EEU
Legal Harmonization in the EU and the EEU
The idea of a single economic space between Vladivostok and Lisbon goes back quite some time and was not only expressed by Russian President Vladimir Putin and German Chancellor Angela Merkel, but was also mentioned in such documents as the recent position paper of the German-Russian Chamber of Commerce.
However, in reality the idea never came into action, and there is currently a lack of a more detailed plan of such a single economic space would operate. The most probable reason is that most participating countries have differing understandings of the fundamental principles of such a project.
The motivation behind the idea appears to be that Russia and its neighboring countries possess energy and natural resources but are in need of technology whereas the EU is in need of these resources but possesses the required technology. In practice however, this would be rather difficult to accomplish.
A single economic space is based on more than just free trade, and should first and foremost focus more on other areas of common interest. It would consist not just of Russia and the EU, but would also involve other countries, including Ukraine.
SCHNEIDER GROUP staff in Russia compiled the content of this magazine.