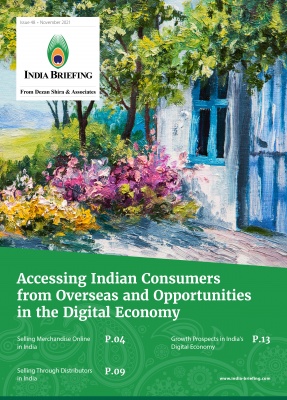 Accessing Indian Consumers from Overseas and Opportunities in the Digital Economy
Published: November 2021
The magazine provides a general overview of the options available to foreign firms to sell to the online Indian market, including suitable market entry strategies and business models, industry regulation, and consumer trends. We also provide information on distribution channels in India and key considerations for when choosing a particular distribution strategy. Improvements and investment prospects in the logistics industry have been highlighted as India aggressively seeks to become a manufacturing and sourcing hub in Asia.
India is among the world's fastest growing digital economies, with its consumer digital market projected to reach US$800 billion by 2030. Multiple industries have received an online boost, both in the services and manufacturing sectors, through the application of technology. The creation of internet-based platforms and micro sales channels proliferating on social media have driven prospects for business-to-business commerce and business-to-consumer transactions.
The growth numbers reflecting India's digital consumption are also linked to improving internet penetration across the country, which is among the cheapest in the world. While these developments were already transforming the remits of online commerce in India – retail, services, technology start-ups creating hyperlocal solutions – the COVID-19 pandemic functioned as an accelerator. Given the urgency for non-contact alternatives for buying and selling, schooling, banking, and other activities – online apps and platforms have proliferated in the country since 2020, even pushing the highly cash-dependant economy towards adopting digital payment modes across all types of transactions.
In this issue of India Briefing magazine, we directly address how foreign companies can sell to India's online market, including choosing the right business model, compliance, and tax liability. Next, we explore the distribution channels available to foreign retailers, including an overview of the fast-evolving Indian third-party logistics (3PL) sector. In the final chapter, we spotlight key digital service segments in the country that have received a long-term market boost since the pandemic necessitated remote-based activity.
In this issue:
Selling Merchandise Online in India
Selling Through Distributors in India
Growth Prospects in India's Digital Economy