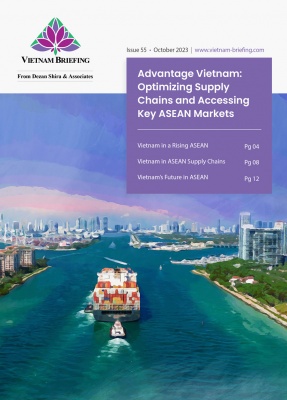 Advantage Vietnam: Optimizing Supply Chains and Accessing Key ASEAN Markets
Published: October 2023
This edition of Vietnam Briefing Magazine aims to provide an overview of Vietnam's role in the ASEAN trading bloc. This includes the changing nature of supply chains in the region, where Vietnam fits, and the free trade agreements governing interregional trade. For firms looking to expand their presence in the Asian market, this magazine provides valuable insights into harnessing Vietnam's unique advantages for successful diversification strategies.
Vietnam has been a member of the Association of Southeast Asian Nations (ASEAN) since 1995. In almost three decades with the organization, the benefits Vietnam's membership has provided have been almost immeasurable.
Simplified cross-border trade processes, reduced costs of interregional trade through tariff elimination, and the freer movement of people within the region have benefited the economic group, including Vietnam.
Furthermore, foreign investors have been able to capitalize on this by diversifying their supply chains across the bloc, mitigating risks, and realizing greater value by utilizing complementary comparative advantages.
As Vietnam approaches its 30th anniversary being a member of the Southeast Asian trading bloc, these advantages will be compounded by increasing interest in the region and its capabilities as a 'plus China' base.
In this issue of Vietnam Briefing Magazine, we put the spotlight on Vietnam's role in ASEAN and the interregional framework that keeps its member economies and foreign investment ticking along. We demonstrate Vietnam's value proposition in regional supply chains as an important assembly base and access point to China, besides being well connected to other Southeast Asian markets and major global trade routes. Finally, we discuss Vietnam's role in ASEAN's future and foreign investment opportunities in the country's ambition to elevate its standing in frontier sectors.
With offices located across Southeast Asia and Vietnam and years of experience helping foreign enterprises set up operations in Asia, Dezan Shira & Associates is well positioned to assist your company in ASEAN markets. For more information, please email us at Vietnam@dezshira.com.