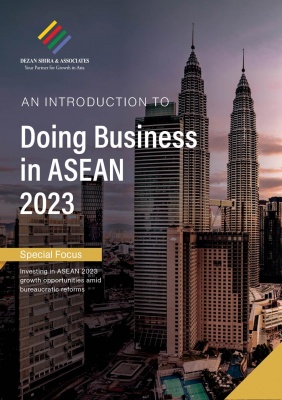 An Introduction to Doing Business in ASEAN 2023
Published: December 2022
This publication is designed to introduce the fundamentals of investing in all ten ASEAN countries and includes a guide to corporate establishment, tax advisory, and bookkeeping, in addition to HR and payroll, double tax agreements, and audit and compliance.
An Introduction to Doing Business in ASEAN 2023, the latest publication from Dezan Shira & Associates is out now and available for download through the Asia Briefing Publication Store.
The Association of Southeast Asian Nations (ASEAN) was established in 1967 by Indonesia, Malaysia, Philippines, Singapore, and Thailand to accelerate the economic growth and social development in the region. Brunei Darussalam joined in 1987, Vietnam in 1995, Lao DPR and Myanmar in 1997, and Cambodia in 1999.
ASEAN is home to more than 600 million people (larger than the EU and North America) and has the third-largest labor force behind India and China. Since its inception, the bloc has seen growth in myriad sectors, such as manufacturing, retail, transportation, and telecommunications. The bloc is expected to become the world's fourth largest economy by 2030 with domestic consumption expecting to reach US$4 trillion.
However, the onset of the COVID-19 pandemic has severely impacted ASEAN states as protracted lockdowns resulted in sharp downturn in industrial production, exports, and consumption. In response, ASEAN members have quickened the pace of key reforms to improve the ease of doing business and attract foreign investment in new areas, such as high-value manufacturing capabilities and digital technology. These new growth drivers, among others, will make ASEAN attractive to foreign investors, including for those looking to move a part or all of their manufacturing activities from China.
This publication, designed to introduce the fundamentals of investing in ASEAN, was compiled by experts at Dezan Shira & Associates, a specialist foreign direct investment practice, providing corporate establishment, business intelligence, tax advisory and compliance, accounting, payroll, due diligence and financial review services to multinationals investing in emerging Asia.
An Introduction to Doing Business in ASEAN 2023 covers the following:
Corporate establishment;
Tax and accounting;
Human resources and payroll; and
Audit and compliance.