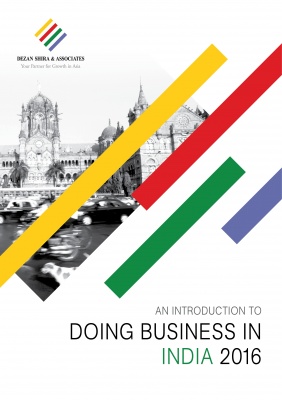 An Introduction to Doing Business in India 2016
Published: July 2016
Doing Business in India 2016 is designed to introduce the fundamentals of investing in India. As such, this comprehensive guide is ideal not only for businesses looking to enter the Indian market, but also for companies who already have a presence here and want to stay up-to-date with the most recent and relevant policy changes.
This publication has now been updated. Please click here for the latest edition.
No. of Pages: 71 pages
The Union Budget 2016 was presented by the government amidst tumultuous times in the global macroeconomic landscape. Global trade and commerce continues to be adversely affected by:
Bottoming of prices of many commodities
Slowing down of China's economy as a major consumer
Turbulent financial markets and volatile exchange rates
This has led to risk-aversion by international investors and has put several countries under considerable economic stress. In spite of these headwinds, India's GDP growth has been among the highest in the world at 7.6 percent. Coupled with this, inflation has declined from the previous high of 9.4 percent to 5.4 percent. This affirms that the economy is on the right track and has encouraged the government to push ahead with its reforms. The government wants to encourage foreign investment in India to support its ambitious transformational budget allocations for rural development (US $13.29 billion) and investment in infrastructure (US $33.52 billion).
2016 was an important year for India. The reforms that have already been implemented are numerous and include infrastructural improvements and, the raising of FDI caps. These policies and a myriad of other subjects are included in this guide.
An Introduction to Doing Business in India 2016 – covers the following:
Establishing and Running a Business

What are my options for investment?
Setting up a Wholly Foreign-Owned Business in India
Navigating FDI Caps and Restrictions
Tax and Accounting in India

Key Taxes in India
India's Audit Process
Human Resources and Payroll Considerations

Key Considerations when Hiring Staff
Payroll and Social Insurance
Operational Issues

Import & Export Procedures
Sourcing from India
Within these topics, we discuss a range of pertinent issues for foreign businesses, including India's most recent FDI caps and restrictions, the key taxes applicable to foreign companies, how to conduct a successful audit, and the procedures for obtaining an employment visa. In addition, we detail the options available to companies entering the Indian market for the first time and explain how to set up a Wholly Foreign-Owned Company as well as operational issues a company might face.