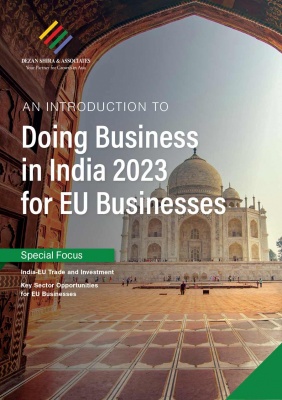 An Introduction to Doing Business in India 2023 for EU Businesses
Published: June 2023
This publication is designed to introduce to EU business stakeholders the fundamentals of investing in the Indian market and includes a guide to trade and industry opportunities, market entry considerations, merger and acquisition, tax advisory, HR and payroll, and financial reporting and audit compliance.
Namaste and welcome to our guide on Doing Business in India for EU Businesses in 2023!
This special edition focuses on the strong economic partnership between India and the European Union (EU), which achieved a record bilateral trade of US$132.09 billion in FY 2023. As India and the EU commemorate 60 years of bilateral relations, there are ample opportunities for both economic partners to capitalize on their synergies across various sectors.
Furthermore, recent geopolitical events have led India and Europe to prioritize stronger ties, opening avenues for collaboration in digitalization, clean energy, research, manufacturing, FinTech, infrastructure, and education. These partnerships hold immense potential, particularly for Indian and European SMEs and business alliances.
India's impressive growth trajectory, supported by business-friendly reforms, positions it as a key player in shaping the global economy of the 21st century. Despite external challenges, India has experienced an unprecedented surge in M&A activities and has cultivated a thriving startup ecosystem with over 100 unicorns. Additionally, India's development agenda places a strong emphasis on infrastructure modernization, encompassing connectivity projects, integrated industrial townships, and initiatives to strengthen sector-specific domestic manufacturing capabilities.
European companies are actively contributing to India's transition towards an innovation-based and sustainability-driven economy. EU investments in India have more than doubled in recent years, with a particular focus on sectors such as high precision manufacturing, pharmaceuticals, and e-commerce.
As India-EU engagement continues to deepen, it becomes crucial for European companies aiming for success in India to understand market dynamics, regulations, and local consumer preferences. This business guide, created by Dezan Shira & Associates, a specialist firm providing comprehensive business services to multinational investors in emerging Asia, offers valuable assistance to European businesses in formulating their India market strategy.
Doing Business in India 2023 for EU Businesses covers the following- topics:
India's investment climate
Foreign Trade Scenario: Policy and Procedures
India-EU Investments, Trade, and Potential for Collaboration
Setting up a business
Mergers and acquisitions
Taxation
Transfer pricing
Financial reporting and audit
Human resources and payroll