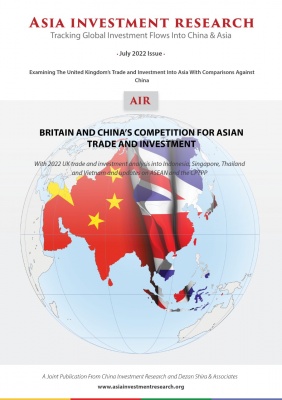 BRITAIN AND CHINA'S COMPETITION FOR ASIAN TRADE AND INVESTMENT
Published: July 2022
The latest issue of AIR is a unique study into the trade and investment statistics and policies that China and the United Kingdom has chosen to adopt when it comes to their Asia policy.
Featuring the latest updates on their respective trade with all eleven ASEAN nations (Timor-Leste is set to join next year), we explore the differences in thinking and policy that drive British and Chinese investment and trade into the region. These differences are substantial and provide much that UK plc can learn from.
The issue also features updates on the latest positions as regards the United Kingdom's application to join the CPTPP, discusses the UK position as an ASEAN observer nation, and provides the latest technical trade agreements and tariff reductions as affect British involvement in Indonesia, Singapore, Thailand, and Vietnam.
This is a complimentary issue.