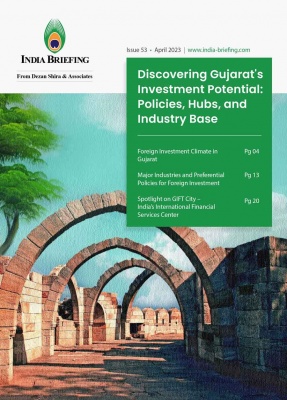 Located in western India, Gujarat has become a popular destination for foreign investors due to its favorable pro-business environment, strategic location, diverse manufacturing base, education ecosystem, and sector-specific policies. Between October 2019 and June 2022, the state attracted foreign direct investment (FDI) inflows of over US$30 billion, demonstrating its strong appeal to investors.
The Gujarat government is committed to continually improving its infrastructure and logistics connectivity to facilitate greater public and private sector investments. In addition, the establishment of new industry clusters and investment zones has made the state a highly competitive base for large-scale enterprises and export-oriented manufacturing.
Gujarat also encourages the growth of small and medium enterprises through incentives and promoting upstream business opportunities. Its industrial policies are regularly updated to support emerging sectors and foster research and development capacity. It is not surprising that Gujarat is home to more than 300 Fortune 500 companies.
In this edition of India Briefing Magazine, we will discuss the key drivers of foreign investment in Gujarat. Next, we will focus on the major sectors promoted in the state and the preferential industrial policies that support them. Finally, we will spotlight India's first international financial services center (IFSC), established at GIFT City.
As a company with extensive experience in helping foreign enterprises set up operations in Asia, Dezan Shira & Associates has offices across India and can assist your company in entering the Indian market. For more information, please email us at asia@dezshira.com.