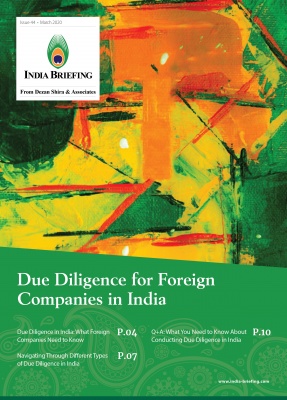 Due Diligence for Foreign Companies in India
Published: March 2020
Foreign companies investing in India are advised to do a due diligence check, especially if entering into a joint venture, merger and acquisition, or partnership. The due diligence process uncovers critical information relating to the business and its management, thus helping investors decide if they should go ahead with their financial deal, or negotiate better terms and conditions, or withdraw their interest from the target entity or deal. While the due diligence process differs in each sector, the process will include an accurate evaluation of the company's finances and taxes. In this issue of India Briefing, we provide information on conducting due diligence in India. We first focus on what is due diligence, and why foreign companies should engage in this process before investing in India. Next, we discuss different types of due diligence and explain their requirements and importance. Lastly, we answer some frequently asked questions.
In this issue:
Due Diligence: What Foreign Companies Need to Know
Navigating Through Different Types of Due Diligence in India
Q+A: What You Need to Know About Conducting Due Diligence in India
Foreign companies looking to do business in India should perform a due diligence check.
During the due diligence examination, the financial, legal, and compliance aspects of the company or business are reviewed and documented. The purpose is to identify if there are any risks or concerns with the business.
Due diligence is usually conducted in cases of mergers and acquisitions, partnerships, joint ventures, and IPO. It should also be noted that companies in India have to comply with different legal and regulatory compliances, and the tax regime can be difficult to navigate. Therefore, due diligence is required to ensure that the local company is in compliance with all the necessary laws and rules, and has been providing accurate information to the foreign company inquiring about its business.
Through this due diligence process, a foreign company gets access to all the information including the liabilities, reputation, and finances of the business. Once the risks, challenges, and potential opportunities are identified, the foreign entity can decide if it wants to be in business with the company in India.
In this issue of India Briefing, we outline key aspects that foreign companies must focus on when conducting due diligence on an entity operating in India. We analyze the different types of due diligence that foreign companies should consider important while investing in India. Lastly, we answer some frequently asked questions on this topic.
If you and your company are interested in conducting due diligence on a company or business set up in India, please contact Dezan Shira & Associates.