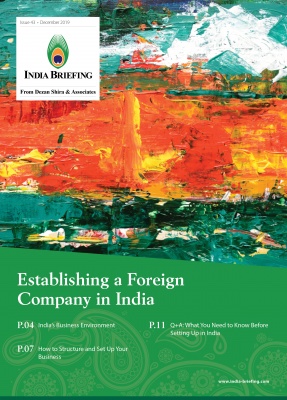 Establishing a Foreign Company in India
Published: December 2019
India is an attractive destination for foreign investors due to its large consumer-oriented market, low labor costs, and rising global competitiveness. Despite the recent dip in the growth rate, India features among the top 10 countries for global FDI. Further, with more sectors being liberalized and a focus on improving the ease of doing business environment, India offers a stable base of operations for investors seriously considering the Asian market. In this issue of India Briefing, we provide information on establishing a company in India. We first discuss the country's current business environment and why India has emerged as a preferred investment destination for foreign companies. Next, we focus on the entity structures available to foreign companies in India and explain their functionalities and requirements. Lastly, we answer frequently asked questions.
In this issue:
India's Business Environment
How to Structure and Set Up Your Business
Q+A: What You Need to Know Before Setting Up in India
India intends to become a US$5 trillion economy by 2024. To achieve this goal, the government has announced several reforms, such as the reduction in corporate tax, bringing India at par with major global economies on the taxation front. The government has also promised that it will continue to take measures to improve India's business climate.
Meanwhile, India's FDI inflows have continued to thrive. With more sectors being liberalized, it is expected that India will continue to be an attractive destination for foreign businesses.
The country has also made it easier to start a business, streamlined the construction and building permit process, and made it simpler to resolve insolvency and to trade across borders. This is indicative of the country's potential for growth as an investment hub.
In this issue of India Briefing, we analyze current the investment climate and FDI reforms in India. We then focus on the various entity structures available for foreign companies who want to establish their presence in India. Lastly, we answer some frequently asked questions on this topic.
If you and your company want to learn more about investment options in India or need assistance with setting up your business operations in the country, please get in touch with Dezan Shira & Associates.