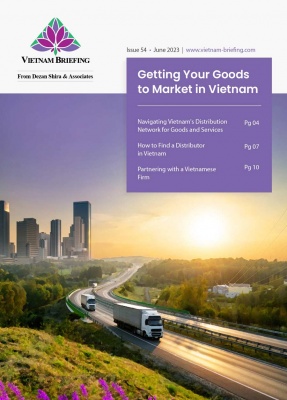 Getting Your Goods to Market in Vietnam
Published: June 2023
High inflation and interest rates, along with currency fluctuations are all making it expensive and risky for businesses to expand into markets overseas. Between permits, registrations, and visas, as well as hiring staff and dealing with in-country logistics, it can also be a lot of work. In this issue of Vietnam Briefing Magazine we look at the cost-effective ways firms can sell their goods and services in Vietnam without opening a local office.
Vietnam has been rapidly rising as a key Southeast Asian market for a vast array of foreign goods and services. From gourmet cheeses to automobiles, Vietnam's 100 million consumers are snapping up goods almost as quickly as they can be stacked on the shelves.
Furthermore, the market is expanding at breakneck speed. Wages are rising, cities are urbanizing, and a new consumer class is emerging eager to spend.
With over 15 free trade agreements bringing down trade barriers and tariffs, there has never been a better time to reach out to Vietnamese consumers.
However, market entry is not necessarily easy. The right advice and a keen understanding of Vietnamese consumers and businesses are key to maximizing returns.
In this light, using a local Vietnamese distributor or forming a partnership with a Vietnamese firm may be a better option. This is not always easy and there are risks involved. That said, with the right advice and guidance this can be an effective way of testing the waters, and with the right local partner it can be a very lucrative way to get products and services to market in Vietnam.
In this issue of Vietnam Briefing Magazine, we explore the fundamentals of distributing goods in Vietnam, including:
Moving Goods In and Around Vietnam;
How to Find a Distributor in Vietnam; and
Partnering with Vietnamese firms.