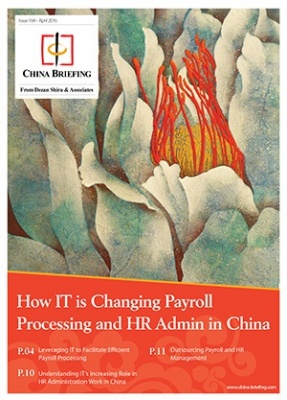 How IT is Changing Payroll Processing and HR Admin in China
Published: April 2016
In this edition of China Briefing magazine, we examine how foreign multinationals can take better advantage of IT in the gathering, storing, and analyzing of HR information in China. We look at how IT can help foreign companies navigate China's nuanced payroll processing regulations, explain how software platforms are becoming essential for HR, and finally answer questions on the efficacy of outsourcing payroll and HR in China.
No. of Pages: 12 pages
In this issue of China Briefing:
Leveraging IT to Facilitate Efficient Payroll Processing
Understanding IT's Increasing Role in HR Administration Work in China
Outsourcing Payroll and HR Management
It is no secret or surprise that technology is driving a revolution in the areas of payroll processing and HR administration. Global payroll processing companies have already produced sophisticated systems to meet the requirements of clients in their main markets, which are primarily the large, developed economies of the world. How are multinationals managing the administration of their employees in China? What are the complications? And how are payroll processing firms "upping their game" to meet the challenges that they and their clients face in this heavily populated and complex part of the world?
The challenges fall into two distinct parts. The first relates to payroll processing work, which can actually be handled remotely from anywhere in the world and is a specific, objective process. The chief difficulty for payroll processors is how to efficiently receive all the input data from their clients, which forms the basis of all the payroll calculations and reports.
The second part of the challenge relates to the HR administration support provided to clients. Employers in many Asian countries need to ensure that the employment relationships with their staff are properly documented and in compliance with local laws. Failure to do this can be expensive, and reliance on often inexperienced local staff can be dangerous. But China is big, and in particular the "last mile" – how to ensure original versions of documents are signed by employees and securely stored – can be difficult when the company is based in a relatively remote location.
IT is the main answer to both of these challenges. Solutions are not straightforward, and they need to be customized to the specific situation of each company. Nevertheless, more comprehensive solutions are appearing, and this edition of China Briefing aims to explain how foreign multinationals can take better advantage of IT in the gathering, storing, and analyzing of HR information across their entities in China.