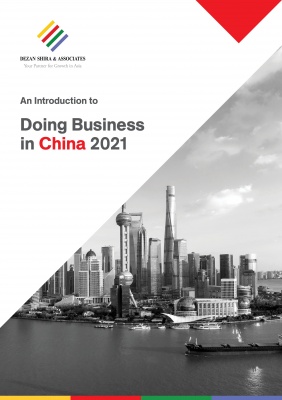 An Introduction to Doing Business in China 2021
Published: January 2021
Doing Business in China 2021 is designed to introduce the fundamentals of investing in China. Compiled by the professionals at Dezan Shira & Associates in January 2021, this comprehensive guide is ideal not only for businesses looking to enter the Chinese market, but also for companies who already have a presence here and want to keep up-to-date with the most recent and relevant policy changes.
The year 2020 was challenging for businesses around the world. With the COVID-19 pandemic breaking out early in the year, and still ongoing, companies around the world have had to make difficult decisions.
Nevertheless, China emerged stronger and more resilient as an investment destination, having suffered through the worst of the outbreak in the initial months of 2020. China's successful containment of the coronavirus outbreak within its borders enabled the quick recovery of its economy. This was further helped by the country's stable social environment, integrated industrial system, efficient and advanced service and logistic networks, well-educated human resources, as well as a sizeable domestic market. For many companies, China is now their largest market for growth.
Yet, Beijing is determined to attract all kinds of investors by relaxing more market access restrictions and continuously introducing improvements to the business and regulatory environment. With the Foreign Investment Law coming into force last year, together with the revision of the Negative Lists, as well as other reforms in the areas of company establishment, tax, finance, reporting and compliance management, foreign investors are playing on a more even ground with domestic competitors.
Under these circumstances, it is important for investors to get familiar with the changes in China's business landscape, identify areas of risk, and take steps to prepare for the new market opportunities. Only in this way, investors can stay nimble in an otherwise challenging time.
Designed to introduce the fundamentals of investing in China, this publication is compiled by the experts at Dezan Shira & Associates, a specialist of foreign direct investment, providing corporate establishment, business advisory, tax advisory and compliance, accounting, payroll, due diligence and financial review services to multinationals investing in emerging Asia.
Doing Business in China 2021 covers the following:
Establishing and Running a Business
Tax, Audit, and Accounting
Human Resources and Payroll
Within these chapters, we discuss a range of different topics that affect doing business in China, including investment models, intellectual property considerations, key taxes applicable for foreign companies, and various types of employment contracts. In addition, we examine how business practices have been changed, such as the new requirements on opening bank accounts.