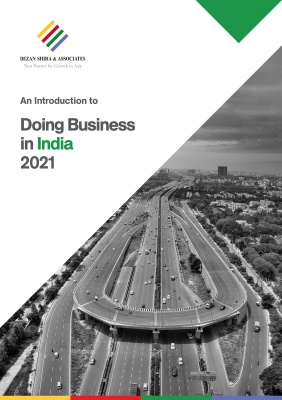 An Introduction to Doing Business in India 2021
Published: January 2021
Doing Business in India 2021 is designed to introduce the fundamentals of investing in India. Compiled by the professionals at Dezan Shira & Associates in January 2021, this comprehensive guide is ideal not only for businesses looking to enter the Indian market, but also for companies who already have a presence here and want to keep up to date with the most recent and relevant policy changes.
2020 was a difficult year for businesses around the world and India was no exception. The COVID-19 pandemic disrupted travel and industrial supply chains and put economies on hold as multiple regions went into a series of lockdowns. This heavily impacted business and employment in almost every sector, with only select industries in the digital and healthcare realms performing relatively better.
Almost a year later, in 2021, we can say that the situation has stabilized in India despite the ongoing outbreak, with optimism backed by the January vaccine roll-out and the containment of the virus spread in the country. Meanwhile, India's manufacturing of PPE and vaccine production for domestic distribution and exports will be key milestones during the pandemic, reflecting the country's core industrial strengths and investment opportunities.
Despite national and local lockdowns, last year also saw multiple India states unveil new industrial policies and implement business-friendly reforms to attract greater investments and bolster local manufacturing ecosystems, such as the states of Karnataka, Andhra Pradesh, and Maharashtra.
In 2021, this trend will continue; foreign companies can expect a major overhaul of the country's labor laws and compliance thresholds as rules to implement new labor codes enter the final stretch before formalization. Meanwhile, the central government has signaled its continued intent to streamline bureaucratic processes, ease doing business, offer industry and location-based tax incentives, and facilitate greater foreign investment and trade.
Designed to introduce the fundamentals of investing in India, this publication is compiled by the experts at Dezan Shira & Associates, a specialist practice providing corporate establishment, business advisory, tax advisory and compliance, accounting, payroll, due diligence, and financial review services to multinationals investing in emerging Asia.
Doing Business in India 2021 covers the following:
Corporate Establishment
India's Investment Climate
Tax, Audit, and Accounting
Human Resources and Payroll
Within these chapters, we discuss a range of different topics that affect doing business in India, including market entry considerations, investment models, key taxes applicable for foreign companies, and impending legal reforms.