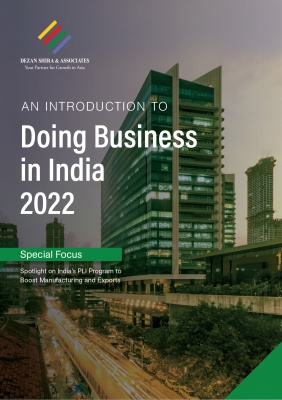 An Introduction to Doing Business in India 2022
Published: December 2021
Doing Business in India 2022 is designed to introduce the fundamentals of investing in India. Compiled by the professionals at Dezan Shira & Associates in December 2021, this comprehensive guide is ideal not only for businesses looking to enter the Indian market, but also for companies who already have a presence here and want to keep up to date with the most recent and relevant policy changes.
2021 saw India successfully steer its economy into recovery mode despite major pandemic outbreaks in the first half of the year. Containment strategies are now the new normal alongside a national vaccination program. In 2022, more vaccines are expected to become available as well as guidelines for vaccine booster shots and a legal framework for work-from-home to define the liability of employers towards employees. International travel is yet to return to normal and air bubble arrangements will continue for the foreseeable future. Living with COVID-19 is now a strategy for most countries, including India. This is necessary to curb slowdowns, facilitate economic activity, and resuscitate consumption growth after an extended period of uncertainty.
Exemplifying India's forward-looking approach is the country's push to expand the contribution of the manufacturing sector – by securing gaps in the local supply chain and bolstering production capacity in critical areas. The goal is to additionally enhance India's export-oriented manufacturing potential, establish higher value in the global supply chain, and lower sector-wise import dependencies. So far 13 sectors have been identified for Production-Linked Incentives (PLI) schemes and its beneficiaries need to meet certain targets. These industries should be attractive for foreign investment as they will require infrastructure upgrades, production knowhow, R&D, logistics support, among others. They will also benefit from a liberal investment environment. More recently, incentives for the semiconductor industry have been announced to attract investors and establish a design, R&D, and production base in India.
Reforms to streamline bureaucratic processes, ease doing business, and digitalize the government interface have also continued to facilitate greater foreign investment and trade. Designed to introduce the fundamentals of investing in India, this publication is compiled by the experts at Dezan Shira & Associates, a specialist practice providing corporate establishment, business advisory, tax advisory and compliance, accounting, payroll, due diligence, and financial review services to multinationals investing in emerging Asia.
Doing Business in India 2022 covers the following:
Corporate Establishment
India's Investment Climate
Tax, Audit, and Accounting
Human Resources and Payroll
Within these chapters, we discuss a range of different topics that affect doing business in India, including market entry considerations, investment models, key taxes applicable for foreign companies, and impending legal reforms. Special focus is given to the 13 sector-specific PLI schemes and their expected impact on production investments in the country.