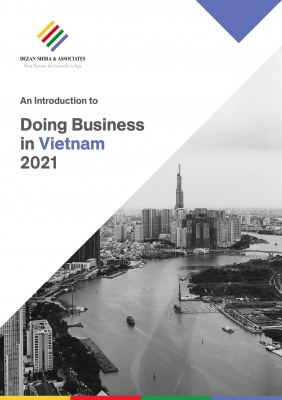 An Introduction to Doing Business in Vietnam 2021
Published: January 2021
An Introduction to Doing Business in Vietnam 2021 will provide readers with an overview of the fundamentals of investing and conducting business in Vietnam. 2020 is a year businesses are unlikely to forget due to the pandemic that disrupted global supply chains resulting in significant businesses losses. Our business guide takes these factors into account and also includes steps on how to set up in Vietnam, Vietnam's free trade agreements, major taxes, accounting and bookkeeping, hiring staff, employment contracts, and tax obligations for company employees.
2020 is a year that businesses are unlikely to forget. It started with the COVID-19 pandemic, restricting travel, disrupting global supply chains, and causing large scale unemployment due to significant losses incurred by global organizations. Vietnam was no different with data showing that the country's GDP grew by just 1.81 percent in the first half of the year compared with a pre-COVID projection of 6.8 percent in 2020.
In terms of its response to the coronavirus outbreak, Vietnam was among the first few countries to shut its borders and stop international flights. It also invested in aggressive contact tracing, testing for the virus, quarantining of suspected and confirmed cases, and effectively mobilized state agencies. The result was that Vietnam was able to lift its lockdown early, resuming economic activity earlier than most countries. Vietnam is also been one of the few countries that achieved net positive growth during the pandemic with GDP growth of 2.91 percent in 2020.
This is why, despite the impact of COVID-19, the Asian Development Bank still forecasts Vietnam to be one of the fastest growing economies in Southeast Asia while the World Bank observes that Vietnam's economy is resilient with GDP bouncing back to 6.8 percent in 2021. In the first half of 2020, Vietnam also rose to become the second biggest supplier to the US after China, emerging as a prominent beneficiary of the ongoing US-China trade hostilities.
Since Vietnam has been able to contain the pandemic better than most countries, it is no surprise that foreign investors remain keen on doing business in the country. In addition to building the country's export capacity through the private sector, the government has pursued strategies to join several free trade agreements such as the EU-Vietnam free trade agreement (EVFTA).
All these factors make Vietnam an attractive destination for business, and businesses are optimistic for 2021. However, challenges remain such as bureaucracy, language barriers, supply chain constraints, grey areas in regulations, and infrastructure. We hope this business guide will provide investors with an insight into key aspects of undertaking and doing business in Vietnam and help you make an informed decision when beginning your operations in Vietnam.