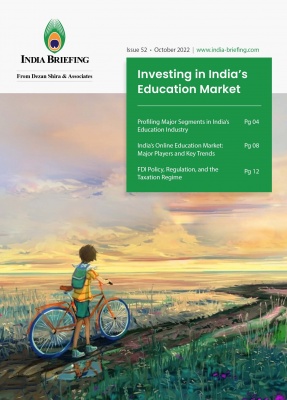 Investing in India's Education Market
Published: October 2022
In this issue of India Briefing Magazine, we provide readers with an overview of India's education industry and its growth prospects. We examine major segments and market opportunities for foreign stakeholders. While regulatory restrictions have resulted in innovative investment structures in the traditional space, regulatory easing in online education have opened several commercially viable segments. This issue also discusses key tax and legal provisions relevant to the Indian education sector for foreign investors.
Overview of India's education market
India has among the largest networks of higher education institutions in the world and the largest schooling system. Yet, with almost 27 percent of the population in the 0-14 years age group and a median age of about 28.4 years, India's education needs still require major infrastructure upgrades and expansion of facilities and quality access. Consequently, the country has made education a fundamental right with an emphasis on the 'not-for-profit' model for institutions and provision of tax benefits.
The size of the Indian education market impacts all associated industries, from providers of educational services and academic publishing to now educational technology (EdTech). Foreign players can find highly lucrative prospects by tapping into the management and technology requirements of a vast network of schools or respond to the country's rapidly changing needs for skilling, upskilling, and professional reskilling as India aims to become a more advanced economy and its digital footprint grows.
Growth of EdTech platforms in India
It is no surprise then that the online education segment has grown so rapidly in the country and was the third-highest funded sector in India in 2021. The pandemic may have accelerated the use and familiarity of EdTech platforms, but this will continue, albeit in a hybrid mode with equal emphasis on physical learning spaces and online supplementary education, post pandemic. Moreover, the early school adoption of online education tools will spillover into continued education, and sub-segments like online higher education and after school learning will appeal to broader sections of the population.
In this issue of India Briefing Magazine, we profile the Indian education market and its growth drivers. We briefly examine the respective segments that make up the education industry and their market outlook for foreign stakeholders. Next, we breakdown the opportunities emerging out of the sudden expansion of online education. Finally, we discuss the FDI, tax, and regulation policies affecting the sector.
For more information on investment opportunities in India's education space and doing business in the Indian market, please contact us at india@dezshira.com.