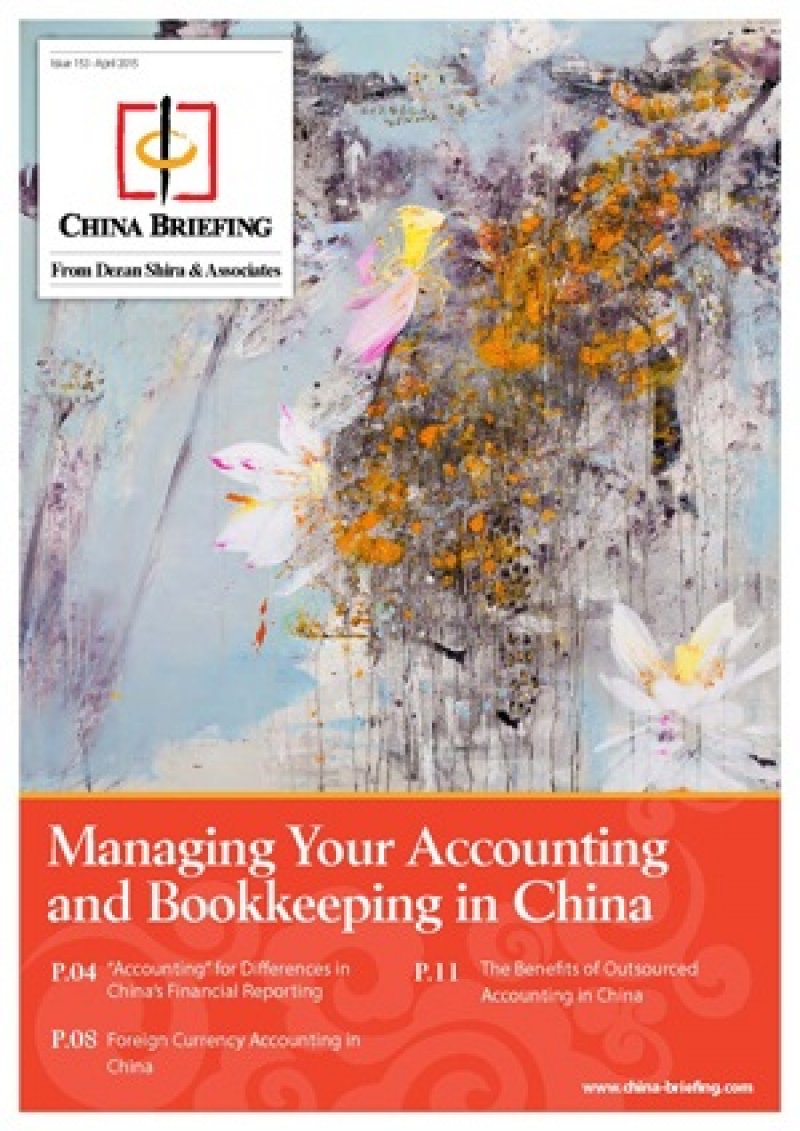 Managing Your Accounting and Bookkeeping in China
Published: April 2015
In this issue of China Briefing, we shed light on the practice of accounting in China. We start out by introducing the reader to the development of the Chinese accounting standards, and their main differences compared to international standards. Next, we explore an important aspect of accounting for foreign investors in China, the use of foreign currency. We conclude this issue with an interview with one of Dezan Shira & Associates' Senior Managers on some of the key concerns foreign investors might have when it comes to outsourcing accounting and bookkeeping.
No. of Pages: 12 pages
In this issue:
"Accounting" for Differences in China's Financial Reporting
Foreign Currency Accounting in China
The Benefits of Outsourced Accounting in China
Be it for tax filing, regulatory compliance or internal tracking purposes, accounting is an important part of any business. This is as true for a business in China as it is anywhere else.
Relative to most of the world however, China has only recently embraced the market economy, and with that the practice of accounting. For this reason, some of the accounting and bookkeeping practices that are an everyday occurrence in China, may seem unusual to foreign investors new to the country.
Despite some of these idiosyncrasies, China has come a long way in converging its accounting standards with international practice. This significantly simplifies the integration of a foreign investor's Chinese subsidiary into its multinational group of companies.
While the Chinese government is making steady progress on its way to RMB internationalization, its strict capital controls are still in place. As a means of controlling the currency flows going into and out of the country, the Chinese government requires a special report from foreign invested companies about their foreign currency holdings. Ultimately, foreign companies that do not comply with this requirement may lose the ability to remit foreign currency abroad. Therefore, keeping correct records of one's foreign currency transactions is crucial.
In this issue of China Briefing, we discuss the difference between the International Financial Reporting Standards, and the accounting standards mandated by China's Ministry of Finance. We also pay special attention to the role of foreign currency in accounting, both in remitting funds, and conversion. Lastly, in an interview with Jenny Liao, Dezan Shira & Associates' Senior Manager of Corporate Accounting Services in Shanghai, we outline some of the pros and cons of outsourcing one's accounting function.