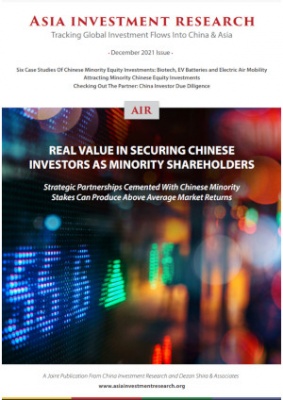 Real Value in Securing Chinese Investors as Minority Shareholders
Published: December 2021
In this issue of Asia Investment Research we examine six case studies of Chinese businesses investing in strategic new tech equity partnerships overseas, and the above average - and fast - returns on these investments that have occurred in all cases. We discuss how foreign businesses can position themselves to attract Chinese investors, the primary industry sectors of interest, and due diligence issues to consider when looking to attract Chinese investors.
Asia Investment Research is a new, unique data and regulatory driven monthly newsletter jointly produced by China Investment Research and Dezan Shira & Associates.
In this issue:
This report provides six case studies of recent Chinese minority stake partnerships: two in biotech; two in electric air mobility, and two in new electric vehicles. All cases have been announced after mid-2019. None of the outbound investment stakes exceeded 30% for these cases, with most averaging around 20%.
Our analysis focuses on both the commercial uplift as well as the financial returns, which frequently are in multiples (such as 2X) rather than in percentages (%). All six cases involve Chinese investors somewhere within the partnership.
Six Case Studies: Chinese Minority Equity Investments in Biotech, EV Batteries and Electric Air Mobility
Attracting Overseas Chinese Equity Investments
Checking Out The Partner: China Investor Due Diligence