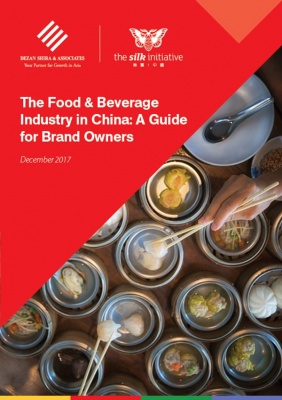 The Food & Beverage Industry in China: A Guide for Brand Owners
Published: December 2017
This report covers the essentials for foreign investors wishing to enter the food and beverage market in China, including industry trends, relevant laws and necessary licensing, intellectual property and finally, market strategies to enter China. Compiled by both Dezan Shira & Associates and The Silk Initiative, it makes the most of Dezan Shira's foreign direct investment expertise and The Silk Initiative's experience helping F&B brands thrive in China.
No. of Pages: 22 pages
Compiled by Dezan Shira & Associates and The Silk Initiative, this report covers the following:
Consumer Trends in China's F&B Industry
China's Food Safety Law and Licensing for Import
Brand Protection and Intellectual Property in China
Market Strategies for Foreign Food and Beverage Companies
The fast growing Food and Beverage (F&B) industry in China is an attractive destination for many international investors. Indeed, the F&B industry in China has a US$ 700 billon share of the global market.
Potential investors often first take notice of consumer dynamics in the country. Consumers in tier one cities have shown a high level of demand for foreign F&B products, while consumer demand for foreign F&B products are also strong in less saturated tier two and three markets. F&B products that are safe or healthy, and incorporate local taste preferences, are popular among consumers.
After studying the market potential for F&B products, foreign investors need to review China's food safety laws and import regulations. China maintains a multi-layered regulatory system for F&B products, which meet foreign F&B products as soon as they reach the country. Foreign investors therefore should take a methodical approach to reviewing China's Food Safety Law and preparing for the licensing needed to import their products into China.
Brand protection and intellectual property are major concerns for any company entering a new foreign market. In China, where counterfeit F&B products are commonplace, these concerns take on a new level of importance. Given the difficulty of countering intellectual property infringement in China, foreign investors need to prepare an airtight game plan for managing trademarks, unique packaging features, design, and copyrights and trade secrets in the country.
Once your company is organized to enter the F&B market, it needs a go-to-market strategy. In a country the size of China, with an ever growing middle class that is constantly evolving its F&B habits, it is particularly important that new market entrants avoid a one-size-fits-all strategy. Competitive research can help your firm find its footing, activate your brand, create a meaningful product, engage with consumers, and plan for growth.